We are not killing businesses-Govt Spokesman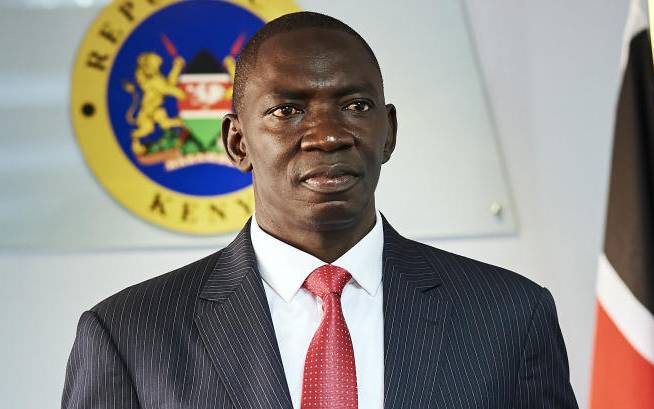 The Government has refuted accusations that it is crippling down businesses following recent ban on substandard imported goods.
In his second press briefing since taking over as Government Spokesman, retired Colonel Cyrus Oguna was categorical that the state did not contribute to the loss of 66 containers as has been alleged. And, that the crackdown is spearheaded by a taskforce working against importation of substandard goods in the country.
"One sixty-six containers with no proper documentation were impounded and later on, 134 were released after the Government engaged their owners. Thirty-two are still remaining the custody of the state," he explained.
After being challenged by a journalist on why the state opted to only release 134 and detain the remaining 32, he said that the owners of the released containers agreed to pay the taxes, while the owners of the remaining 32 containers have not shown up.
He said the Government only wants taxes levied on imported goods, something which the traders are avoiding.
He attributed disagreement between the state and importers to procedural changes where the Government drafted a policy tasking five unnamed companies to clear goods at dispatch points and not at the Mombasa port as earlier done.
Asked by journalists why the Government has allowed up to 8-year old motor vehicles into the country but banned some second-hand spare motor vehicle spare parts; he said the move is aimed at reducing road accidents.
Col. Oguna referred to Kikopey accident along Naivasha-Nakuru Highway in which a lorry hit a Matatu as an example of an accident which could be averted by banning such products.
He refuted claims that the Government failed to conduct public participation prior to the introduction of the Competency-Based –Curriculum.
"The National Steering Committee for Curriculum Development did public participation and this involved other stakeholders such as KUPPET, KNUT and much more," he said.
He said that the Government would roll out a second teachers' training program on CBC come August, adding that over 1,000 teachers have so far been trained.
With just a day to the close of additional timeline for Huduma Namba registration, the Government Spokesman said that 36 million people have been registered, and urged Kenyans who have not registered to beat the deadline. He said that registration will now be done at the offices of assistant chiefs, which he said could be inconveniencing.
Shilling under pressure
commercial banks quoted the shilling at 101.20/40 per dollar, compared with 101.15/35 at Wednesday's close.