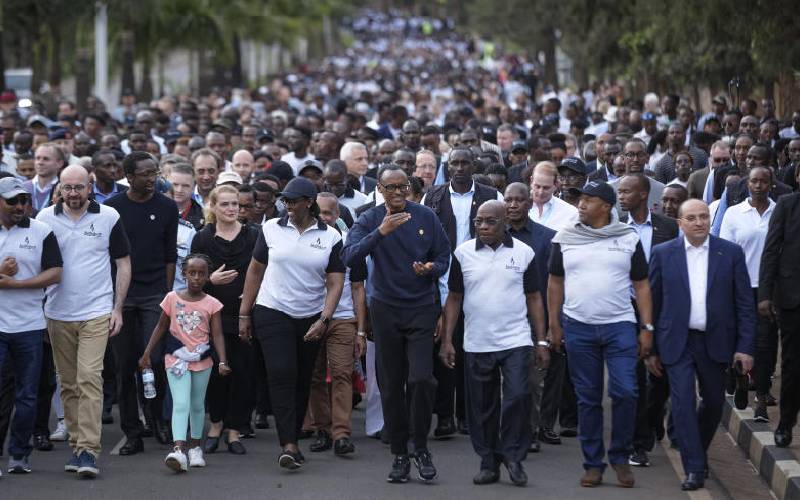 As Rwanda marked the 25th anniversary of the 1994 genocide and began 100 days of mourning, its citizens living in Nairobi held a commemoration led by their ambassador Richard Masozera. The commemoration included a walk through the city centre in honour of the close to one million victims and later a ceremony at Kenyatta International Convention Centre. "It is one of the several acts we will be holding to remember the genocide against Tutsis where nearly one million people were killed in 100 days," Dr Masozera, told The Standard. The envoy said the Rwandan High Commission will hold more events throughout the week.
SEE ALSO: Rwandan refugee put under formal investigation for Nantes Cathedral fire: Le Monde
Apart from Rwanda and Kenya, the commemoration was held in several other countries across the world, even as the role of other countries in the genocide such as France continue being questioned. Late last week, French President Emmanuel Macron appointed a commission to investigate claims that France supported the Hutu mass murders of Tutsis. However, Masozera noted that the commemoration was critical, stating, "It is a time to tell people to keep the memory of what happened so they do not repeat the same mistakes and so there is no denial of history". Even though official statistics say 800,000 died as a result of Hutus killing Tsutis and Tsutsi sympathisers as well as Tsutsi revenge killings against Hutus, the figure is controversial, with many saying the deaths were higher.
Divisive ideologies
In light of the ethnic-fuelled killings, Masozera stressed the importance of fighting ethnic and divisive ideologies, noting that perpetrators of these harmful ideologies ought to be called out. The ambassador also acknowledged that while Rwanda was yet to completely get rid of ethnic ideologies, the country had made significant strides since 1994. He cited the elimination of requirements to indicate ethnic identities on identity cards and registration of national examinations, measures that have also helped to create equal opportunities for all Rwandans.
SEE ALSO: Nearly one billion people scared of losing homes or land, poll finds
Majority of the attendants at the commemoration were young people, a factor Masozera explained: "We want to sustain the gains we have made. Young people comprise 60 per cent of Rwanda's population. It is also better to invest in younger generations as they are more malleable and open to new ideas". On Sunday, President Paul Kagame laid wreaths at the Kigali Genocide Memorial.