Boda boda gangs pose security risk, study shows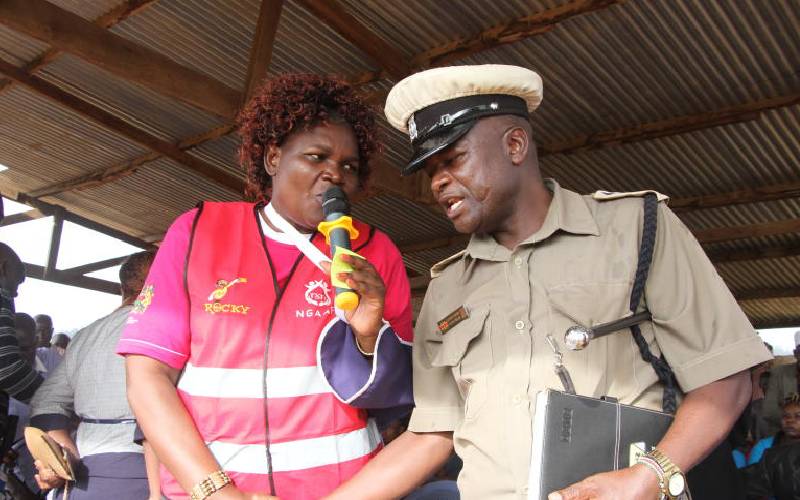 Armed gangs have infiltrated boda boda trade and are killing, maiming, kidnapping, raping and robbing innocent people, a new Government report reveals.
The report, arising from a survey conducted in at least 24 counties, warns that the transport sub-sector poses a major threat to the national security noting that armed robberies at Mpesa shops, shopping malls and in the estates are now carried out by gangs on motorbikes.
Compiled by National Crime Research Centre, a State agency under Interior Ministry, the report which has been tabled in the National Assembly, cautions the situation could soon explode out of control if regulations are not put in place to weed out criminals hiding in the business.
Detailing the wave of insecurity occasioned by the trade that has revolutionised the country's transport sector, the study paints a grim picture of how some boda boda riders collude with organised criminal gangs to waylay their victims, some of whom they end up killing using illegally acquired guns or other crude weapons.
Some criminals also pose as riders before committing robbery with violence against unsuspecting passengers while others rape and defile women and girls seeking their transport services.
"Like the matatu industry that at one time was infiltrated by lethal gangs like Mungiki, there is fear that boda bodas could be heading the matatu route if adequate policy interventions are not implemented in good time," warns the report.
It shows that cases of insecurity involving armed robbers posing as boda boda operators or using boda bodas to commit crimes have increased.
"The challenge for security agencies is the difficulties in distinguishing between genuine boda boda operators from criminals who have infiltrated the trade. Robberies at Mpesa shops, shopping malls and at estates are now carried out by gangs on boda-like motorbikes," reveals the report.
Consequently, it recommends mandatory registration of the riders, refresher training, testing, regulation and effective oversight of the industry to contain it from further infiltration.
The report says gangs have resorted to using the mode of transport as it provides quick getaways from crime scenes.
The survey found out that riders hired as casuals or on commission basis commits most boda boda-related crimes at 71.9 per cent followed by riders with hired motorcycles at 66.5 per cent.
Passengers are also involved in the criminal activities at 61.6 per cent while general public contributed 33.7 per cent.
"Riders hired as casuals or on commission basis could be committing most crimes because of the insecure nature of their contractual obligations and pressure to comply. Currently, in some areas, there is a daily set target that must be delivered to the owners of the motorbikes before the rider can keep any revenues generated after meeting fuel costs and other incidentals," it says.
It is on this basis, fuelled by "greed and desire for quick money" that the youthful riders have resorted to criminal activities.
The report shows it is riskier to ride on a boda boda from 7pm to around midnight as that is the time most of the passengers are mugged or waylaid.
"In mapping out the time of the day when boda boda-related crimes mostly occur, 41 per cent of the respondent indicated that most crimes are committed at night between 7pm to about midnight," report says.
The operators have also been blamed for operating with impunity on the road and do not observe traffic rules, leading to fatal accidents.
The National Transport and Safety Authority (NTSA) reports that there are 1,393,390 motorcycles registered in Kenya as at February, 2018.
However, the exact numbers of these motorcycles operating as boda bodas in the country is not known and documented.
According to NTSA, at least 20 per cent of fatal accidents are caused by motorcycle operators. At least 3,000 people lose their lives in road accidents annually.
"Many accidents and emergency wards across the country are full of patients injured in boda boda-related road crashes. The growth of motorcycles operations in Kenya has undoubtedly cost lives through motorcycle accidents," it adds.
Rogue operators have also been accused being law unto themselves and engaging in lynching of suspected criminals, some of whom could be innocent.
Some riders have also turned into vigilantes and appear to thrive in lawlessness.
"Some operators conduct raids in some estates and villages, waylay and lynch people suspected to be criminals. They rarely obey traffic rules, including traffic lights and zebra crossings, have little regard to other road users' right of way, ride on pavements and footpaths designated for pedestrians," it adds.
The report cites unemployment and idleness, poverty, drug and substance abuse, lack or weak regulation of boda boda sub-sector, greed and desire for quick money, weak law enforcement by the police and other law enforcement agencies, peer pressure, high levels of illiteracy and criminal mindset as some of the root causes of the wave of criminal activities by the riders.
Cases of murder committed by boda boda riders are highest in Mombasa at 9.8 per cent followed by Taita Taveta at 9.2 per cent.
Other counties have reported murder by criminals in the trade are Kwale (8.9 per cent), Busia (6.6) and Homa Bay at 5.2 per cent.
Robbery by people riding motorbikes was highest in Nairobi at 5.9 per cent followed by Mombasa at 4.9 per cent.
Other counties with cases of robbery by riders are Siaya at 4.5 per cent, Kiambu at 4.4 per cent and Busia at 3.3 per cent.
Cases of abduction was recorded highest in Mandera at 10.8 per cent followed by Garissa at 10.7 and Kwale at 8.8 per cent.
At least 5, 515 people were interviewed in the survey, 4,313 respondents being the public and 1,202 being riders.
Of the numbers, 2359 (67.5 per cent) said they have witnessed motorcycle accidents in the last one year.
Another 1,187 said they have witnessed boda boda-related robberies and stealing while 83 have witnessed lynch-mob or mob justice by riders.
Cases of commuters being raped by riders, drug trafficking and kidnappings were at 0.5 per cent, 0.7 per cent and 0.8 per cent respectively.