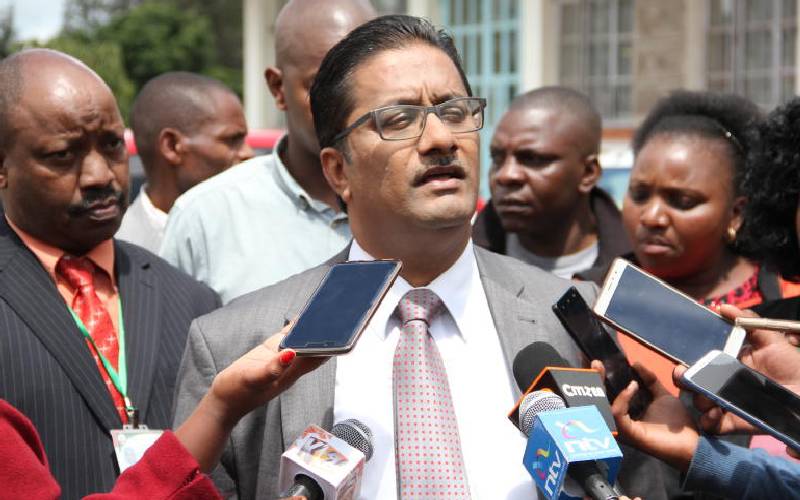 Governor Mike Sonko has reinstated two executives who had been suspended. He has also sworn three others into his cabinet. Mr Sonko has been operating for over six months with only five executives, out of the required 10. Hitan Majevdia who had been suspended in August last year, and Vesca Kangogo who had been suspended in September on claims of insubordination, were reinstated on Monday albeit in different roles. The changes were revealed in City Hall at a ceremony to issue bursaries where both Kangongo and Mr Majevdia made an appearance.
SEE ALSO: Kenya to inquire on Russia's virus jab
Majevdia will head the Transport and Infrastructure docket, while Kangogo will take charge of Environment. They previously held the Health and Devolution dockets respectively. Sonko reinstated Kangongo after the Assembly rejected his preferred nominee Sonia Birdi at Environment. Majevdia got his chance after Stella Bosire, another nominee for the health docket, turned down the offer. Three executives who had already been vetted have begun their duties.
SEE ALSO: The State House meeting that sealed Elachi's fate as Speaker
They are Pauline Kahiga (Devolution and public management service) Lucia Mulwa (Education) and Winfred Kathangu (Finance). This comes just days after Sonko conducted a reshuffle where he transferred Mohammed Dagane to the Health docket. Mr Dagane was previously in charge of Roads and Infrastructure. Other executives in Sonko's cabinet are Larry Wambua (Agriculture), Allan Igambi (Trade), Newton Munene (ICT) and Charles Kerich (Urban planning and Lands). "They are going to be sworn in this week and we have issued circulars over the same. I was waiting for one who was out of the country but he is now back," said Sonko. Chief Officers were also not spared in the reshuffle.
SEE ALSO: How the State lost billions after being outwitted in medical kits leasing project
Fredrick Karanja who was in the Transport docket, has been moved to Agriculture. Eng Karanja is one of the longest serving chief officers. Washington Makodingo who was the Chief Officer for Agriculture has been moved to the health department replacing Mohammed Salah. Mr Salah has been moved to the urban planning and housing docket. Chief Officers who maintained their positions are David Makori (Environment), Justus Kathenge (Planning), Stephen Mwangi (Lands), Fredrick Nzioki (Trade), Halkano Waqo (ICT) Mohammed Abdi (Water), Leboo Morintat (Public Service Management), and Anne Mwenda (Disaster Management).