Youths benefit from free training on entrepreneurship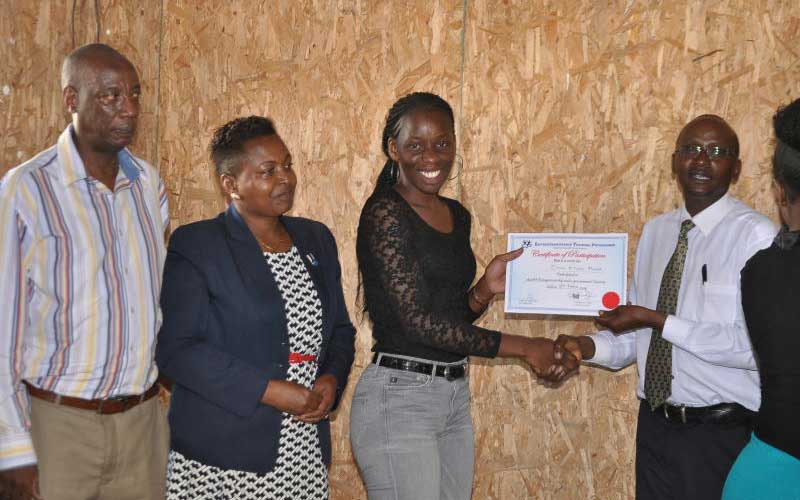 Following the unemployment crisis in the country. Youth, Women and Disabled persons have continued to be disadvantaged. Some have since resorted to engaging in crimes, radicalization, consumption of illicit brews and drug abuse.
For 21year old Denis Makhandia Mulama, the thought of completing his college education was accompanied by a feeling of satisfaction, that he would soon have a high paying job.
Little did he know that he was joining a population of a schooled yet jobless individuals.
The graduate of Environmental Conservation from South Eastern University of Kenya (SEKU) says the reality then dawned on him that this was not the case. He says together with a group of friends who had gone through the same predicament they decided to form a group and engage in an income generating activity.
"We came together and formed Brilliant Minds Self Help Group where we could come up with a business idea. Some of my group members had stayed out of school even more than me," said Mulama.
The group engages a farm in Embakasi area in Eastlands, where it buys milk and fresh farm produce and delivers them to residents at the comfort of their sitting rooms.
Mulama say the training has come in handy in giving them the necessary skills on how to source for capital for their business.
"We also received training on tendering for government supplies and how to register company. And we are in the process of registering," Denis added.
Sentiments that were shared by Emily Etang who says thanks to the training, she will now move with speed to secure capital to start a business.
"The training was very insightful, I look forward to starting my own business soon," said Emily.
Miss Etang is optimistic that she no longer has to waste her time applying for countless government jobs that are not forthcoming. Now she is empowered to start her own venture and instead become an employer.
The seminar organized by the Ministry of Youth and facilitated by a Nairobi businessman John Chomba.
The mobilization is done by sub-county Youth officers.
Regional Co-coordinator Youth Affairs, Emily Maina reiterated the need for more youth to be empowered to take up business as an alternative to formal employment.
"More youths should enroll for such training for them to be able to get the 30 per cent share allocated to them by the government," said Maina.
According to Mr Chomba, the programme was piloted between October, 2010 and April, 2011 in several constituencies in Nairobi and the results were very encouraging, inspiring and motivating.
"We saw a youths who were hungry and thirsty for information and very ready to apply it for a better future. The training is more practical than theoretical since we're using our real companies' documents, experience for demonstrations and proving to the trainees that ours is a reality show ," said Chomba
During the workshop Mr Chomba stated that he was there to train them and give them tips on how to start small businesses that would change their lives forever.
The legible candidates are form 4 graduates and above with basic understanding of English both written and spoken. Certificates of participation are awarded to all trainees at the end of the training.