Mary Kamangara ate lunch with murder suspect the day she was killed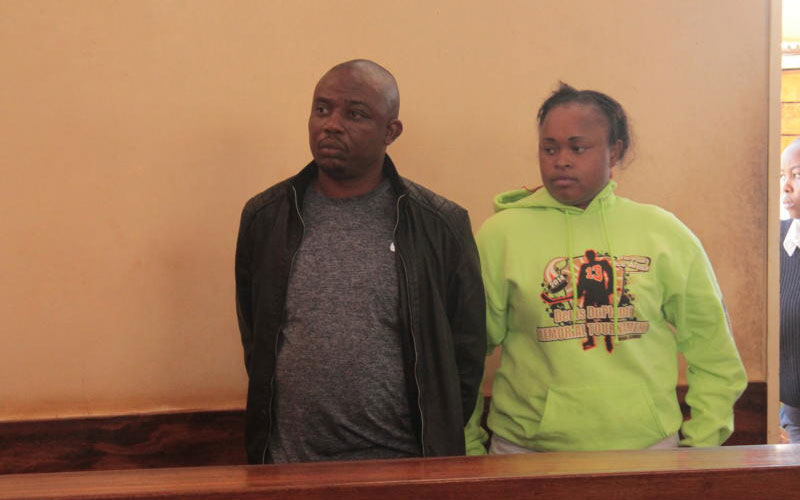 CCTV footage that detectives have in their possession shows the movements of businesswoman Mary Wambui Kamangara on the day she died.
Wambui's widower, Joseph Kori Karue, and Judy Wangui Mungai, his mistress, are expected back in court tomorrow in connection with Wambui'd death.
They are expected in a Kiambu court alongside Michael Githae Mathenge, a man police said was hired to collect and dump Wambui's body.
Wambui reportedly visited Wangui's house before her death on January 26.
Detectives have traced the businesswoman's movements on the fateful night from footage from several CCTV cameras.
Also in their possession is a mobile phone belonging to Wangui with a number of photographs taken with Wambui.
Some of the photos indicate that the two women were close friends and even shared a meal. It turned out to be Wambui's last.
On that day, Wangui visited Kori's home at Garden City, Kasarani Park, and around 11.15am. She found Kori leaving for a business meeting in Ngong.
Police claimed Wangui was driving a Toyota Allion KCE 852K hired from Mathenge and after Kori left, she joined Wambui briefly.
The two women visited Thika Road Mall and went to Homeland Hotel for lunch. Wangui's hired car developed mechanical problems along the way and the two used Wambui's Mercedes Benz. Wambui called a mechanic to repair her friend's car.
CCTV footage that police obtained and was aired by K24 television indicates the two arrived at Homeland Hotel at 1.15pm and had lunch as Wangui took more photos, some showing the two sharing a piece of meat.
Gate pass
Hours later the mechanic arrived at the hotel along Thika Road with the car and handed the keys to Wangui, but forgot to give her the gate pass.
At about 6.18pm, the two women left the hotel and headed to Wangui's Fourways Junction home in Kiambu using Wambui's Mercedes Benz, leaving the just-repaired car.
They spent around three hours at Wangui's home, where it was alleged they had an argument when Wambui saw photos of her husband and Wangui on the wall.
Police are investigating how Wambui ended up dead. One theory has it that she was hit on the head nine times using a pressure cooker and her body wrapped in bedding.
Wangui left Fourways in Wambui's car and parked it around Homeland Hotel in order to pick up the hired car she had left behind.
At around 10.42pm, according to the hotel's footage, Wangui was not allowed in by security guards without a gate pass. She decided to hire a taxi that dropped her off at her Fourways Junction home.
Mathenge, according to the CCTV footage, arrived in a Toyota Voxy KCK 968F. He and Wangui drove back to Homeland and Wangui showed him where she had left Wambui's vehicle.
Police said Wangui told Mathenge that she'd had an argument with Wambui and asked him to accompany him to Fourways Junction.
It is reported that Wangui drove Wambui's Mercedes Benz while Mathenge followed her in the Toyota Voxy. They checked in at the residence around 1.30am, according to the footage.
Checked in
Mathenge told detectives that when they arrived at Wangui's house, Wambui was dead.
Mathenge claimed he was forced to carry the body and put it on the back seat of Wambui's Mercedes. They drove towards Ruiru, he in his Voxy and Wangui in Wambui's car.
It was alleged that they dumped the body at a dam in Ruiru and went to Githunguri to leave Wambui's Mercedes Benz.
Back at Wambui's home, it was said that Kori arrived at around 10pm. He texted his wife, telling her to have fun and not to return home.
The following day, Kori told detectives he woke up to reports that a woman's body had been found dumped in a dam. He drove there and found that it was his wife's body.