False sense of security in Shabaab terror attacks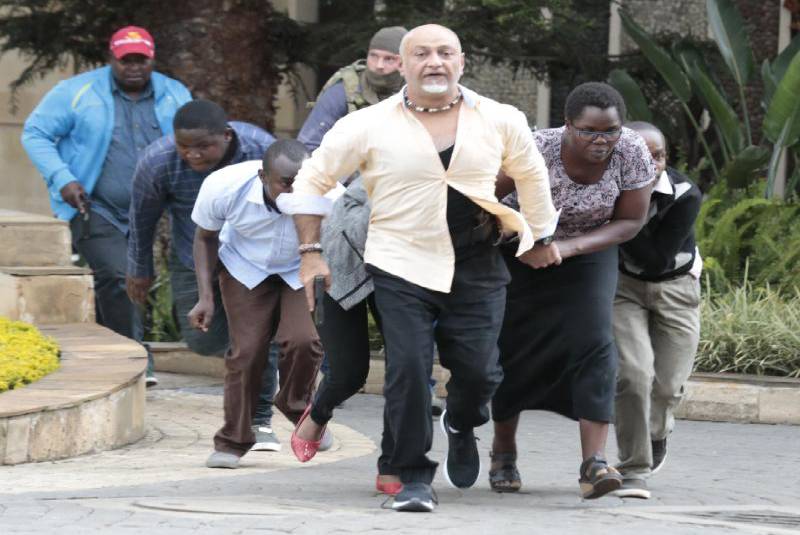 The brazen attack on Dusit Restaurant along Nairobi's Riverside Drive by suspected militants happened on the day the country was remembering one of its bloodiest attacks – the El Adde attack where tens of Kenyan soldiers were brutally killed in an ambush by terrorists.
To date, this remains Kenya's largest loss to the terror group.
And yesterday, perhaps as a way to remember their act of cowardice, the suspected terrorists struck again some minutes to 4pm, storming the hotel complex with the intention to inflict the most loss.
Inspector General of Police Joseph Boinnet said they were treating the incident as a terror attack even as Al Shabaab terror group claimed responsibility for yesterday's attack.
History has shown that Al Shabaab is at its most dangerous while on the back foot. Some of their most cowardly attacks have happened when there has been a false sense of calm on matters terror.
Before yesterday, Nairobi had enjoyed close to five years of no attacks within city precincts, but outside though, the group had resorted to a different kind of war focusing on minimal sporadic operations in areas along the Kenya-Somalia border where it has resorted to a non-conventional warfare against Kenya's security apparatus.
Like many other similar groups, Al Shabaab too have opted for asymmetrical warfare against disciplined and organised State armies. This works to their advantage, dragging on counter-terrorism efforts with the hope of wearing out the Kenyan Army.
"Kenya's holistic approach to the fight against terrorism has also seen hundreds of arrests and trials of terror suspects through the court system. While a significant number have been convicted upon trial, there are still many terror suspects that end up being acquitted on appeals," said police boss Joseph Boinnet in a recent interview with The Standard.
Take a quick survey and help us improve our website!
Take a survey
In 2013, just before the Westgate attacks, there was a general consensus among multiple agencies that the group was on its death bed. In-fighting and power games between one faction that favoured more bloodshed and another that favoured less attacks on civilians threatened to consume Al Shabaab.
At the time, players sat back and many agencies took the wait-and-see approach, clandestinely fueling the succession wars within the group.
But at the height of these wars, Kenya was hit by one of the worst attacks in history. On September 21, 2013, four masked gunmen attacked the Westgate Mall before detonating grenades and executing dozens of people. It is estimated that approximately 67 people lost their lives. Approximately 200 people were wounded in the mass shooting.
The mall attack led to an even more forceful response from Kenya. Backed into a corner and wounded by the death of innocent Kenyans, efforts to pacify certain regions of Somalia were stepped up with the Kenyan Military recording a string of successes against the terror group. A series of attacks from both the air and the ground forced the group to retreat. There was some calm. But this was just a lull before the storm.
The following year, the terrorists struck in Mpeketoni where more than 60 lives were lost during two nights of terror. The next year, they moved from Mpeketoni to Garissa, killing 147 people, mostly students from the Garissa University.
The Garissa, Westgate and now the Dusit attack all had the same disturbing pattern – a small group of armed men attacking places with high human traffic.
Kenyan troops have gallantly beaten off the multiple threats that face the country from Al Shabaab. But yesterday's attack shows that although we have collectively won many battles over the years, the war is still ongoing. And it might be long and drawn out.