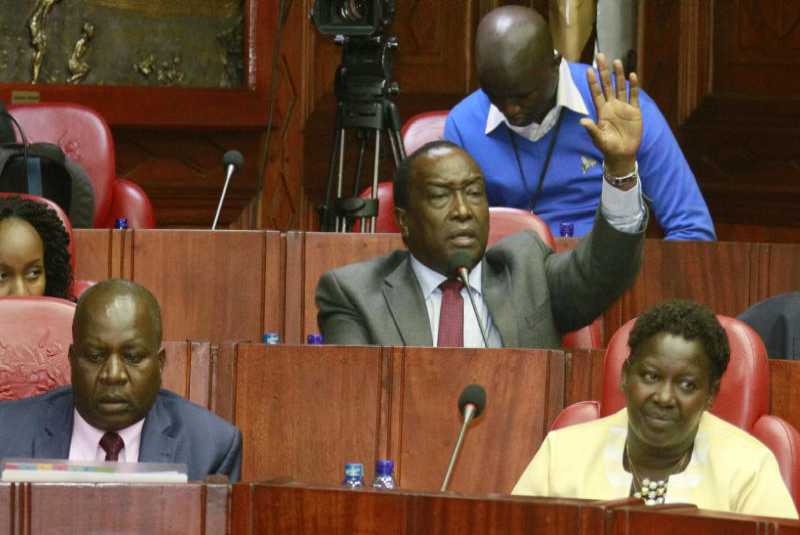 Rongai MP Raymond Moi has petitioned the Government over delayed water provision for his constituents.
Through the National Assembly's departmental committee on environment and natural resources, Raymond wanted to know the projects the State was putting in place to guarantee his constituents water.
Water and Sanitation Cabinet Secretary Simon Chelugui said the ministry was facing challenges in buying spaces to put up water tanks.
"Land acquisition has been a problem, especially where to place tanks," said Mr Chelugui when he appeared before the committee chaired by Maara Japhet Miriti yesterday.
Read More
Reliable water
He said the ministry was working on a number of projects to ensure locals receive reliable water supply soon.
"In the financial year 2018/19 Barina dam and Mbuket water pan will be implemented at an approximate cost of Sh20 million each," said Chelugui.
Each of the two water reservoirs will supply 30,000 cubic meters of water every day.
But the MP questioned the progress on Chemususu dam, which, he claimed, had been "under discussion for long". He demanded answers from the Water ministry.
Chelugui said his ministry was working to complete the project, adding that it was in halfway done.
"Since February, we have managed to complete 47 per cent of the dam," said Chelugui.
He said his ministry was implementing the expansion of the distribution system of Chemususu water project to ensure it supplied 35,000 cubic meters per day.
"Out of the total production, 6,000 cubic meters per day will serve households in Rongai town and Kiamunyi area within the constituency," said the CS.
He promised that the project will be completed by June 2019.
"Rift Valley Water Services Board, in this financial year, has prioritised the expansion of Maji Matamu Water Project by constructing an intake weir and seven kilometers of pipeline to serve 3,000 people at a cost of Sh7 million to be completed in June 2019," he said.
However, the MPs questioned why the 11 proposed water projects should cost Sh277 million.
Kipkelion West MP Hillary Kosgei wanted to know if there were more stalled projects in the constituency.
"The figure is high for one area when we can hardly get Sh10 million in other areas?" said the MP.
Chelugui said the figure was arrived at after deep consultation.
"After evaluation, we realised the existing projects were not enough because of population growth and migration that has led to high water demand," explained Chelugui.
The committee session was attended by vice chairperson Sophia Abdi Noor (Ijara), Beatrice Kones (Bomet East), Benjamin Washiali (Mumias), Hassan Oda (Isiolo North), Peter Kimari (Mathioya) and Charles Ong'ondo (Kasipul) were in attendance.