Christmas wish hands youth a bike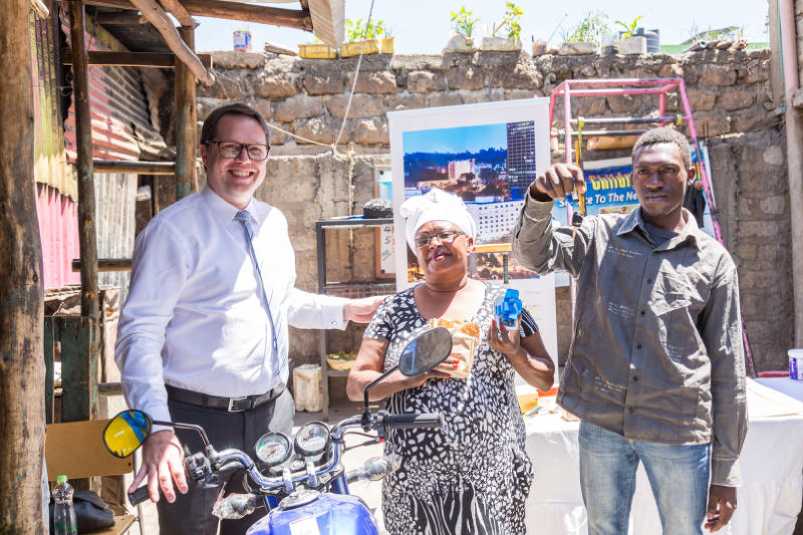 If you had a chance to wish for a Christmas gift, what would you choose?
Will it be an exotic trip to a foreign sandy beach, an expensive pair of shoes you have been admiring, an expensive fuel guzzler, a total makeover, or the latest sleek phone?
Well, Albanas Kioko, 19, had this chance but all he wanted was a motorcycle.
A few weeks to Christmas in 2017, staff from InterContinental Hotel visited Estel Children Centre to give back to the community in the rarest of ways.
The 96 children were given cards and everyone was asked to write down the one wish they desired to be fulfilled. Kioko thought hard and settled for a motorcycle.
The cards were taken back to the hotel and displayed on a Christmas tree in the lobby.
Little did Kioko know that his wish would touch not just anyone, but Walter Jennings, the vice president of Huawei Technologies.
Kioko does not even own a smartphone and his only interests are Denzel Washington movies and reality TV shows, not technology.
On Saturday November 17, 2018, Kioko was all smiles when he received the keys to a brand-new Hero Dawn-125 motorbike from a man he had never seen.
"It is what I have always wanted. Since I finished school last year, I need something to do to at least make some money," he said.
Make money
For more than 10 years, Kioko has called Estel Children Centre home. A little prodding clearly shows he does not want to remember the circumstances that made him leave his home in Ruai.
He was also quick to admit that he did not perform that well in the Kenya Certificate of Secondary Education exam to enable him to study law, and that it was time to forge ahead.
But the soft-spoken young man has a long list of what he can become, one of which is to own a fleet of commercial vehicles and to try his hand at acting.
"I believe in miracles; I believe in God. At least now I can say I have made a step in life," he said.
The tradition of wish cards during Christmas, said InterContinental Hotel General Manager Geyer, was not just a way to involve customers but also to create a rapport.
The hotel prints wish cards and takes them to a children's home. The cards, with the children's wishes written on them, are then hanged on a Christmas tree in the hotel lobby and guests get a chance to read them.
A guest who feels touched by a child's wish can choose to leave money for the gift or buy it themselves.
"The beauty of this is that the presents are personalised. The guest knows the child's age and name, so they know they are buying let's say Moses a T-shirt and not just buying random gifts. There is always a personal connection," said Mr Geyer.
His stay
In the case of Kioko, Geyer said the Huawei Technologies vice president left Sh100,000 ($1,000) at the hotel for the motorbike. The hotel topped up and took Kioko for training, registered the bike, and paid insurance.
"In our world of hospitality it is easy to forget the ones who really need help. Our customers, as well as us, live in a bubble," said Geyer.