KDF seeks 3,000 servicemen and women in fresh recruitment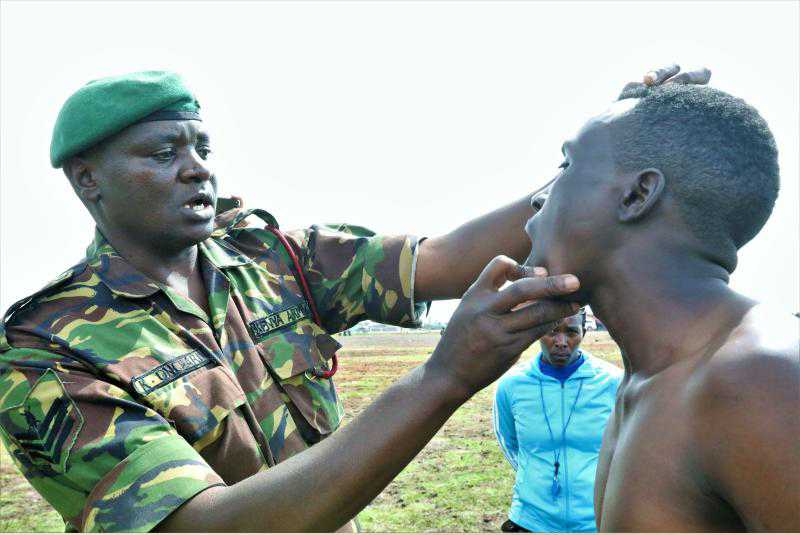 Kenya Defence Forces (KDF) has started a nationwide recruitment exercise.
The annual recruitment has been necessitated by the need to address shortfalls and demand for specialized skills consistent with technological advancements within the forces.
A steady increase in the number of KDF establishment, natural attrition or discharge from service, resignations, retirements and deaths have also been identified as a possible cause for the shortfall.
The drive is expected to see 3,000 eligible men and women across the country get a chance to join Kenya Army, Navy, Air force and the Defense Forces Constabulary.
Categories to be recruited include service men and women, trades men and women with technical skills, constables.
The recruitment exercise will be conducted by sixteen recruitment teams in the 322 sub-counties in the 47 counties in the country.
Speaking during the launch of the recruitment drive on Monday, KDF Vice chief of staff, Robert Kibochi urged Kenyans to come out in large numbers for them to secure a chance to serve the country.
He however called on citizens to be wary of unscrupulous conmen masquerading as KDF officers promising to secure them placement in in the military
"Many Kenyans have in the past fallen prey to unscrupulous conmen masquerading as KDF officers promising to secure them placement in the military. Any person purporting to have influence to recruit or issue calling letters away from the designated recruitment centres will be a conman or woman, said Kibochi.
He added that they were committed to conducting a free and fare exercise and advised citizens against giving out bribes
"Should anyone give a bribe with the aim of securing a place during this recruitment, they will have themselves to blame, added the Vice chief of staff.
Based on the records from KDF, corruption malpractices related to recruitment over the last one year indicate that during the last recruitment from 12 February-13 March 2018, about 20 cases were reported
Out of these it is approximated that Kenyans lost approximately ksh 4.2 million. Seven civilians were arraigned in court with cases still on going
In some of the cases, some KDF personnel were implicated and those proven to have participated in the malpractices were charged and dismissed from service in line with the KDF act
The month long exercise will be overseen by a multi agency team comprising of Ethics and Anti-corruption Commission (EACC), National Intelligence Service, Transparency International to ensure the process is transparent and above board.
After the recruitment ends on December 19, 2018, those successful will be expected to report for basic military training at the Recruits Training School in Eldoret