Motorbike deaths increase by 17.7 per cent as riders lack licenses, safety gears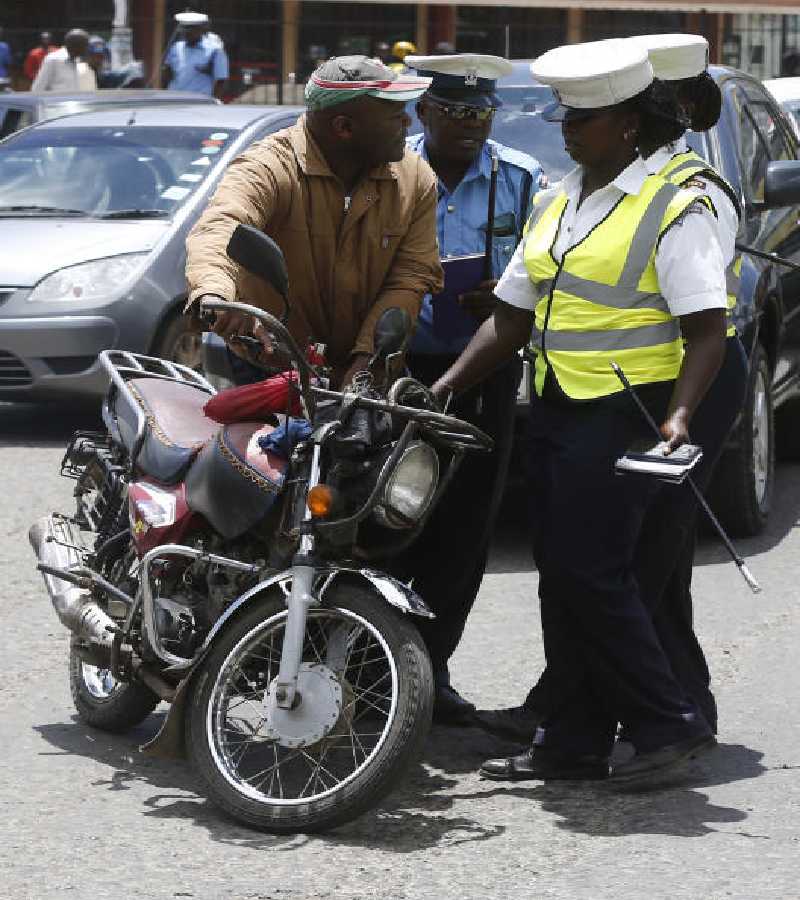 It is barely half past 6 pm in the evening and the streets a buzz as it starts to drizzle. Motocycle riders line up, others winding up their day while others, joining in for an evening side hustle.
Charles Mbugua, is among the latter-the growing trend trying to cash in from the rush hours, and perhaps to evade the ongoing traffic swoop.
Mbugua, like many others, have been operating for some months-but, without a license-a crime, and also a protective gear, a crime that he can be fined heftily for.
However Mbugua is confident and although he has not trained as a rider, he says, has been operating close to a year. He has been involved in two accidents 'only' and says, are experiences that left him stronger and more experienced.
Mbugua runs a shop during the day but reports to the boda boda business at 6 PM, a side hustle which has seen the influx of many others untrained joining in the business-but often operating late in the evening to close to mid-night.
"I have a business which I run at home during the day but when I close in the evening, I start motorbike business till 11 Pm when I head home," Mr Mbugua said.
For Mbugua, he has never trained as a motorbike rider but confesses that his friend trained him.
Take a quick survey and help us improve our website!
Take a survey
"I did not attend any driving school but I can say I am a professional rider now. Experience has taught me. I have only been involved in an accident twice but was not badly hurt," Mbugua says.
Mbugua said he was trained by his friend for three days, and usually relieve him in the evening.
"You do not have to go to school to qualify, I only trained for three days and I was good to hit the road. I have been operating for almost a year now," he says.
For Joshua Kipkoech, he too joined the business after he was trained by his brother at home.
"I was looking for a job and my brother offered to train me for two days. I have been operating for almost two years now," Kipkoech says.
His brother, who was a motorbike rider too, he says, was trained by a friend but is currently in a training school as a driver after he lost an opportunity as taxi driver for lack of documents.
"He recently enrolled in a driving school to tap future opportunities after he lost one," he said.
Although National Transport and Safety Authority has put in regulations, most of these evening riders and more so those untrained, seems to be clueless about them-they only carry one helmet and one reflector, for passengers, they say, takes care of themselves.
Regulations put up by the National transport and safety Authority stipulates that a motor bike riders should have two helmets and two reflective jackets-one for themselves and the other for the passengers.
The regulations states that the rider should provide the passenger with protective gear and ensure the only passenger being ferried at a time puts on the gear.
However, majority believes that 'God is for us all, and protects'
Statistics on road fatalities by the NTSA reveals that deaths resulting from motorcycle crashes have increased tremendously, increasing by 17.7 percent as compared to 2017.
Generally, road fatalities have increased by 19 per cent this year compared to 2017. According to the latest statistics survey by the Authority, 2, 585 people had been killed by November 1 compared to 2,331 who died the same period in 2017.
Pedestrians lead the group with 971 having lost their lives while pedal cyclists are the least affected with 44 of them having succumbed as a result of road crashes.
By November 1, 472 motorcyclists had died, an increase from 401 in 2017. Passenger deaths increased by 13 percent with 663 deaths having been recorded by the same date.
Motorists who sustained serious injuries increased by 20 per cent from 459 in 2017 to 551 in 2018 by November 1.
Nakuru Provincial General Hospital Medical Superintendent Dr Joseph Mburu said cases of traffic have been on the increase with the rise of permanent disabilities as a result.
The hospital recorded 259 cases in the last ten months with majority of the cases linked to motorbikes. Of the 259 cases recorded, some succumbed to injuries, others left with permanent disabilities while others recovered.
"The cases have been constantly increasing but have been spiraling since June. Unfortunately, victims from crashes stays for longer in hospitals. This also has an impact on the resources in hospital as well as financial implications on families," Dr Mburu said.
He said most of those involved in the crashes are motorists and those left with critical injuries are the passengers who did not have protective gears on during the time of accidents.
Most of those admitted in hospital as a result of crashes are the motorbike riders while those often nursing serious injuries remain those who did not have protective gears on when the crash occurred.
He said while most families of the victims grapple financially to get the victims back on their feet and therefore stay longer in the hospitals, a situation that also strain resources in the hospitals as cases increase.
"Some crashes result in permanent disabilities and the patient spends a long time in hospital undergoing treatment, which also strain resources while families are drained financially," he added.
A spot check at Nakuru law courts further reveals that most of those arraigned in court after being arrested during the ongoing countrywide swoop did not have licenses.
Of the 20 motorbike riders arraigned after the swoop, all of them did not have licenses, a situation that paints a grim picture that most of them are not professionally trained and opt for 'self-training' before hitting the road.