Dead end looms for criminals as police given modern guns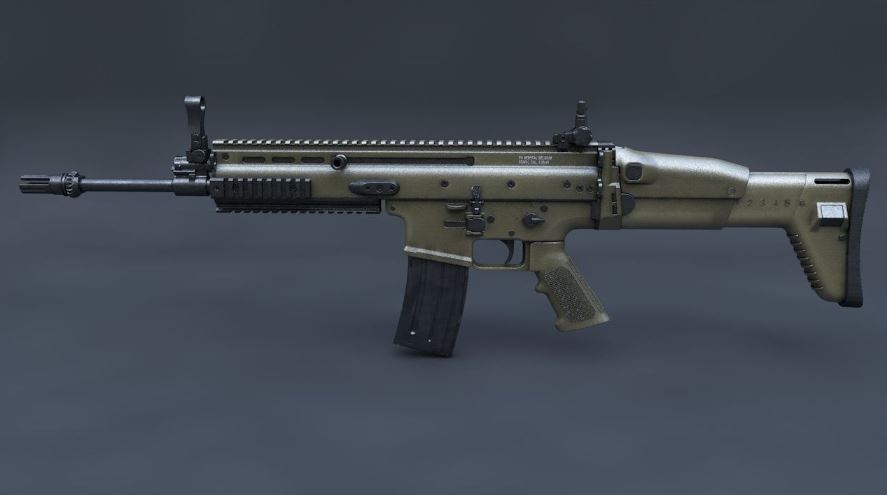 The police have been issued with new and sophisticated guns to fight crime in the latest move to modernise the country's security agencies.
The project will see the over 65,000 general duty police officers and their 25,000 border patrol and anti-stock theft unit counterparts armed with the latest model of weapons.
Early this year, both Kenya Police Service (KPS) and Administration Police Service (APS) started receiving new Spanish made CZ Scorpion EVO 3 A1 airsoft rifles and Belgian-made FN SCAR rifles to replace the aging and cumbersome German-made G3 and MP5 rifles.
Police spokesman Charles Owino says the government has put in a lot of money for police modernisation, mostly in technology and weaponry to the advantage of officers, especially in preventive and investigative capacities.
"The world is changing and therefore the need for law enforcement agencies to embrace the change and move with speed," Owino says.
In as from February this year, police officers on patrol, at roadblocks and those guarding strategic buildings and institutions have been armed with either beige or black fold-able butt semi-automatic guns that are more convenient and practical either on crowded streets or rural areas.
Introduced in 2009, the CZ Scorpion EVO 3 A1 is a 9mm select fire variant, making it a semi-automatic sub-machine gun. It is a prototype of the Slovakian Laugo sub-machine gun.
Described as simple and reliable, the 26.5 inches long gun gives the user select fire switch from semi-automatic, three round bursts or fully automatic.
It is said to be a highly accurate 1,100-rounds-per-minute weapon perfect for hostage rescue and SWAT missions or special operations.
The standard rifle comes with folding adjustable and fully removable stock/butt for easy transport.
Its hand guard is lined with rails to accommodate grips, telescopic sights, flashlights and lasers with a 19 nine millimetre bullet magazine.
Its magazine is positioned for easy and fast reloads and can easily be detached when required.
The polymer hand guard helps insulate the user's hand from barrel heat, especially during continuous automatic fire.
The FN SCAR (Special Operation Forces Combat Assault Rifle) is a 2009 manufactured semi-automatic rifle described as effective and lethal.
The assault rifle spots a reversible charging handle and an ambidextrous safety firing selector, a 7.62mm calibre magazine and foldable butt.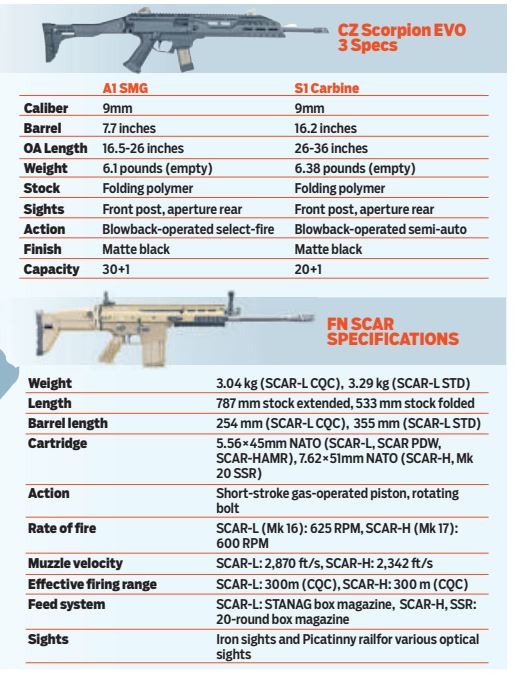 Night sighting
The rifle, designed in Belgium and manufactured in California, US, features an upper picatinny rail for optional day or night sighting systems and lower and side rails for light, laser and fore grip as well as a grenade launcher.
It also has a sling, bipod, carrying bag and blank firing system.
Retailing at about $3,099 (Sh310,000) per piece, the FN SCAR is lighter than the 1950s select fire battle German made Heckler & Koch G3 rifle, which is priced at $580 (Sh 58,000) and has been in use by Kenya's police for decades.
Kenya Defence Forces (KDF) Special Forces has been the only African military unit to use the FN Herstal SCAH-CAL assault rifle.
Other units using the rifles include the US Navy seals, the Los Angeles Police Department's SWAT, US Customs and Border Protection Officer of Air and Marine Interdiction Unit, US marines, South Korean Army 707th Special Mission Battalion, among others.
Compared to the FN SCAR, the G3 is cheap to produce, easy to maintain standard NATO 7.62 x 51mm ammunition rifle that employs the roller delayed blowback mechanism that was successful.
It is capable of semi-automatic and full automatic firing fed from a 20-round capacity magazine or 50-round drum magazine.
The AK 47 assault rifle is a celebrated gun developed in the Soviet Union in 1945 by Mikhail Kalashnikov. Seventy years later, the rifle continues to be the most popular and used gun around the world even under harsh conditions with little maintenance. It has been the weapon of choice for militaries, insurgents and rebels alike.
Experts opine that AK assault rifles are the most used worldwide.
The government has spent billions of shillings in the latest acquisition of over 50,000 rifles for the over 120,000 police officers.
The new acquisition will include spare parts for the new rifles, training the officers in gun-handling and attachments that the older guns did not have.
There are questions on where the old G3, MP5 and AK 47 rifles will be disposed of, considering that unlike in the developed world where the legal uptake of guns is high, the Kenyan scenario is restricted.
Ordinarily, guns demilitarised from fully automatic and semi-automatic to single fire are released on the market, but this can't be done in Kenya.
Owino says the police are also targeting to complete the Directorate of Criminal Investigation (DCI) headquarters based Forensic Laboratory to give it capacity.
"This will give the police capacity to collect saliva, blood and hair from crime scenes and make it easier for investigators to identify persons involved in crime. The lab is almost complete," he says.
The new weaponry will help in the over 20 border patrol stations that will be built along the Kenya/Somalia border for the Rural Border Patrol units.
"We are developing about 20 patrol units along the border and the officers are expected to have night vision goggles and technology that will detect movement of arms and persons as far as 15 kilometres away," Owino says.