Visiting Namibia President Hage Geingob expected at Mashujaa Day fete in Kakamega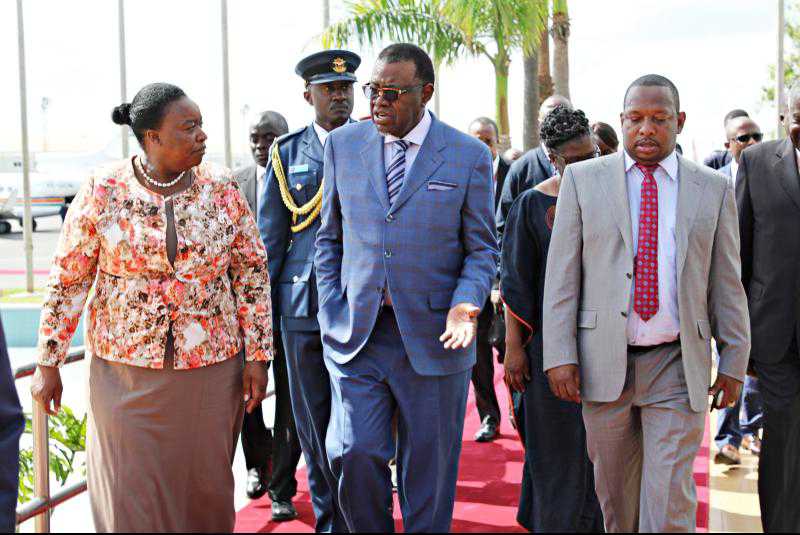 President Hage Geingob of Namibia is in Kenya and is expected to meet President Uhuru Kenyatta for bilateral talks.
President Geingob was accompanied by his wife Monica Geingob. They were received at the Jomo Kenyatta International Airport by Foreign Affairs Cabinet Secretary Monica Juma.
President Hage will attend this year's Mashujaa Day fete in Kakamega on Saturday.
The meeting comes in the backdrop of Foreign Affairs PS Macharia Kamau's Monday meeting with senior officials from Kenya and Namibia during the launch of a Joint Commission for Cooperation.
The commission will focus on areas of collaboration as well as timelines for implementation.
Speaking at the JCC Monday session, Namibian Permanent Secretary for International Relations Selma Ashipala-Musavyi said her country wished to tighten ties with Kenya.
Kenya has partnered with Namibia in health projects. In 2002, Kenya helped Namibia meet a personnel deficit at her health centres in 2002.
The nation found in southwest of Africa is home to 500 Kenyans.
Kenya and Namibia have worked on regional initiatives such as the African Continental Free Trade Area Agreement. Following the deal signing, Juma visited Windhoek in July, where she praised Namibia for being part of the agreement set up in March at an African Union summit in Rwanda.
Juma visited Angola, Namibia and South Africa, a trip she says was meant to explore means in which Nairobi can expand its spheres of diplomatic and trade presence across the continent.
The Foreign CS who delivered a special message from President Uhuru Kenyatta to Angola's João Lourenço and Namibia's Hage Geingob, said the Head of State had also invited his counterparts for State visit.
The country's top diplomat also used the opportunity to fight claims that the Chinese are taking over the African continent, and especially Kenya, yet they were not doing skills transfers. "This story about Africa and China is somewhat an exaggerated issue.
Factually, China has invested more in the African continent," she said adding that China was also on the overdrive in foreign investments in Europe and America.