Housing: President Uhuru calls for cleaner world cities
NAIROBI
By PSCU | October 2nd 2018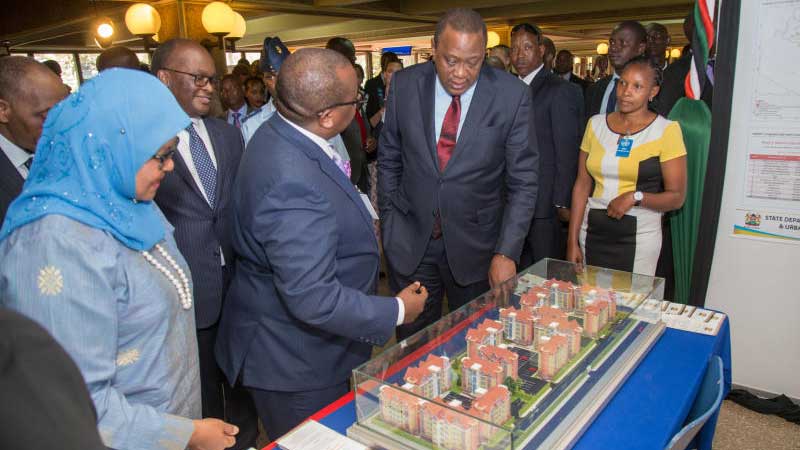 President Uhuru Kenyatta yesterday led the world in marking the World Habitat Day at the United Nations-Habitat headquarters in Nairobi.
Uhuru presided over a gathering of delegates from across the world, which Kenya co-hosted with Indonesia.
The President started the meeting by pledging solidarity with Indonesia, which was recently hit by a devastating earthquake and tsunami.
"Our thoughts and prayers go out to the people of Indonesia, who have been Kenya's steadfast partners and friends since independence," he said.
He called for more effective ways of dealing with solid waste in the wake of rapid urbanisation.
Greatest challenge
"I am informed that across the world, municipal solid waste currently exceeds 2 billion tonnes a year," he said.
"Solid waste management poses one of the greatest challenges of our time in a rapidly urbanising world. We must take urgent action," Uhuru said.
This year's theme was "Municipal Solid Waste Management."
Uhuru told the meeting sustainable management of solid waste was linked to other global goals and Kenya's development objectives.
The President later presented awards to winners of the 2018 UN-Habitat Scroll of Honour.
The winners included Xuzhou City in Jiangsu Province, China for promoting holistic and broad-based approaches to ecological restoration through intelligent waste-management.
The Institute of Physical Planning of Cuba was awarded for implementing positive urban and territorial change by integrating and implementing principles of the New Urban Agenda.
Tri Rismaharirni, the Mayor of Surabaya City in Indonesia, was awarded for implementing people-centered and inclusive city regeneration and development initiatives prioritising low income residents.
Kenyan awarded
Kenya's Isaac Muasa, who chairs Mathare Environmental Conservation Youth Group, was awarded for harnessing the potential of disadvantaged youth and inspiring community-wide involvement in solid waste management.
A posthumous award was given to Dr Mona Serageldin, who was Vice President of the Institute for International Urban Development, USA.