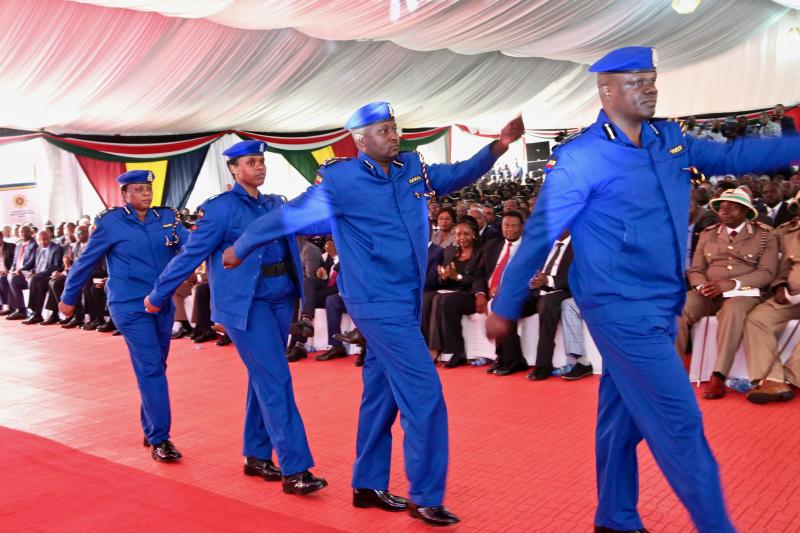 President Uhuru Kenyatta on Thursday announced major changes in the National Police Service, which will see the ushering in of a new command structure.
The new structure will see 24,572 Administration Police join Kenya Police to form a General Duty Police under the command of the Deputy Inspector General (DIG) of police.
There will be a new ceremonial uniform to be adopted by the new team together with new designations.
The new changes touch on command, uniform, structure, renaming of training institutions and housing.
The changes to take effect immediately and be rolled out in the next three years will see the Kenya Police focus on public security and safety, AP focus on protective and border security and Directorate of Criminal Investigations on criminal investigations.
Read More
The president said this is aimed at eliminating overlap and duplicate functions.
All police officers and prison warders will now receive housing allowances regardless of their ranks from December. Officers living in Nairobi will get an allowance of Sh18,124 a month, those in Mombasa, Kisumu, Nakuru, Meru and Uasin Gishu will receive Sh13,124 and other counties Sh8,124.
The president directed the National Treasury CS Henry Rotich to factor in the Supplementary budget more allocation to the security sector, to cater for House allowance for the police and the prison warders.
Kenyatta directed the National Treasury to terminate all leases with landlords within 90 days and the officers asked to enter into private tenancy with property owners.
The officers living in these quarters and police lines have also been asked to vacate within 90 days of the new allowance and integrate with their communities.
He said separate shift quarters for male and female will be provided at the police stations and police posts to help improve morale as well as create an effective and impartial force.
At least 12 designations and positions in the service have been abolished.
They include Administration Police Service Regional Commander, Kenya Police Regional Service Commander, Director of Criminal Investigations Regional Commander, County Coordinating Commander and Kenya Police Service County Commander.
Others abolished include Administration Police Service County Commander, Director of Criminal Investigations County Commander, Administration Police Service Sub-County Commander, Director of Criminal Investigations Sub-County Commander, Kenya Police Service Officer Commanding Police Division (OCPD), District Administration Police Commander (DAPC) and Administration Police Service Ward Commander.
This will affect more than 800 officers. They will be redeployed to other duties at the regional and police headquarters.
The newly created Regional Police Commander (RC), County Police Commander (CPC), Sub County Police Commander (SPC) and Officer Commanding Police Station (OCS) who will be the Ward Commander in charge of a police station and its posts and patrol bases.
This means all the 290 constituencies will have an officer in charge (SPC) equivalent to an OCPD while all wards will have OCS'.
More than 3600 chiefs camps in the country will be turned into modern police posts while all the country's 1520 wards will have police stations.
This will also see most resources that are scattered in the service consolidated under one command in a given area.
For instance, all police vehicles in a given division will be managed and run by the SPC.
Every chief's camp will be changed to be a police post fully equipped with toilets, Occurrence Book, cells and enough personnel to run professionally.
The changes will also see APs focus on their main role of protecting the country's strategic installations, VIP protection and border security.
Already the service is taking over the main Kenya-Somalia border by ensuring all other police stations near there are removed.
The APs will now focus on Rapid Deployment Unit (RDU), Border Police Unit, APS Stock Theft Prevention Unit (APS-ASTU) and Critical Infrastructure Protection Unit (CIPU).
Kenya Police will remain with the General Service Unit.
The president made the remarks when he unveiled a policy framework and strategy for reorganization of the service. Interior CS Fred Matiangi and IG Joseph Boinnet were among government officials who were present.
A number of diplomats also attended the event. Kenyatta had directed that a new strategy be put in place to spearhead the changes.
The president renamed and rebranded the existing training colleges to carry a uniform identity.
Kenya Police College Kiganjo was renamed National Police College (NPC) Kiganjo Campus, AP Training College will now be called National Police College Embakasi A campus, while the GSU Training School will now be National Police College Embakasi B Campus.
Loresho training college will now be known as National Police College Senior Staff Loresho Campus, the college in Emali where middle-level officers receive training shall be identified as the National Police Service College Emali while the Magadi college changes to NPS Magadi Field for Tactical GSU training. Border Police Training School has been renamed National Police Service College/Border Police Training Campus.
"There is an urgent need in reforming the structure and culture of police and that's why I directed the CS, IG and NPS to develop a comprehensive structure for reforms.
He lauded, "they have gone an extra mile to come up with a well thought out proposal, discussed with the National Assembly, the Senate, religious leaders, and civil society in a package of reforms."
"Today I have launched the policy framework and strategy for the NPS. It reflects ambition I expect and the recommendations are actionable and will be implemented to conclusion," he said.
He said the reforms seek to transform the police from a force that was feared to a force that is respected, works and serves the community.
"We usher in a transformative model of policing that promotes professionalism. We the changes, we expect our officers to approach duty with bravery, honesty and commitment. This Administrative move effectively inspires confidence to wananchi, investors and entrepreneurs to build a strong economy, which create wealth and jobs," he said.
The 39,680 Kenya Police Service and 24,572 Administration Police will now form a single force totaling 64,252 officers with President Kenyatta saying this will interpret to better security for Kenyans.
The General Duty Police officers will now also be symbolised by a joint pass out parade and a new uniform.