Father alleges plot of cover-up in Garissa CEC shooting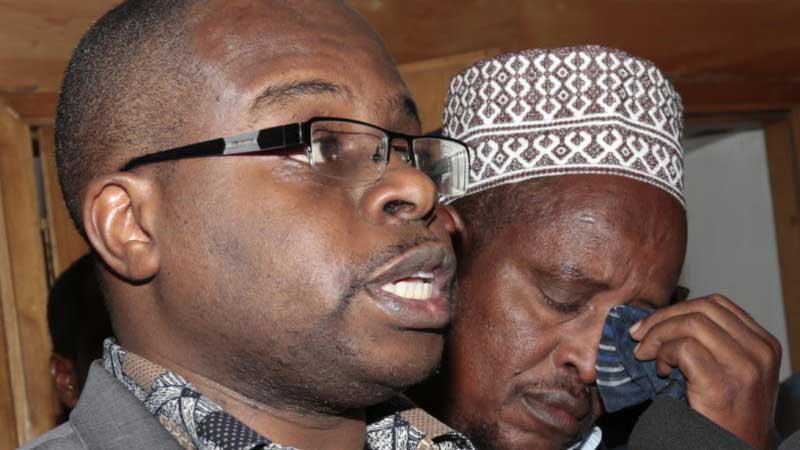 The family of a former Garissa County official who is fighting for his life after he was shot in the head has alleged a cover-up and demanded speedy, independent investigations.
Aden Mukhtar, the father of former Garissa County finance CEC Idris Mukhtar, and his lawyer, Charles Kanjama, yesterday accused police of lethargy.
They cited the release of some suspects, the changing of detectives involved in the investigation, and the death of a prime suspect while in police custody as an indication of interference.
Intensive care
They spoke three days after David Mwai, the prime suspect in the shooting, was found dead in a cell at Parklands Police Station.
Mwai had reportedly confessed to having been hired to kill Idris, who was shot on August 19 at Kileleshwa in Nairobi.
Idris is in the intensive care unit at a Nairobi hospital.
Mr Kanjama said the Mukhtar family believed what happened to Mwai was part of the cover-up.
"We are concerned about the mysterious death of David Mwai, who was going to provide critical evidence, the disappearance of his wife, and the testimony of the sister, which seems to give direction that there was an attempt to cover up a critical piece of the investigations," the lawyer said.
Aden said the family had information that the initial investigators were thrown out and the matter taken over by the CID. He claimed the pace of investigations had slowed down.
"Let me say that my son was shot because of investigating corruption," Aden said, adding that the release of some suspects was proof of interference in the investigations.
"We know that this is a very high profile matter because the suspects or persons of interest are very senior members of the Garissa County government," Kanjama added.
"Key suspects have been released. If we feel that the police are not aggressive enough, transparent and accountable in dealing with the matter, then justice will not be done and impunity will reign supreme," Kanjama said.
Aden said Idris had informed him about threats to his life.
"There were people calling him, giving him information on his movements, where he spent time, where he prayed, telling him that they were sent by someone prominent from his county to eliminate him," Aden said.
He said the attackers were given money to kill him and that they had asked Idris to part with more money for them to spare him.
"I told him to report the matter to the police and he did so at Kilimani Police Station, where he was advised to entrap the caller, but this did not work out," Aden explained.
The father said his family felt that the real perpetrators were free while those who had been used were in custody.
Kanjama, who was Idris' lawyer, said his client fought corruption both in the previous and current Garissa County administration.
He said that before he was shot, Idris was in the process of investigating the academic papers Governor Ali Korane submitted to the Ethics and Anti-Corruption Commission and the Independent Electoral and Boundaries Commission (IEBC) for clearance to contest.
The lawyer claimed they had received information police had obtained a warrant to get some documents and certificates from the IEBC from last Wednesday but this has not been done.
Kanjama further expressed concern that he had received information from the police that he was also a target.
"I was summoned by the police who told me that they received information in the course of their investigation from the same people who attempted to assassinate Idris, who said that they had been given two targets."
Business card
He said unless investigations were done aggressively, anyone with information on the matter would feel threatened.
"There should be no secrets, no politicisation of the matter. Let the evidence lead to whoever it might, and let the law apply equally to everyone," said Kanjama.
Sources yesterday said almost all persons of interest had recorded their statements.
Director of Criminal Investigations George Kinoti said he would ensure that justice was done.
"Let all concerned know we are a professional agency and there will be fairness and justice in the end. It does not matter how long it takes or who is involved," Mr Kinoti said.
He dismissed claims that police had been compromised.