City Hall shelves plans to relocate Dandora dumpsite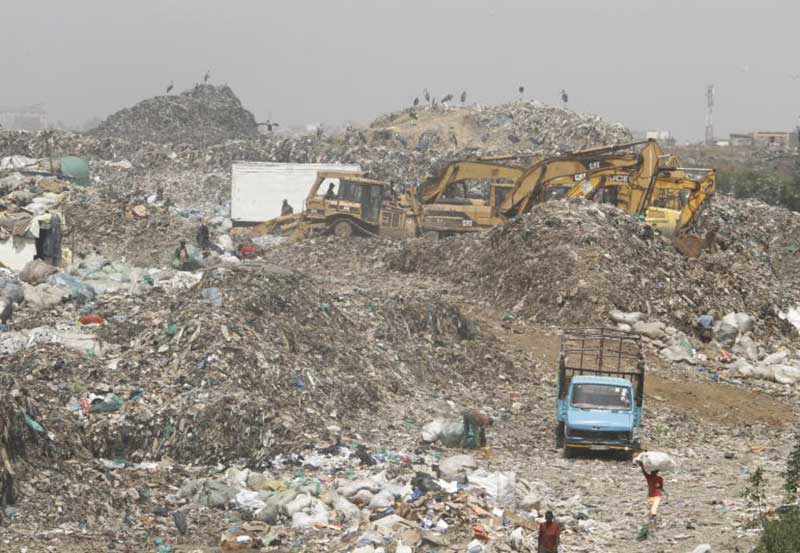 Plans to relocate Dandora dumpsite have ground to a halt due to unavailability of land.
The site was declared full 20 years ago and attempts by City Hall to relocate it to an alternative land have hit a snag.
County environment executive, Larry Wambua, yesterday told The Standard that City Hall had now settled on setting up an energy generating plant at the dumpsite.
"We do not have land in Nairobi to host it, the only place we have right now is Dandora. There is technology that can fit in the dumpsite to set up an energy generation plant," he said.
Initially, City Hall had planned a 500-acre dumpsite at Ruai. But the Kenya Civil Aviation Authority (KCAA) opposed the move, saying the new site lay beneath a flight path.
The agency argued that birds attracted by the waste would interfere with flight operations.
City Hall was then sent back to the drawing board and resorted to compacting waste at Dandora dumpsite to create space for more garbage.
Mr Wambua now says that approximately 60 local and international firms had expresed interest in setting up of an energy generating plant at the 43-acre dumpsite.
The plant is expected to produce 40MW per hour from methane gas generated from waste.
The ground breaking and awarding of the contract is expected to take place by December this year.
Proposal requests
Expressions of interest have already closed and the county is in the process of completing requests for proposals.
According to Wambua, viable companies would be shortlisted and meetings initiated to determine energy generating technologies on offer and the firms' seriousness in the project.
The City has been grappling with a waste management crisis for decades now, which has seen piles of garbage accumulating on some streets and in some estates.
Nairobi produces up to 2,500 tonnes of waste everyday.
Out of this, the city is only able to collect 1,800 tonnes. This presents a shortfall of 700 tonnes that City Hall says it has scaled up efforts to collect.
Cleaning day
"We have also declared every first Saturday of the month a cleaning day to keep the city clean," he added.
City Hall has also increased the fleet of garbage collection vehicles to 80 and devolved the service to wards for ease of operations.
Last month, Governor Mike Sonko announced that contracts for firms hired to clean up the City and transport the waste to the Dandora dumpsite had expired.
The governor announced that the Sh700 million previously used to pay garbage collection contracts would be used to pay youths to do the job.