Nine die, 20 injured after a bus went up in flames in Emali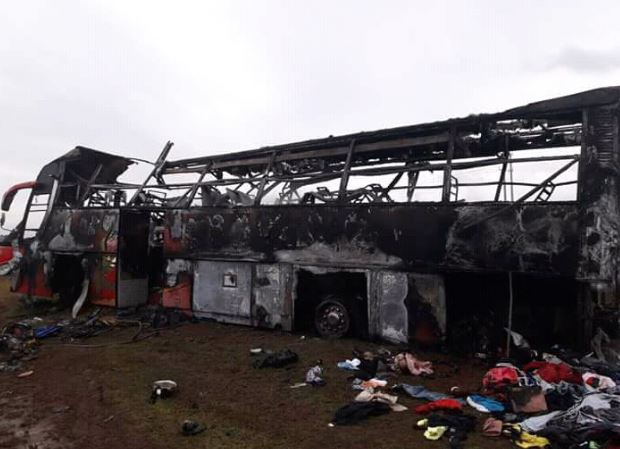 Nine people were on Wednesday morning killed and at least 20 others seriously injured in a road accident on Nairobi-Mombasa highway near Sultan Hamud, Makueni County.
The fatal accident occurred after a bus and a lorry burst into flames following a head-on collision, witnesses and police said.
Makueni County Commissioner Mohammed Maalim said the victims had been rushed to Kilome Nursing Home for medication.
"It was a fiery clash. The bus burst into flames after the collision," said Maalim.
Other survivors said the two vehicles collided head on leading to a fire.
The bus was heading to Mombasa when the disaster struck.
Eastern regional police boss Moses Ombati said they had latched investigations into the incident.
It is not clear which of the two vehicles was on the wrong. There are fears the toll may increase because those injured had serious injuries.
The dead were taken to Makindu Hospital mortuary.
Such accidents are common on the highway, especially near the Sultan Hamud area.
Earlier last month, a school van belonging to Starlight Academy collided with a trailer killing the driver on the spot.
Six pupils were injured and rushed to Kilome Nursing Home. The school van was heading to Mombasa.
December last year, seven people died after a grisly accident which involved a hearse and a lorry in Kalimbini area near Sultan Hamud.