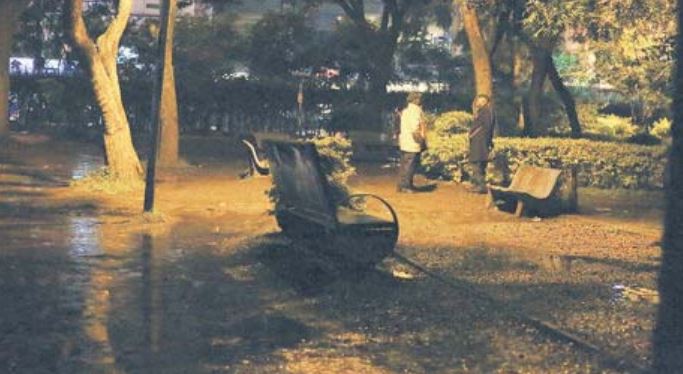 On a chilly Tuesday afternoon at Nairobi's Jeevanjee Gardens, a preacher stands on one of the paved walkways and belts out a gospel song.
His voice rises higher, accompanied by several uncoordinated dance moves. He punctuates it with outbursts, declaring that he has an urgent message from the Lord.
People scurry past him, paying no attention. He walks to one of the women seated on a bench and taps her shoulder. She sneers and walks away.
In another corner, a group of men chew khat while listening to a larger group of people who have formed a 'Bunge la wananchi' a socio-political group that meets at the park to discuss issues.
Around the hedged fences, street children sniffing glue linger. They hover around a young man reading a book. Their eyes are on the black bag by his side. He scrambles for his stuff and leaves.
"I felt unsafe. If I stayed they would gang up and steal from me," he says when we catch up with him hurrying past the park.
When night falls, insecurity deepens. At 11.20pm, the smell of bhang, stale sweat and alcohol filters through the air. The park is bathed in darkness. Save for the weak light from a dusty bulb of a lone street lamp at the centre of the park, there is no other source of light.
Inside, two people are seated on the bench smoking weed. They are masked by the tall trees and live fence surrounding the park. The only indication of life is the hazy rings of smoke rising from the glowing tips of what they are smoking.
For our security, we flee when they start walking towards us. When we return the next night, a lone police officer clutching on a gun is standing inside the park.
"This is one of the most dangerous places to be in Nairobi at night. We have to patrol every day, otherwise it becomes thugs' playground," he says.
He explains that on nights when they are not on standby, street children and robbers use the park as a hideout. They wait for passersby and pounce on them then disappear into the thickets, where they know people are too scared to follow them.
The commotion is a contradiction of the mandate upon which the founders set up the park. Donated to the residents of Nairobi in 1906 by philanthropist Alibhai Jeevanjee, the five-acre park was meant to be a place where the poor could find a spot to rest, and step away, even if briefly, from the chaos that define the city. Instead, it is turning out to be that noisy place people avoid.
"We have a master plan on rehabilitation of Jeevanjee. We will also put up a security team to ensure the place is safe even at night," says Larry Wambua, the officer in charge of Water, Energy and Natural Resources in Nairobi County.
Our next adventure takes us to City Park; the place that has dominated news over the last few days. Police shot at a woman and her nephew on suspicion that they were engaging in illegal activities. At night, City Park is deserted.
When we go deeper into the park, we bump into several vehicles parked in a thicket. In the darkness, we spot people seated inside the vehicles. Some of them start driving off as soon as they notice us angling to take photos.
Ratchet acts
"We always suspect people who enter the parks are either drug dealers or are engaging in strange activities. They start driving in at night and can stay till morning," says a trader who operates a kiosk nearby.
Our next stop is Jamhuri Park along Ngong Road. It is midnight, and raindrops form a soft drizzle as we drive through the rough, muddy road. The street lights that line the path are all dead. Occasionally, a motorcycle zooms past us. One of them warns that Jamuhuri Park area is not a place for a woman to walk at night.
Christopher Njane, the environment officer in charge of parks in Nairobi, says security is a huge concern, and they are working on ways to ensure all parks are well lit.
"People are not safe around those areas at night. They (parks) will be lit up," he says.
At Uhuru Gardens on Lang'ata Road, vehicles are scattered around.
"This place is a bedroom for people who want to have illicit relations and do not want to get a room," says a worker from one of the bars near the park.
She says the ratchet acts peak during weekends. She is often called to deliver drinks in different areas of the park.
Our tour ends at Uhuru Park in city centre. It is creepy inside. The fountain sprays cold water in darkness. A fluorescent light hidden behind one of the trees gives a silhouette of the boats parked on the water body inside the park.
Dr Emmanuel Ndiema, a senior research scientist at the National Museums of Kenya, says despite the many challenges, there is still hope of reclaiming the parks as some of the county's biggest assets.
"We need to work hard on reclaiming our parks, and making them reputable," he says, adding that poor maintenance is what led to degradation of the infamous Muliro Gardens in Kakamega.