City conductor linked to assault has pending cases in court, police say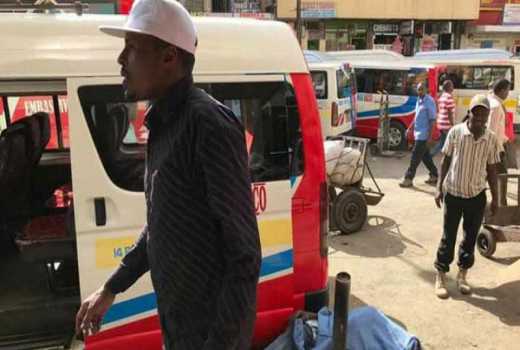 Police have now said a man captured on camera and linked to an attack on a passenger who reportedly refused to board a matatu has other three assault cases pending in court.
The revelation came following demands by Kenyans for the man identified as Felix Mwingirwa to be arrested and prosecuted in connection with the attack of a passenger. The victim is said to be recovering in hospital.
"We are in receipt of the post below and we are following up with OCS Central Police. The man in question has been charged in court three times with similar offences, the cases are pending in court," read a statement posted on the official police Twitter handle.
The statement posted yesterday further confirmed they had contacted the man who claimed to have witnessed the incident and shared the information on social media to help the authorities.
"This man in cap is a 'makanga' with Meru-Nairobi route Nissans. He reportedly attacked the passenger lying on the ground for refusing to board matatu of his preference at Tea Room, Nairobi on January 30th," wrote the man.
Taunted commuters
"The passenger is recuperating at Kenyatta National Hospital. The makanga is known as Felix Mwingirwa. He purports he is untouchable. He even taunted the other commuters to report to whoever they wish because he will not be taken anywhere. To date nothing has happened and he is going about his businesses as usual," read the post
The picture shows the victim lying on the ground next to one of the matatus. There is blood where he is lying. The photo went viral and many people called for the culprit to be identified and arrested.
When Metropolitan visited the matatu sacco offices on Accra Road, the staff declined to discuss the matter. The manager was said to be out and after waiting for more than an hour, one of the staff said there was no point in waiting any longer.
A mobile phone number belonging the tout that has been circulated online has since been switched off. Central Police boss Robinson Thuku confirmed they were following up the matter, but the victim had not reported the case.
"We are following up the matter. We were not aware until it went viral and that is because the victim did not report the incident. We have sent somebody to Kenyatta National Hospital to trace the victim," he said.
"The suspect has similar cases (pending in court) of assaulting passengers in the same area."