Nairobi County joins Rwandans in Umuganda cleaning exercise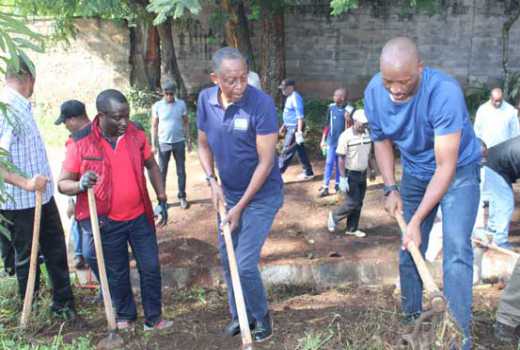 Nairobi can get its green city in the sun name back and the City Government of Nairobi is ready to make change, a group of volunteers for the Umuganda cleaning exercise has been told.
As part of activities to mark 24th Heroes Day anniversary, Rwanda High Commission to Kenya in partnership with Nairobi City County organized and carried out general cleaning exercise commonly known as "Umuganda" among Rwandans.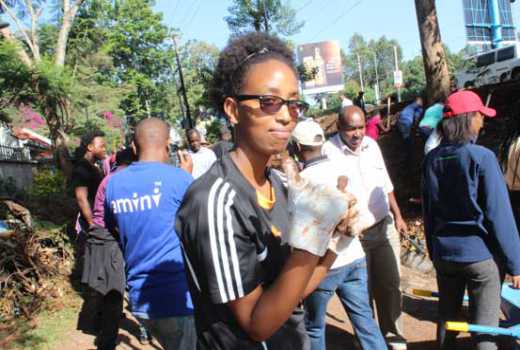 The exercise took place around embassy premises along Limuru road this morning in Gigiri this morning.
The exercise brought together over 200 participants among them officials from Rwanda mission to Kenya, Nairobi County Government Officials, Rwandans Living in Nairobi and their friends.
Speaking to reporters during the exercise in Gigiri, the Rwanda High Commissioner to Kenya Ambassador James Kimonyo thanked the Nairobi City County for providing logistical support for this activity.
He also welcomed the participation of officials from the County together with Rwandan citizens living in Nairobi who turned up for this important call.
"We are happy to continue this national exercise with Rwandans living here in Nairobi but most importantly we have agreed with County Government that this exercise can only be a success if it's done in partnership with the County Government administration. Said Mr Kimonyo who rolled up his sleeves and took the shovel to clean up the field outside the High Commission compound at Gigiri.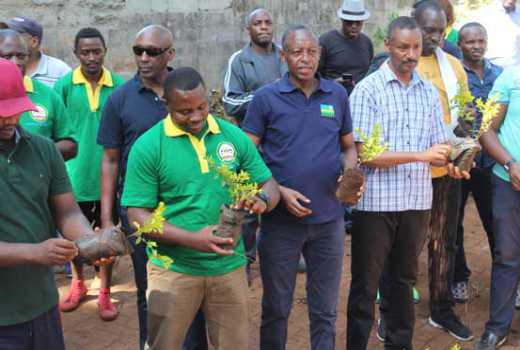 While addressing participants after Umuganda, Assistant Director in charge of Environment at the City Government Mr David Makori who represented the Governor of Nairobi County Honorable Mike Mbuvi Sonko thanked Rwanda High Commission for organizing this important exercise.
"The City Government is ready to work with Rwanda to help in solid waste management since you have shown to the rest of the World and Africa how it is done," said Mr Makori at the end of the exercise.
He conveyed a goodwill message from Governor Mike Sonko who was away attending a crucial City Government budget meeting.
"The governor is glad to be associated with the Umuganda cleaning exercise and has committed to working with partners to help bring back Nairobi to its lost glory as a green city in the sun," he said.
Mr Makori announced that every month, the City Government will have a theme on the environment and will mobilize the whole Nairobi populace to participate in the joint community cleaning exercise as part of sensitizing Nairobians on environmental management.
There was drama, not once but twice, when the group killed two snakes as they cleared the garden for flower planting.
"You see how cleaning is important. We have just killed two snakes and that has made the environment here safer," said Ricardo Banon a Rwandan living in Nairobi whilst showing a snake he and others just killed during the exercise.
Gigiri is also home to one of the largest forests within a capital city – Karura Forest.
"I am so happy to be part of this. I didn't have to stay at home because it could have been so boring," said a delighted ten-year-old Lorna Nshuti who had come with her brother at the exercise.
Mr Kimonyo explained that the Umuganda cleaning exercise started in 2004 and has helped Rwanda keep her environment clean.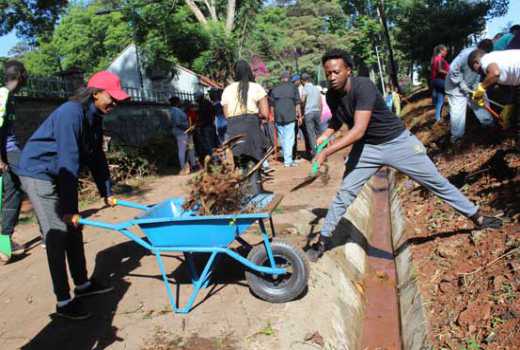 Kigali boasts as one of the cleanest and greenest cities in the World with no litter nor open soil.
The country was one of the first to ban the use of plastics bags in 2007 that degrades the environment and whose effects may be hard to reverse.
Kenya followed suit last year with a ban on the same.
And in the most recent development, Rwanda became the first country in the region with the commissioning of ICT waste plant that has offered a solution to dangerous electronic waste coming with the information age.
"Our secret has been in behavior change as a result of strict enforcement practice in our country," said Ambassador Kimonyo who was quick to recall that Rwanda was in the same state as Kenya some 14 years ago and that it is possible for Kenya to be green as well.
Nairobi is currently in a big solid waste management hole and unless a quick and sustainable solution is found, the risks around health associated with garbage and contaminated water will continue to beleaguer its people.
The word Umuganda can be translated as 'coming together in common purpose to achieve an outcome'.
In traditional Rwandan culture, members of the community would call upon their family, friends and neighbours to help them complete a difficult task.
As part of efforts to reconstruct Rwanda and nurture a shared national identity, the Government of Rwanda drew on aspects of Rwandan culture and traditional practices to enrich and adapt its development programs to the country's needs and context.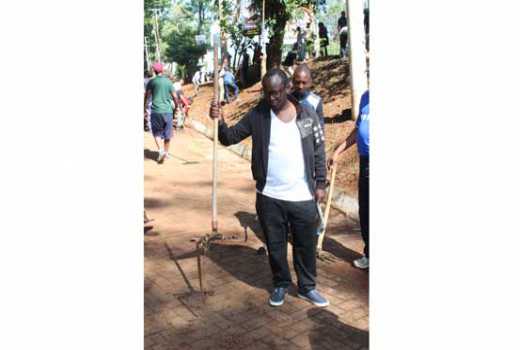 The result is a set of homegrown solution - culturally owned practices translated into sustainable development programs including Umuganda.
According to the First Secretary at the Rwandan Embassy Mr Kim Kamasa, modern day Umuganda can be described as community work.
On the last Saturday of each month, communities come together to do a variety of public works.
This often includes infrastructure development and environmental protection. "Rwandans between 18 and 65 are obliged to participate in Umuganda. Expatriates living in Rwanda are encouraged to take part," says Mr Kamasa who also took part in today's exercise.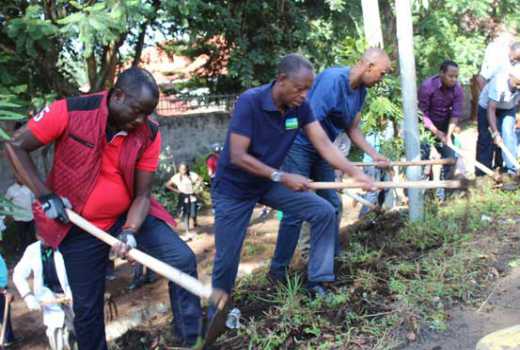 He says, today close to 80 per cent of Rwandans took part in the monthly community work.
Successful projects include the building of schools, medical centres and hydroelectric plants as well as rehabilitating wetlands and creating highly productive agricultural plots.
Statistics show that the value of Umuganda to the country's development since 2007 has been estimated at more than US $60 million (Sh 6 billion).