Retired PCEA moderator, three others charged with Sh39 million theft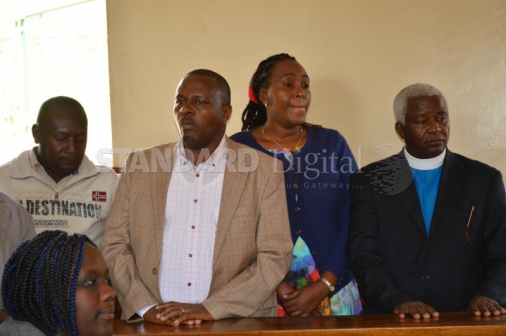 A former church moderator and four other people were Wednesday charged with stealing Sh39.9 million
David Gathanju, who served as the moderator of Presbyterian Church of East Africa (PCEA) General Assembly between 2009 and 2015, was charged alongside Esther Wanjiru, Peter Mwangi, Stephen Muhoro and James Muiruri, who are all former employees of the church.
According to the charge sheet, on diverse dates between January 2, 2016, and June 30, 2017, at PCEA headquarters in Nairobi's South C estate, the five conspired to steal from the church.
In a second count, they were accused of stealing Sh39.9 million, which came into their possession by virtue of their employment.
Four of them denied the charges before Principal Magistrate Stella Atambo but Mr Muiruri did not take a plea as his lawyer, Cyrus Gitari, said his client was sick and admitted in Thika Nursing Home.
The magistrate ordered the accused remanded until today, when the court will rule on their bail applications.
Cash bail
Representing Mr Gathanju, Robert Mutitu said: "I call on this court to take into consideration the age of the accused, who is now 64 years, and give him a cash bail. He is still in office as a clergyman and is ready to abide by the orders and terms of the court."
Danson Omari, representing the other three accused, requested a cash bail that was "reasonable and affordable".
"The three have since been fired by the church and are therefore praying to be granted a cash bail that is both reasonable and affordable," said Mr Omari.
Earlier, there was a heated debate between the defence, prosecution and the complainant about whether to defer the case or not.
Mr Mutitu said the church had mechanisms of dealing with such matters.
"The General Assembly a few months ago appointed a committee to deal with the matter and is yet to give its report. The church has not exhausted all its machinery in settling the dispute," he said.
Split church
Omari said charging the five would split the church, which has 10 million followers.
"Let us save the church by deferring the plea taking by the accused persons today. If the plea is taken, the damage (it) will do to the church will not be redone with consent to withdraw among the parties. Taking the plea could end up doing (more) harm to the church than the general welfare," he said.
The lawyers representing the church - Kimamo Muchiri and Henry Leparmarai - told the court they did not have proper instructions on the matter from their client.
"We have received... mixed reactions... therefore leave the court to direct on the matter," said Mr Kimamo.
To fight drought, involve communities
According to the latest information from the Meteorological Department, rainfall will be poorly distributed in April, May and June, and this will have a serious impact on agriculture