Scandal of 2,238 strangers at NYS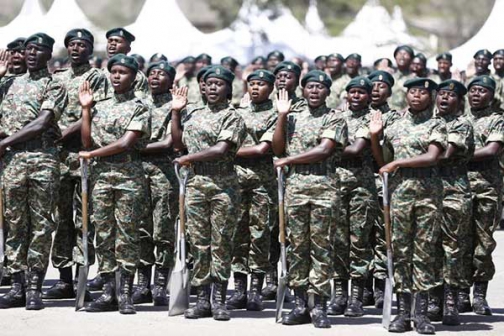 A fresh scandal has emerged at the National Youth Service (NYS) after the government admitted providing months of paramilitary training to 2,238 'strangers' at the Gilgil Camp.
This admission came to the fore yesterday after The Standard on Sunday raised questions about a surprise decision to lay off thousands of NYS servicemen and recruits at the camp.
The layoffs had created fear and resulted in a go-slow within the entire force.
This shocking revelation is bound to raise serious questions about the admission criteria used in the country's disciplined forces where billions of taxpayers' money have been invested in recent years by the Jubilee government to boost security.
It is not clear how the 'strangers' enrolled for training in a highly disciplined environment where roll calls are taken every day, and stayed there undetected for nine months.
They had access to uniforms, supplies, food and boarding facilities provided by government using tax payers money.
Last week, the government interdicted thousands of recruits in what it termed a 'clean up."
"To argue that since the 2,238 are already enrolled and they should be allowed to proceed with their training is formalising impropriety and abetting a matter that has all the hallmarks of criminal enterprise," NYS Director General Richard Ndubai told The Standard on Sunday through Ngari Gituku, his communications advisor.
"They are total strangers to both the paramilitary training and national service that ideally should qualify them to join vocational training programmes. Certainly they are imposters who gained access to NYS fraudulently," he said.
He added: "Internal investigations into how these strangers were admitted to the NYS vocational training are underway."
According to Dr Ndubai who declined to reveal how many recruits were admitted in 2016, 8,642 recruits passed out last year after satisfying the requirements of the NYS paramilitary training.
Out of these, it has emerged that 784 of those who passed out on December 19 last year at a ceremony presided over by President Uhuru Kenyatta had "not been admitted to any vocational training programme much as they qualified and therefore deserve to have been enrolled."
It has also emerged that out of the over 10,000 recruits currently in the camps, only 7,638 went through the correct recruitment process carried out in May. New recruits are only admitted to the Gilgil Camp after they produce a letter of admission which is counter-checked with government records and an original ID.
Worse still, on top of the government footing the cost of their training, taxpayers pay Sh700 as allowances to every recruit monthly when they are still in training.
This means that for the more than 44 weeks that the 'imposter' recruits have been at the camp, taxpayers have lost more than Sh68 million paid to them as allowances. This figure does not include the cost of uniforms, food, supplies, boarding, training and other extras that could push it to hundreds of millions of shillings.
This new scandal comes even before the dust settles on the now infamous Sh1.2 billion scandal that rocked NYS last year. It could be another new low for the service. The procurement scandals in 2014 led to the resignations of Devolution Cabinet Secretary Anne Waiguru, and the dismissal of Principal Secretary Peter Mangiti and the NYS Director-General Nelson Githinji. Dozens of people mentioned in the scandal have since been charged in court.
The Standard on Sunday has also learnt that as a result of this irregular 'recruitment', there is a huge backlog of recruits waiting to join the nation building and vocational stages of training.
New recruits under the five-point vision plan rolled out in 2014 when the NYS was rebranded shortly before it muddied itself with corruption, are supposed to go through three stages of training.
However as it turns out, the government may have bitten more than it can chew when it decided to triple the number of recruits from 10,000 to 30,000 per year.
With the slum upgrading having died down after being saddled with corruption, thousands of recruits have been idling in camps for months waiting to undergo vocational training.
Those at the NYS headquarters where most of the vocational courses like engineering are undertaken are just idling and the tensions are threatening to boil over.
"We are just idling here, we were told to be patient several months ago but the patience is now running out," said a recruit.
"Most of us have resorted to asking for passes because there is nothing left to do here. We are not learning and we can't graduate," said the recruit.