Nairobi's Kibra roots for peace after violent protests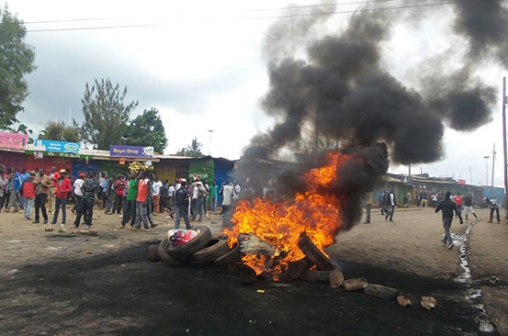 KENYA: Following incessant demonstrations that often fueled violence, Kibra has launched a peace initiative to unite communities in the shanty town. Kibra has been on the receiving end of uncalled for chaos, with disruption of life and businesses being common, due to perceived political affiliations with the Opposition party CORD.
The initiative, dubbed Kibera for Peace was organised by Shining Hope for Communities (Shofco) - an organisation based in Kibra but with operations stretching to Mathare. Speaking to the media during the function at Kamukunji grounds in Kibra, Kennedy Odede, CEO of Shofco said Kibra has always been on the receiving end when there is violence.
"Take an instance of the demonstrations against the Independent Electoral and Boundaries Commission; they are not found in Kibra but in the city centre, but Kibra has suffered untold consequences because of violence directed at it," said Mr Odede.
He encouraged the youth to channel their energy towards positive activities like sport. "Young energy can be used for something constructive and that is why we have brought together people from different political, religious and social backgrounds."
Odede argued that people living in Kibra want to protect their homes, hence the need for peace. Former Judiciary Chief Registrar Gladys Boss Shollei who also attended the function, said with disruption of normal activities, children do not go to school and for this reason there is need for peace even amid simmering politics.
"Each day when there is chaos, and children do not go to school. We want children to be in school that is why we encourage peace in Kibra," she said. She said Shofco, which reaches about 100,000 people in Kibra alone has its community service programmes disrupted when chaos erupts. Also in attendance were young people from Mathare, Mukuru and Bangladesh slums in Mombasa.
Kenyans have to learn from the past and allow voice of reason
This has been the week of war drums. In reality however, war drums have been hammered for some time, they have just been more nuanced and less volatile except those on social media which have been explicit, aggressive and unapologetically combustible.