Leaders call for national unity and coexistence in New Year messages to Kenyans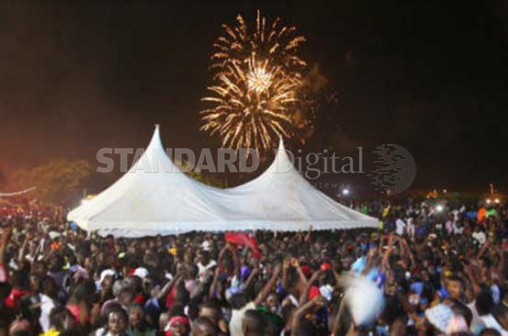 NAIROBI: Leaders from across the political divide took advantage of the New Year celebrations to call for unity among Kenyans.
Deputy President William Ruto urged Kenyans to shun tribalism and embrace peace in 2016.
Speaking at Jesus Care Centre in Malindi, Kilifi County where he had joined worshipers to usher in the New Year, Ruto asked Christians and Muslims to co-exist harmoniously.
"We should all know that we have only one country. We do not have Kenyans from this tribe or that religion. Let us respect and love each other. Muslims and Christians are one people, either from upcountry, the Coast or any part of the country," he said.
On his part, CORD leader Raila Odinga said 2016 will be a defining year for change and progress, since Kenyans are aware of the challenges facing them.
CORD co-principal Moses Wetang'ula, who is also the Senate Minority Leader challenged President Uhuru Kenyatta to promote unity and ensure the national cake is shared equitably.
Mr Wetang'ula who was reacting to the president's New Year message said public appointments should be shared equitably among all Kenyans irrespective of their voting patterns.
"I wish to welcome the president's message of unity but we cannot have a country where half of the cabinet posts are given to his community party and his deputy's," he said.
In his New Year message, the Head of State called on all Kenyans to demonstrate true love for each other, patriotism for the country and embrace and celebrate each other.
He added that Kenyans must learn to listen to each other, by talking to each other and not talking at one another.
CHANGE AND PROGRESS
Friday, Senate majority Whip Beatrice Elachi challenged Senators to unite with their respective governors to develop counties.
Elachi said the drama and political attacks that characterised last year are not healthy for the development of any county.
"I want to challenge all Senators and Governors to make it a New Year resolution to set aside their perennial differences and concentrate on working for the people and for the general good of the society. That's what leaders are put in office to do," she said.
Amani National Congress leader Musalia Mudavadi asked Kenyans to reflect seriously on the candidates they want to elect next year.
ODM Secretary General Ababu Namwamba called on Kenyans to be wary of 'dirty' money that is poured to buy votes.
"My message is for all Kenyans who want good governance to come out in large numbers and register as voters do not wait to be auctioned by the Eurobond money," he said.
Senate's Public Accounts Committee Chair Boni Khalwale appealed for concerted effort in the war against corruption,
"Let all Kenyans dedicate 2016 to be a year of fierce fight against corruption by doing these things, refusing to take bribes, refusing to offer bribes and reporting instances of corruption," he said.
Bungoma Governor Ken Lusaka said 2016 will be a year of fulfilling election pledges.
"It's going to be a year of serious work and dedication to fulfillment of promises to the electorate, as leaders we must be short on rhetoric and long on practicality," he said.
Busia Governor Sospeter Ojaamong pledged to build up on the 2010 Constitution which he believes is key to unlocking development in the county.
"We should embrace devolution support it and ensure it works in favor of ordinary Kenyans especially in terms of service delivery. Kenyans must be cohesive and patriotic to their county, avoid tribalism, nepotism and corruption," he said.
Botox: The truth about anti-aging treatment
There is a new fad in Kenya that is hitting people with surprise and excitement. Yes, Botox is now here. Kenyans have been using this form of treatment for anti-aging, migraines and excessive sweating for a few years now.