Panic in Nairobi's Central Business District over fire drill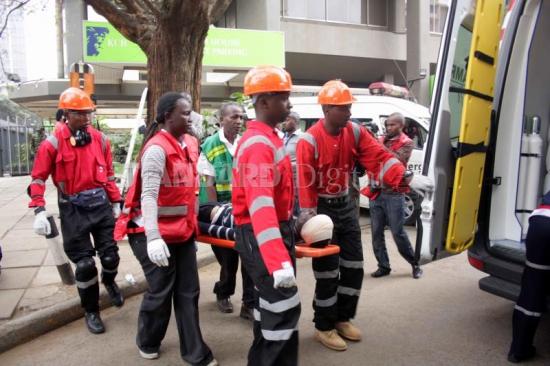 Nairobi, Kenya: A fire drill at Uchumi House along Aga Khan Walk, Nairobi caused panic among Nairobians with many mistaking the activity for a real incident.
A police helicopter, which hovered around the city centre Thursday morning, caused fear and panic, with curious members of the public milling around the area to catch a glimpse.
Ambulances raced through Kenyatta Avenue to the scene to check on their response as other residents scampered for safety. The area usually experiences traffic jams but it cleared as the emergency service vehicles arrived.
Tenants and those working near the scene were caught unawares with some losing their shoes as they escaped from the 'fire incident'.
Emergency response teams including police officers with sniffer dogs, anti-terrorism police unit officers, several fire engines from the Nairobi City County government and ambulances were all on the scene.
Several 'victims' of the fire who were rescued with 10 of them 'taken to hospital' using the ambulances while others were airlifted using the police chopper.
Some of those who had run out thinking it was a real incident were not happy when they were informed it was a drill. Officials said the incident was meant to test the residents' alertness to various issues.
National Disaster Operations Centre (NDOC) acting director Pius Mwachi, who was in charge of the emergency team, said they scored a "95 per cent" for their quick response to the disaster.
He said they would stage more of such drills to ensure residents know what to do in cases of emergency.
as Ms Kezaya and owns a textile business in Uchumi House, expressed her amazement on how the exercise was conducted.
Kezaya applauded the exercise terming it as a good learning process: "However, I know many Kenyans will take this for granted until when a disaster befalls them," she told The Standard.
The drill, which was stage-managed by the National Disaster Management Unit, saw the participation of National Youth Service, AMREF, Kenya Power, G4S, and volunteers.
According to the factories and other places of work act of 2007 Cap 514 23 (1), every occupier of a work place is required to conduct fire drills at least once in every period of twelve months and keeping records of every drill.