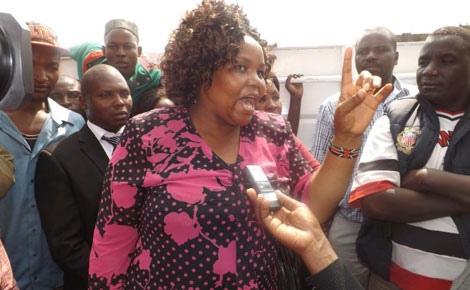 Ruiru MP Esther Gathogo at the Kahawa Sukari police post where she led residents in peaceful protests over increased insecurity in the areaa. [Photo: Kamau Maichuhie/Standard]
Nairobi, Kenya: Residents of Kahawa Sukari in Ruiru Wednesday held demonstrations over rising insecurity in the area.
The protest was ignited after two security guards were found brutally murdered on Wednesday morning at a garage where they worked. They had deep cuts in their heads and limbs, and a sword was found at the scene.
The angry residents took their protests to Kahawa Sukari police post where they accused the policemen and women of laxity in their job, saying they had done little to prevent crime.
"This area's insecurity levels are very worrying. We no longer feel safe and are urging police to up their game," said Rachel Adagala, a resident.
They said a week hardly ends without someone being killed by criminals in the area.
Read More
Their MP, Esther Gathogo, who joined residents in the protest, called for the immediate transfer of police at the post, saying they had failed in their job of protecting citizens.
Runaway crime
Gathogo alleged she was privy to information that majority of the police officers spend their time during the day and night in bars, giving criminals free reign to do as they please.
"Most officers in this police post are drunkards. All they do is spend time in clubs drinking beer while residents are suffering from soaring insecurity," Gathogo said.
The legislator appealed to residents to embrace the Nyumba Kumi Initiative and community policing, which she said can be instrumental in ensuring security prevails if properly managed.
She urged them to report strangers and give crucial information that may lead to the arrest of criminals by police.
But the residents' and their MP's sentiments were rejected by Githurai Kimbo OCS Samuel Otondo who said they were doing everything possible to ensure security prevailed.
The OCS called the claims unfortunate and meant to discredit the hardworking officers.
"We are tasked with the responsibility of keeping crime at bay in this area and as such we rarely sleep, keeping an eye on the security situation. The murder of those two guards was an isolated case, and investigations are now underway and we expect to aprehend the culprits soon," he said.
Pleaded guilty
Meanwhile, a man in Nyeri was jailed for 15 months without the option of a fine after pleading guilty to charges of stealing Sh300,000 from his employer.
Derrick Adzimbu appeared before Nyeri Resident Magistrate Christine Wekesa, charged with stealing money from Maina Wandere at Nyaribo Village in Nyeri on January 17, 2014.
The court heard that the accused took the money from the complainant's car and fled.
Police tracked the accused to Busia County, arrested him and took him back to Nyeri to face charges.
In mitigation, Adzimbu pleaded for leniency saying he is a family man with an epileptic child, and the firstborn in a single-parent family with four siblings who depend solely on him.