Slain soldier yet to find rest as his family wrangle over grave site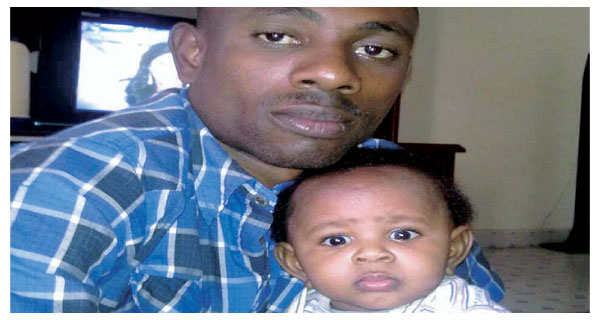 The Late Ezekiel with his baby PHOTO: MOSES MICHIRA
By MOSES MICHIRA
"Do not call again. They might know I am here".
Two short sentences said by Ezekiel Muchoka, a junior officer in the Kenyan military, to his wife in the early hours of Sunday September 22, a day after terrorists struck the Westgate Mall.
That was at 1am in a five-minute conversation between a man and his wife, more than 100 kilometres apart. He sent her a final text message at around 5am before his phone went silent, for good.
The 26-year-old soldier died before sunrise, about 16 hours after Al Shabaab attackers started a massacre in which more than 70 people died and many more injured.
He was among a battalion that was destined for Southern Somalia whose travel was put off following the mall attack.
Final visit
It was a date with destiny for him as he met his death, leaving behind his wife of one year and a 10-month old daughter.
"He was looking forward to Somalia; it would have been his first mission and he was very excited," says Christine Murugi, Muchoka's wife who works as a nurse in Mwea.
She recalls hearing Muchoka saying that he was the only one alive in his company of about seven soldiers; the others had long been killed and their bodies gone cold.
She had last seen him a week before when he had gone to bid his family bye. This turned out to be his final visit.
Muchoka, an only child to his mother, was recruited in 2011 after graduating with a diploma in medical records from the Kenya Medical Training College.
Muchoka's family are however concerned why their son, a professional technologist attached to the 75 Artillery Battalion in Embakasi Barracks, was sent into a combat zone.
It is standard practice in the military that artillery battalions are used as support for the men in combat, and are therefore not trained to neutralise the enemy.
Mutilated body
Their training is more on protecting areas that have already been secured, and ensuring any explosives left behind do not go off. They also provide support services to the soldiers on the war front.
This assertion presents another big question on the criteria used in selecting the soldiers that were deployed in the botched-up rescue mission at the mall.
Another family member who has seen Muchoka's body and looked at the postmortem report fears that the fallen soldier may have been tortured before he finally died.
His body had been mutilated and his head blown off in what must have been a painful last moments, said his cousin who spoke to The Standard on Saturday but requested anonymity. But even with that, Muchoka is yet to find his final resting place, much less than virtually all victims of the terror attack.
A rather unfortunate twist however sets him apart from the estimated 70 deaths – most of who were buried within the first week of the attack.
A bitter family dispute over where his body should be buried has denied him an opportunity to rest easy, more than a month since his demise. His bullet-ridden body is still held at the Armed Forces Memorial Hospital mortuary, according his family.
Resting place
An agreement has been elusive on whether Muchoka would be buried in Embu, his maternal home or Meru, where his late father hailed from. His mother argues that her links with her husband's family were severed soon after Muchoka's father passed on in 1992.
Muchoka's paternal relatives however demand the right to bury their son citing traditions which dictate that his final resting place should be in his ancestral land.
Kenya Defence Forces is holding Muchoka's body till both families reach an agreement, according to Ms Murugi, who is dismayed that she has been denied an opportunity to bury his husband.
Mid this week, Muchoka's mother was asked by the KDF to provide documents confirming that she indeed owns land where his son would be laid to rest. A title deed however would not guarantee that the body is released to her as a legal team would have to meet to make that decision.
"I was told that a legal committee would make that determination but no timelines were given," Murugi said. KDF spokesman Major Emmanuel Chirchir had not confirmed the status of the stalemate by late yesterday.