Immigration officials express fears as team set up to probe airport fire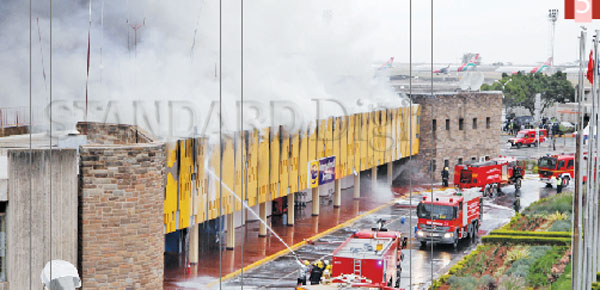 Fire-fighters battle the fire at JKIA.
By Moses Michira, LONAH KIBET and FELIX OLICK
Nairobi, Kenya: Senior Immigration officials Wednesday evening expressed unease with hasty plans to reopen the damaged Jomo Kenyatta International Airport (JKIA) to international flights.
The Immigration Department said it would not be pushed to reopen the airport as its systems were completely damaged in Wednesday's inferno and would be unable to effectively screen passengers.
Instead Immigration officials have proposed that all international flights be rerouted to Moi International Airport in Mombasa for screening of passengers who would then take connecting flights to Nairobi as domestic passengers.
The officials said they had not been consulted in decisions made.
This was in reaction to the announcement by Transport Cabinet Secretary that JKIA "emergency operations team is working round the clock to prepare Units 2 & 3 for arrival and departure of international flights as soon as possible."
But Interior Cabinet Secretary Joseph ole lenku acknowledged the security concerns.
On Wednesday evening, tents were being erected outside Terminal 3.
Meanwhile, President Uhuru Kenyatta has called on Kenyans to stop speculation into the cause of the inferno.
Speaking when he visited the scene to assess the damage, Mr Kenyatta said that security agencies had launched investigation into the incident.
He reassured the entire aviation industry, investors, local and international travellers that everything was being done to resume normal operations at the airport.
He said Kenya Civil Aviation had granted clearance for the use of Unit 3 for international departures and arrivals and assured safety and security of all passengers.
Kenya Airports Authority Managing Director Stephen Gichuki said a committee had been formed to evaluate the situation and ensure the resumption of operations at the earliest possible opportunity.
"The committee is chaired by the Cabinet Secretary for Transport and infrastructure Michael Kamau," said Mr Gichuki.
A statement from Kenya Airways confirmed that all their flights were cancelled until further.
Meanwhile, departure and arrival of domestic flights at JKIA were scheduled to resume Wednesday evening.
Transport Cabinet Secretary Kamau said the airport emergency operations team was working round the clock to prepare Units 2 and 3 for arrival and departure of international flights as soon as possible.
But in a separate statement, Kenya Airways Managing Director Titus Naikuni said that full operations at JKIA are yet to resume.