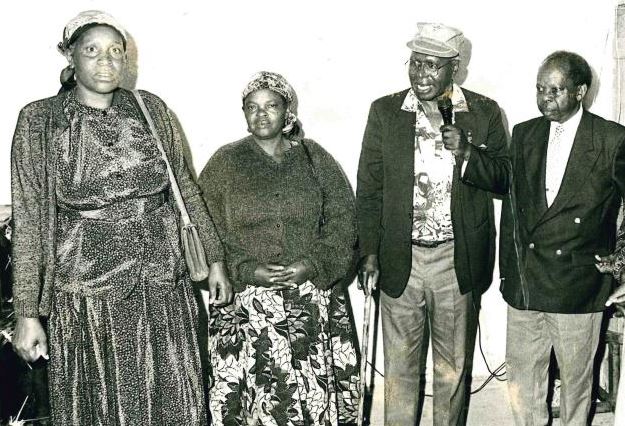 When a boy is born in a family where he has to compete for resources and attention with his brothers and sisters born to 15 mothers, being assertive is an understatement.
Simeon Nyachae was neither the first nor the last in the expansive home of colonial chief Musa Nyandusi, who ruled with an iron fist. From the day he was born sometimes in 1932, Nyachae had to learn some survival tactics that would later serve him well in public administration and politics.
His father would never take no for an answer, made important decisions such as which girl his son would marry, how many wives he would have, when to terminate school and which career to pursue.
It is against this background that Nyachae, who was forbidden from playing soccer by his father, was pressured into marrying a 16-year old girl when he was 22 and still a student. The same chief further decreed that Nyachae drops out of school a year before sitting the secondary school examinations.
The fiat was followed up by yet another dictate two years later that he marries a second wife, just two years into his first marriage, to yet another 16-year-old simply because the first woman was not getting the desired son fast enough.
In a span of three years, Nyachae had taken three wives at the insistence of his father and clan elders. Something had to give.
And just when he was getting accustomed to earning a salary as a clerk in Kisii where he was at times sent by his father to deputise him, the senior chief decided to send young Nyachae back to school in 1957. He was inspired by Ghana which had just earned its independence and was now under a black president.
Father's dream
These early experiences hardened Nyachae to learn when to say no, otherwise his father and the society had formed a habit of riding on him like a horse. Perhaps this explains why after Nyachae furthered the craft of public administration in London, he refused to work as an administrator in Ukwala, ultimately upsetting his father's dream by resigning.
Undeterred, the crafty Nyandusi organised a delegation to Chief Native Officer in Nairobi to have his son reinstated in the provincial administration. Nyachae scored a big win when he extracted a compromise to the effect that he was no longer going to work in a region where his father wielded immense influence.
This is the man who would later rise through the ranks of provincial administration in the dying days of colonialism and the newly independent Kenya to become permanent secretary in charge of development coordination in the Office of the President.
This appointment by President Daniel Moi who had just succeeded Jomo Kenyatta, would ultimately elevate him to the post of a chief secretary occupying the position of a midwife who oversaw implementation of development projects across the country.
Though unschooled in the conventional sense, Nyandusi's foresight secured a bright future for his chosen heir, who started off as a district commissioner in 1964, a job far more superior than that of a senior chief in Kisii.
Beyond his father's wildest dreams, Nyachae contested the presidency in 2002, 40 plus years after Kwame Nkuruma and his Conventional People's Party liberated Ghana from colonial yokes.
Earlier, despite his outstanding performance in public administration, when Nyachae wanted to soar like an eagle in politics, his wings were clipped.
In 1988, Nyachae was inexplicably barred by Kanu Governing Council when he declared his interest in a parliamentary seat. This was after David Onyancha, Chris Obure, Zachary Onyonka and Andrew Omanga -- who were all MPs -- formed an alliance to block his entry.
Kabansora, his flagship business based near the Jomo Kenyatta International Airport (JKIA), also created an unprecedented hurdle. According to his foes, one of the factories which was involved in animal feeds was attracting birds which posed a danger to aircraft destined to the in airport.
Nyachae, however, overcame all the hurdles and won the Nyaribari Chache parliamentary seat in 1992 and surprised many when he became a staunch supporter of Kanu which had denied him a ticket to contest.
He was appointed to head the Ministry of Agriculture, Livestock and Marketing and later served as minister for land reclamation, regional and water development. He made a name between 1997 and 1998 while presiding over the Ministry of Finance but caused a major embarrassment when he said that the government was bankrupt.
Strong-headed nature
In his strong-headed nature, he opted out of government when he was transferred to the Ministry of Industry. He quit government in 1998 and joined Ford-People which offered him a presidential ticket in December 2002.
At one point, Nyachae believed he was poised for great things when he penned an MoU with Raila Odinga at Serena. He was however shocked when a few hours later, he saw Raila on TV chanting yote yawezekana and Kibaki Tosha at Uhuru Park.
His die was cast for he came a distant third with just 5.8 per cent of the vote but managed to get 14 candidates into Parliament, most of whom were from Kisii.
Although his presidential bid was unsuccessful, Nyachae was the architect of the famous District Focus for Rural Development, an affirmative action programme aimed at decentralising development planning at the district level. This is the harbinger of the current devolution which is based on the county's the same administrative units Nyachae had used.
The words he used in an opinion article published in a local daily in February 1998, still ring true:
"Grand corruption is a many-headed monster, and killing it in Kenya is not going to be easy. It has in the last three decades evolved a regime of wily businessmen and middlemen who have over the years perfected the art of circumventing rules and regulations to make the quick buck."
Suspended projects
Nyachae at one time suspended development projects for at least three years in order to cut down development expenditure while bankers, teachers, postal workers and other professionals took to the streets to protest his austere budget announced by in 1998.
Under his watch, the civil service was downsized over a three-year period. He also initiated reduction of interest rates, public expenditure and enhanced revenue collection.
On August 28, 1998, Nyachae told an assembly of the Law Society of Kenya:
"To effectively deal with the problems of poverty and unemployment requires us to achieve substantially high rates of economic growth, in the region of seven per cent per annum. This will only be possible if we can equally increase substantially the level of our investment and its efficiency,"
He privatised the Kenya Commercial Bank (KCB) and the Kenya Reinsurance Corporation (Kenya-Re) which got back on their feet and have been posting positive results.
Old age and health complications have kept the grand old man from public life but some of his achievements, especially in public administration, are still being remembered just like the 100 and 440 yards records he set in Nyanza during his school days which remained unmatched for 13 years.