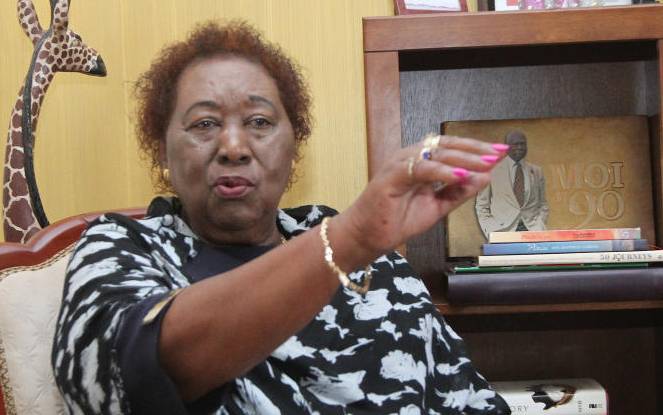 When a group of agitated women stormed State House, Nairobi, without an appointment, everybody panicked.
Pleas by then Deputy Comptroller John Lokorio that it was impossible to see the president without an appointment fell on deaf ears. And when, after lengthy consultations, the leaders were ushered in to see President Daniel arap Moi, the air in the house on the hill became electrified.
"Mzee, I am ready to resign right now. How can some officials go behind your back and betray women?" Nominated MP Zipporah Kittony said.
Recently when she recalled these happenings, the pioneer women's leader smiled as she brushed off the consequences of breaching the norm, exclaiming that she is a fighter and is satisfied with the results. The setting of this drama was in October 2001 and Kenya was on a transition path.
But when it came to filling the post of nominated MP for the East African Assembly, some elements in Kanu baulked at the idea of giving the slot to a woman. This is what triggered the rare protest to State House. After keenly listening to Kittony who was accompanied by Phoebe Asiyo, the head of State finally broke the stalemate.
He challenged the women to give him the name of their preferred nominee. They had none. Embarrassed for not thinking through their protest, the women pleaded for time to get a name.
"We dashed out of State House confused. The clock was ticking and we did not want to make fools of ourselves. Luckily when we briefly stopped at Serena Hotel, we bumped into Nicholas Biwott and my mind clicked," Kittony recalls.
At the back of her mind she had been struggling to recollect the name of a prominent don who lectured at Egerton University. Upon setting her eyes on Biwott, the final pieces of the puzzle gnawing at her mind fell into place.
She mischievously asked Biwott to remind her of the name of the don, and the former powerful Cabinet minister obliged. He and Margaret Kamar were romantically connected and he was more than happy to provide her contacts.
"Biwott called Kamar and introduced the topic and when we talked to her, she agreed to our proposal. We dashed to Maendeleo Ya Wanawake offices where we drafted a letter to the president, proposing her name using the organisation's letterhead. In short, that is how Kamar entered politics," says Kittony.
Lokorio and the guards at State House were astounded when for the second time in less than two hours Kittony and Asiyo returned and handed in a letter. They felt vindicated when they later escorted Kamar and Rose Waruhiu, Democratic Party's nominee, to take their Oath of Office in Arusha, Tanzania.
This was not the first time Kittony had tempted fate. As a teenager, she had sneaked out of her religiously fortified home in Sacho. Attracted by the pulsating music and the wild jubilation, she was determined to become a woman by submitting to a female circumciser.
"My father, Isaiah Chesire, was a pioneer missionary and frowned upon such rituals. Unknown to us he had spies who leaked my movement. I was intercepted and given a thorough beating. I later learnt the folly of what I had set out to do," she said.
Chesire is the man who took young Moi under his wings and tutored him in religion. When Moi was ready to start his life, Kittony was taken in by the young newly married couple.
"Mzee was living in our home. I knew him from the day I was born and he had a great impact in my life," recalls Kittony.
It is this nurturing and the sound education Kittony got while growing up under the watchful eyes of the former president that shaped the adventurous girl into a champion for women rights.
Growing in the shadow of the Second World War and polarising struggle for freedom, Kittony experienced the pains of a modern African woman, trying to unshackle the manacles of harmful traditions and a patriarchal society.
She recalls her excitement when in 1980 President Moi made it possible for women to have national identity cards, opening doors of property ownership hitherto slammed shut by male chauvinistic society. Looking back to those days, Kittony is convinced that the country has made great strides in empowering the woman.
The leader, who steered Maendelelo ya Wanawake for 11 years, credits Moi for having a sympathetic ear for women issues from the time he disbanded Women Service Corps in 1979.
This she explains was a tool used for discrimination because female officers had to swear they would not marry or get children while in the service. There was also the promotion of Captain Phyllis Ikua into a major which opened gates for other female officers in the military.
She, however, feels that Kenya is on the wrong trajectory, arguing that the constitutional requirement that no gender should occupy more than two-thirds of all elective and appointive public offices is discriminatory.
"This is a form of discrimination that should not be allowed. Women are the majority and by insisting that they occupy one-third of all these positions they are limiting themselves. All elective posts should be contested and it won't be surprising if women get more than a third," says Kittony.