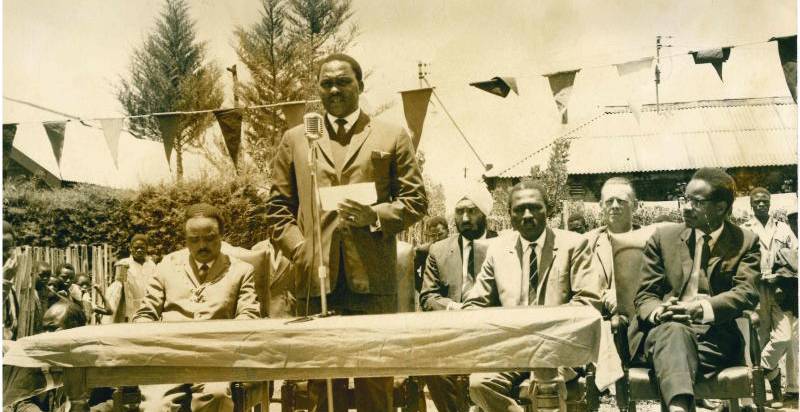 In what would become his trademark as a daredevil character, Paul Joseph Ngei, a descendant of the legendary Kamba Chief Masaku, had a heated argument with a white colonial officer and did the unthinkable: he punched him in the face, earning himself a three-month jail term. The three months turned into a long and nightmarish prison detention when it overlapped with that of the other members of the 'Kapenguria Six', who were rounded up and detained at the Kapenguria detention camp following the declaration of the State of Emergency.
This daredevil character was honed in prison where Ngei, the youngest and most educated of the prisoners, often came to fellow detainee Jomo Kenyatta's aid whenever other prisoners threatened to beat him up. Kenyatta's relationship with Ngei blossomed even more when he stopped a colonial jailer from caning the old man and instead offered himself for the caning. Little wonder that when they were all released nine years later, in 1961, the two developed a strong personal and political bond that made them almost inseparable. Both carried fly whisks and wore matching black leather jackets.
Ngei was not called "Bwana Mashamba" (Mr Farmlands) for nothing. During the pre-independence political rallies held by the Kapenguria Six and others following their release, Ngei specifically spoke about the need for Africans, who were deprived of their mashamba (land) to wrest them back from the white colonial grabbers and return them to their rightful owners.
At one such rally in Ruring'u Stadium, Nyeri District, when Ngei was given an opportunity to pray at the end of the event, he beseeched "the God of Africans to urge the God of Whites to leave to Kenyans the land they occupy and go back in Britain in peace". For this, Ngei was charged with incitement and charged KES 500. Enthusiastic crowds quickly raised the money, harambee style, and stuffed the currency notes in his pockets while carrying him shoulder high.
When Daniel arap Moi took over as President, he appointed Ngei Minister for Lands and he busied himself with solving the many land problems bedevilling the country. In December 1983 during a debate, he surprised Parliament when he enumerated the plethora of problems faced by his ministry as it struggled to deliver services to farmers and landowners. He reported, "Owners of parcels of land, surveyed and adjudicated eight years ago, are still waiting for their title deeds." Ngei tried to resolve these land problems because as a farmer he knew them well; but he also needed to impress his boss, the President, not wanting to give him the slightest excuse to sack him.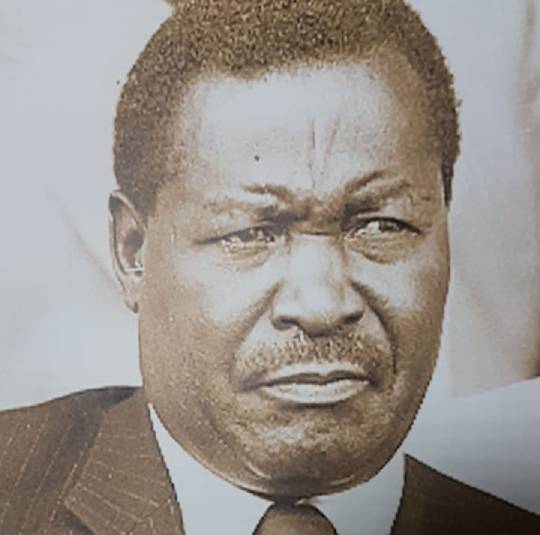 MOSES MUDAVADI: A soft-spoken but influential minister
Moses Substone Budamba Mudavadi, as an influential member of President Daniel arap Moi's government, was known as the only person other than the President to receive 'delegations' at his residence. He bore the nickname King of Mululu in reference to the village of his birth. Even diplomats who wanted to quickly pass certain messages from their countries to State House reportedly paid courtesy calls on him at home instead of going to the Ministry of Foreign Affairs.
During his time working for the Ministry of Education in the Rift Valley, Mudavadi met Daniel arap Moi, a teacher at the time, and a strong friendship developed. As a schools inspector stationed in Kabarnet and in charge of Baringo among other areas, Mudavadi recommended the future President for an in-service course that paved the way for his promotion. Mudavadi also influenced decisions to appoint Moi as head of the Kabarnet Intermediate School and to represent the Rift Valley in the Legislative Council.
By all accounts, Mudavadi was an active and effective Minister at all the ministries he headed, although his tenure in the Cabinet was not without controversy. He joined Parliament at a time when a group of politicians were trying to change the Constitution to block Moi, then the Vice President, from succeeding President Jomo Kenyatta. Mudavadi backed his friend, a decision that worked well for him when Moi became President in 1978.
A man of few words, Mudavadi was feared by some and loved by others. He used his influence in each ministry to ensure people from his home area were hired. While this angered many of his colleagues, it endeared him to the people in western Kenya. He left an indelible mark on Vihiga District, hiving it off from the larger Kakamega District, and inaugurating the Maragoli Cultural Festival in 1982, a tradition that still thrives today.
-Moi Cabinets is published in two volumes by the Kenya Yearbook Editorial Board