Without OKA's support, it'll be hard for Raila to win election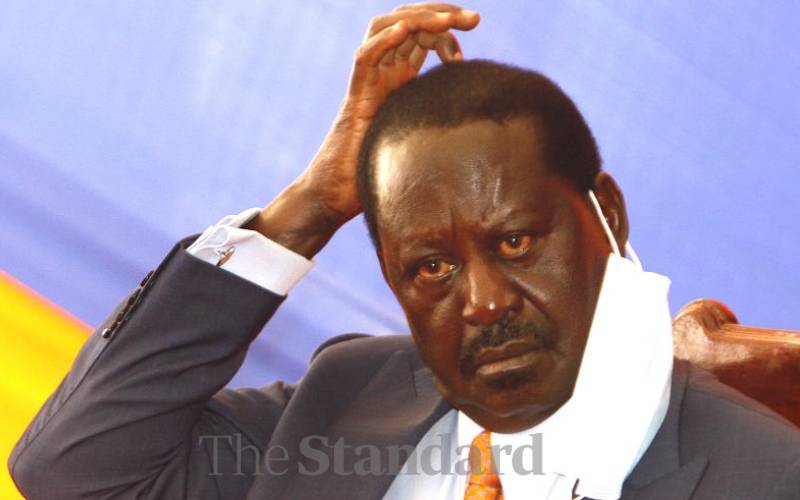 The father to the writer of Proverbs constantly nagged him to sell everything he had and buy knowledge and forage for understanding.
On September 17, I argued here that the 2022 election would be the most challenging for Raila Odinga - Kenya's political principality. Less than 10 months remain to the 2022 election and Raila has no option now but to listen to the political moves of One Kenya Alliance (OKA) which is gradually sapping his political virility day after day. Blessed is the one who can see this!
Indeed, Baba was politically 'solidified' at a time like this in 2013 and 2017 with CORD and Nasa coalitions, respectively. Today, apart from the campaign trails he has made across the country, he hasn't made his mind regarding the 2022 presidential contest. However, we can say that he is sketching his 2022 candidature with some accuracy.
We have witnessed OKA principals - the majority of whom were in CORD and NASA giving him an ultimatum: This time around, you must support one of us, having stood with you in 2007, 2013 and 2017. This alone makes me conclude that his presidency is in the hands of OKA. Let's explore some reasons for my hypothesis.
This week, OKA explored the possibility of teaming with the Mount Kenya Unity Forum headed by Martha Karua. The big word is that the two teams are rooting for Mudavadi to compete with Ruto and Raila. If that is true, my search for how OKA would hurt Raila's dream of becoming the fifth president is over. Otherwise, Raila has to work extra hard to bring his NASA buddies back to his bosom.
But the way things are going, OKA is decided to show Baba that he should have kept his promises. Their political moves are not soothing to Baba's political loins.
The question remains, should Raila and ODM join OKA? If he does, he will join under their terms. However, OKA must know that much as Raila has nowhere to run, they too have no one else to embrace—the critical political realignments for 2022 are kaput!
Ruto's UDA is a leviathan that requires OKA, ODM, Mount Kenya Unity Forum and other parties to unite. UDA has viciously poached politicians from all over, and they are growing into a potent political whirlwind. If Raila, Ruto and Mudavadi end up on the ballot, it won't be easy for Mudavadi and Raila; they will have divided their votes, and Ruto will laugh all the way to State House.
The only hope they can bank on under this matrix is a likelihood of a re-run. But why risk? Moreover, if NASA united could not pull through in 2017, why should we think they can win while divided?
And since there is nothing new under the sun, these hypotheses are to be taken as a political Deuteronomy because I have been poking this ideation for some time.
Verily I tell you, Raila is the one who will decide whether Ruto will become president or not. If he insists on going for the ballot, it won't be easy without the support of OKA. Any other person who peddles a different gospel is an enemy of Baba.
The conclusion of the matter is that Raila will climb Mount Kenya proper if he and ODM join OKA or OKA Joins ODM. It'll be easier for ODM to join OKA. Note that it is easier for Martha Karua, JB Muturi and other Mount Kenya political oligarchs to join OKA than to join ODM.
It will also be easier for Uhuru to have a say in OKA than elsewhere. Furthermore, OKA has to move swiftly before all heed the UDA's gospel of wheelbarrows. As of now, OKA needs Raila, and Raila needs OKA, and the deal is locked.
Dr Ndonye Is a Lecturer of Communication and Media. @Dr_Mndonye