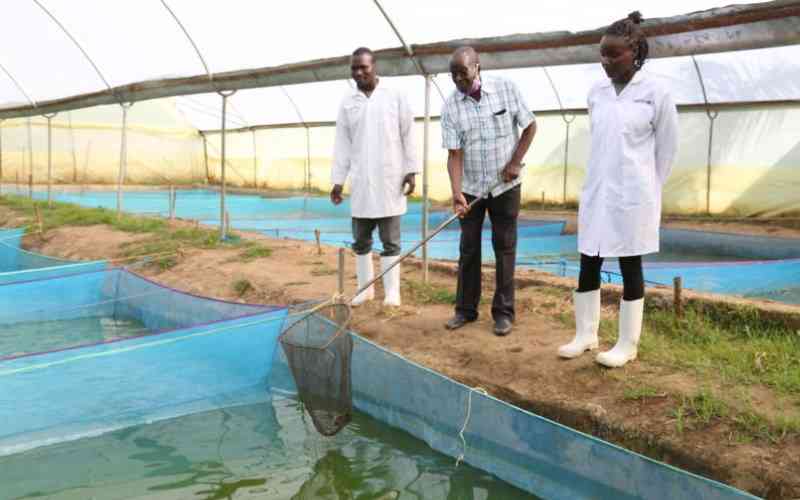 For more than 40 years, Alfred Kiboi, 78, religiously practised commercial maize farming. Like other farmers in Trans Nzoia County, maize growing was the automatic income-generating activity.
However, after retiring from the public service in 1997, the former accountant saw the light and embraced fish farming.
"Maize did us well but it was not very profitable. I saw the light one time when I visited a fish farm in central Kenya and saw how farmers there were making millions of shillings from fish rearing," Kiboi tells The Smart Harvest and Technology.
Tough journey
Kiboi recalls that life as a maize farmer was tough since the Government had neglected maize farmers who were left at the mercies of exploitative middlemen.
"Over the years, maize prices dropped terribly and the outbreak of Fall Army Worm further affected the production. I weighed all these factors and decided it was time to explore more profitable ventures," he adds.
After the visit that opened his eyes, when he came back home, he embarked on research on fish farming and set up Elgon Fish Farm that sits on 15 acres. The farm has 24 fish ponds and has employed 10 agriculture experts who ensure production of quality products.
Currently, the farm has more than 200,000 fingerlings.
"Kitale is an ideal place for fish farming, it has all the necessary factors for aquaculture," says Kiboi.
The farm supplies tilapia and catfish fingerlings as well as mature varieties to clients across the county.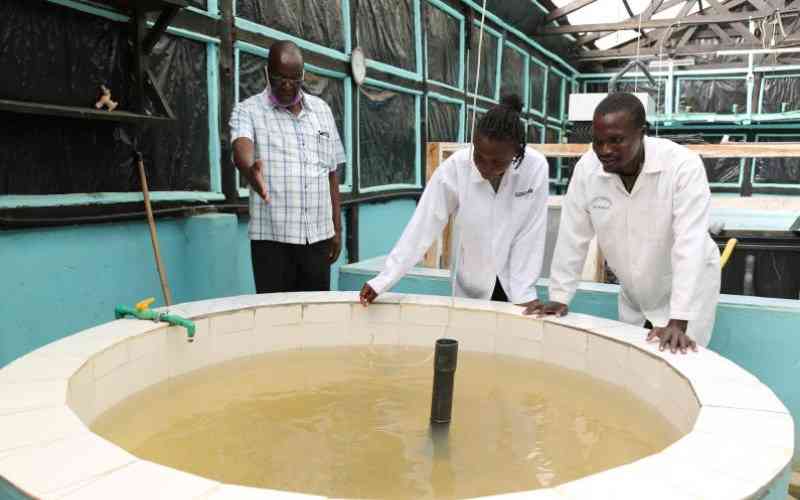 When we visited, Kiboi and his team were preparing to supply 80,000 fingerlings to farmers in western Kenya, where there is a high demand for the same.
To boost production, he is now investing in water dams, water recycle systems and feed manufacturing plants to ensure regular supply of fish feeds and clean water to his farm.
Having grown maize for years, he says fish has better returns.
Kiboi estimates that from an acre of land a fish farmer is able to make almost Sh800,000 in eight months compared to Sh100,000 if they plant maize.
"An acre can accommodate eight fish ponds of 300 sq meters (10 by 30 m) which you can stock with 1,000 fish," he says.
The hurdles
Though he has broken even, he says the business has its fair share of challenges.
Because the venture is capital-intensive, Kiboi appeals to the government to help prospective farmers to access affordable financing options to modernise their farms.
He says the high cost of electricity to run the hatcheries has also pushed many farmers into bankruptcy.
Lack of experts is also a challenge that many fish farmers face.
"To run a successful venture, one needs to engage experts but there are few extension officers in the field. For instance, feeds are differentiated by the pellet size, fat and protein content and are fed to fish of different ages. Not many farmers know this piece of information and they end up buying wrong feed types that affect growth of the fish. That is why we are asking for more field officers," says Kiboi.
He advises new comers to conduct thorough market research before investing their money in the same.
"Before you venture into this kind of farming, you need to know where the demand is and what size of fish is the preferred option. For example, it will be difficult for you to get a buyer for a 500g fish if your market environments demand for a 1 kg fish and vice versa," says Kiboi.
To overcome challenge of finding a market with good prices, Kiboi advises farmers to join cooperatives.
Kiboi is the chairperson for fish farmers cooperative society which has members drawn from all 25 wards. The cooperative supplies respective farmers with fingerlings and feeds.
"We had big plans to recruit more than 3,000 fish farmers but then corona hit the world and halted everything. Numbers is the way to go," he notes.
According to Kiboi, other challenges include high cost of feeds, predators and cheap canned fish imports from China.
"Nowadays the market is flooded with cheap imports from China. This has affected us as we sometimes struggle to compete," Kiboi points out.
Despite these challenges, he maintains that fish rearing is a better deal than maize farming.
Nelly Kirebi a technical officer at the farm, agrees, saying besides creating employment for many youths, fish farming plays a huge role in the realisation of the food and nutrition security pillar of the government Big Four Agenda.
Trans Nzoia County is on a mission to ensure more farmers take up the venture to boost food security. According to Jamlek Njeru, the county director in the department of fisheries, many farmers who were assisted to set up fish ponds failed to restock them.
"After harvesting, many farmers wasted their profits instead of ploughing it back into the business. They thought the government was going to fund them again to restock the ponds which was not the case," says Njeru.
County Executive for Agriculture Mary Nzomo believes more can be done to make fish farming attractive to youth.
"We are aware that many people want to venture into fish farming but the high cost of constructing fish ponds and stocking them with quality fish fingerlings is a put off. That is the reason we want more budgetary allocation to agriculture to help them actualise their plans," she says.