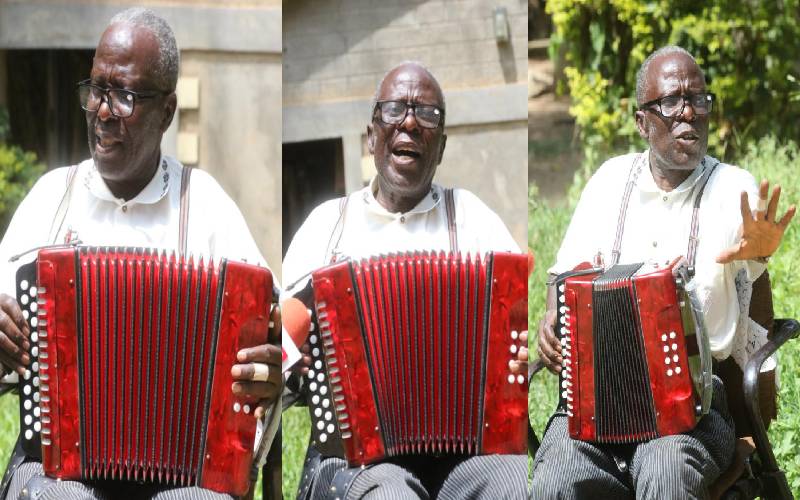 The melodious sound of an accordion playing welcomes you to the home of Josphat Wanzala at Lutonyi on the outskirts of Kakamega town.
We found the 68-year-old pastor playing a song based on Psalm 23 on his accordion. Once a very popular musical instrument, the accordion is rarely used by present-day musicians.
Indeed, Wanzala is perhaps among only a handful of individuals in Kakamega who still know how to play the instrument. Formerly a civil servant, Wanzala dedicates his life to singing worship and praise songs.
"Accordion has become a rare musical instrument. I have been jealously guarding mine," says Wanzala, gently caressing the instrument.
The accordionist says the instrument has offered him more than what money could give him.
Wanzala, a father of four, recalls the day he played the accordion for the late President Daniel Moi at State House, Nairobi, in 1996 and other memorable events.
"I was a member of Christ the King ACK Milimani Choir in Kakamega. We had earlier performed at Kasarani Stadium during Madaraka Day before the president. Our impressive show opened State House doors for us," said the pastor.
According to Wanzala, State House orderlies made arrangements for their accommodation for three days in the city before the Madaraka Day event.
The accordion has seen him travel far and wide to entertain and showcase his prowess in playing the instrument.
Wanzala says he discovered his singing talent while in primary school in the early 1980s.
"I used to sing right from primary school and by the time I reached secondary school, I was able to play some instruments. After finishing my O-Level education, I travelled to Butere to see my brother and that is how I came into contact with accordion for the first time," he says, noting his elder brother had two accordion instruments.
"I was lucky because my brother gifted me the instrument and told me to take it to an expert to fix it."
Wanzala says the instrument was a product of a company in England that collapsed and it could only be repaired from England. However, he continued using as he planned on how to repair it.
"It was the old model accordion with six buttons, three of them functional. I continued playing it because it would have been costly to repair it. I needed Sh1,800 for repair."
Before his brother died in 1984, he sold the new accordion, diminishing Wanzala's hopes of ever playing it.
"I travelled to Nairobi to look for an expert who could fix my accordion but no one could fix it. Only the manufacturing company in the UK could do the job but the firm had closed shop,"he says.
Lady luck smiled on him when one evening the owner of a shop where he used to do minor repairs of the accordion called to inform that a visiting Britain soldier wanted to sell his accordion to a willing buyer.
"On arrival at the shop, the soldier told me to sing a stanza while playing his accordion. A crowd started forming. It was enthralled by the music and marvelled at my prowess," recalled Wanzala.
The soldier agreed to sell the accordion to him on credit after learning that he was a student and a civil servant at the same time.
Last year, the same shop owner reached out to me offering a new model accordion which Wanzala bought at Sh60,000.
The new model has 29 buttons, unlike the older one which has only 10 buttons.
Wanzala says for one to play the accordion, he or she must master all the buttons and know how they function.
"Accordion is not for the fainthearted. One must develop interest and have passion. I train people to play it. It takes about four weeks to master everything," he says.
He adds: "It is possible to mint a lot of money from playing the accordion. However, I don't do it for money but it is a passion that drives me. I cannot go far if I start charging money for my talent."
Wanzala embarked on performing in events and places of worship full throttle in 2005.
"I have traversed East Africa with performances in Uganda, Tanzania and almost all parts of Kenya. People welcome me everywhere I go because they would like to listen to unique music.
"At one point, I used a wrong exit after performing at a public event in Butere and landed in the hands of army soldiers who released me after I played the accordion. Some gifted me cash and I was escorted by some of them.
Wanzala has become famous in Western where his fans have nicknamed him Mtu wa Kinanda (accordionist).
When public gatherings were banned during the Covid-19 pandemic, Wanzala, who sings alone, could honour invites to weddings and funerals and other special ceremonies.
"I never went to a music school but I have been teaching music and training people to play music instruments. It is the work of God," he says.
His children are among his students. "My wife has been supportive although she has never developed an interest in playing the accordion," says Wanzala.
Wanzala holds a diploma in social sciences and conflict management from the University of Nairobi and sometimes spend time resolving disputes in his village.