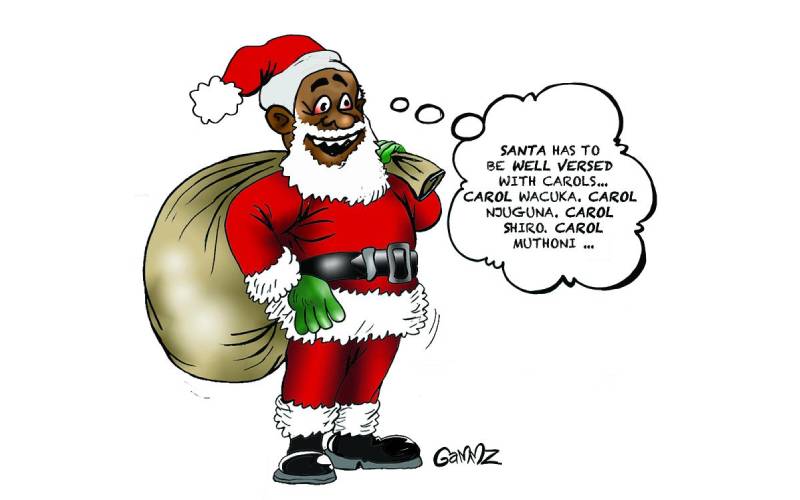 Last year, Santa Kiragu was tasked with bringing Christmas cheer to the village. However, he told people it would rain deer, a statement which proved to be false. Many failed to slaughter their only chickens as they awaited the meaty downpour.
As a result, his contract was terminated.
This year, two of the three highest-ranking members of the village met to decide who the new Santa would be. Only Sue was missing in the meeting. I was in contention to be the next Santa, as was Harold. Paul, who was excluded from the meeting together with his mother Clarissa, made a poem that would boost my chances:
"Only Santa with a Fanta will have us banter
If you drink, you will scare little babies
Do not promise deer unless you are a hunter
Spread bad cheer, like a dog that spreads rabies!"
Like I confessed earlier, but for the fact that he snores like a tannery and chews avocado like gum, Paul would be my best friend. In a closed-door meeting that as usual involved food for one, Harold and I discussed how the next Santa would be selected.
He was to be a dignified person which I was not, Harold said and had to understand the history behind Christmas. Harold insisted he knew the history even ahead of Christmas and would thus award himself another point.
Santa had to be an entertaining character, and this was a win for me. If you remember, after half the village abandoned Harold's TV due to the exorbitant charges, I was left to run it and entertain the few Arsenal fans who cannot stand watching their team get humiliated while in the company of their friends who support other teams. I am, thus, entertaining.
In the end, we had more than 10 different criteria for the selection of a world-class Santa. I told Harold that Sue ticked all the boxes and ducked just in time to avoid a flying avocado seed, which would have smashed right into my nose.
"I smell a rat," he said. "You want to rig her in!"
I told Harold that all I could smell was bullish partisanship laced with avocado.
It got interesting when I reminded Harold that Santa had to be well versed with carols. The man started mentioning names and even went into overdrive.
"Carol Wacuka. Carol Njuguna. Carol Shiro. Carol..."
"Not those!" I snapped. "The First Noel..."
"I even know the second..."
"Hark The Herald Angels Sing..."
"What the heck do Harold angels sing?"
"O Come All Ye Faithful..."
"Where?"
I won a point.
The next quality of a Santa was the ability to stay awake throughout Christmas. If you remember last Christmas, Harold blacked out during the church service. Before that, he told the faithful that Joseph, the carpenter, also Jesus Christ's father, made the cross. We were all cross at him.
I won this specific point and had started rehearsing Jingle Bells when Harold reminded me that Santa had to be the most famous person in the village. While Harold is infamous, it is impossible to argue that he is not the guy nearly everyone in the village so well knows. He has been involved in every scandal the village has seen, is a spineless deadbeat and cannot pronounce the word "incorrectly" correctly. He took that point.
At the end of a nauseating back and forth, Harold had gained on me and was about to overtake me. There was only one last criterion. "Have you ever seen Santa grin?" He asked. Yes, I responded. Santa grinned whenever he realised Harold was never going to pay up. Another avocado seed just about missed my jaw.
"I meant, Santa wears green?"
"Not at all," I answered, wondering what he was up to.
Slowly, he stood from his chair and from beneath him pulled out his cassock.
"Santa wears RED!"
I was about to protest that the cassock was not red (and has never been since a few years ago) when he told me he had read my mind. "Matters not," he said. "Wash it until it is red then give it to Santa!" Ladies and gentlemen, our fate is sealed. We have Santa Clown this Christmas!