CMB Prezzo: A chat with king of bling on life, love and showbiz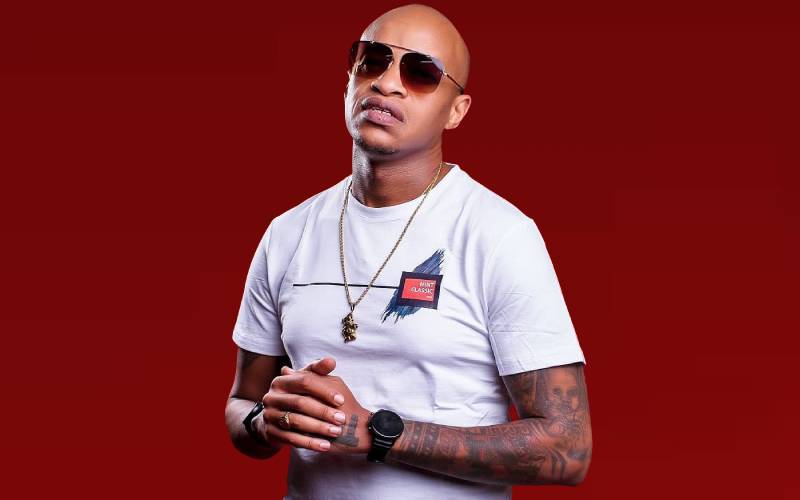 For 18 years, CMB Prezzo has been the star who refuses to go away like a twisted game of whack-a-mole. He fades and reappears so many times many have lost count.
Earlier this month, as if reaching back to his 2012 hit Naleta Action, CMB Prezzo (real name Jackson Makini), took to Instagram with his mother Dinna to belt out Ma Fans, the hip-hop head's 2017 jam.
Then it turned into a mother and son Mother's Day confession of love. "I would kill for my mother anytime any day. I would take a bullet for her anytime any day," Prezzo said, referring to his mother as Malaika.
His mother called him "My Baba", then a peck on the neck and an embrace.
"The relationship between me and my mum is special. When I lost my father at 13, that drew me close to her. She has been there for me every step of the way and believing in me when nobody else could. And for that, I will never shy away from showing my love for her," he said when we caught up with him.
It is not your ordinary African mother-son act. But then the controversial rapper's life has always been over the top. Power. Women. Money….Prezzo! He insists he is misunderstood.
It is as if his life mirrors, or tries to mirror that of his idol Shawn Carter, better known by his stage name Jay Z, albeit on a smaller scale.
Jay Z and Prezzo were brought up by their mothers. Prezzo was born in Eastleigh, Nairobi, while Jay Z was raised in a humble housing project in Brooklyn, New York's showbiz headquarters. And while the American business mogul's father abandoned the family while he was still young, the 40-year-old Prezzo's dad died when he was 13.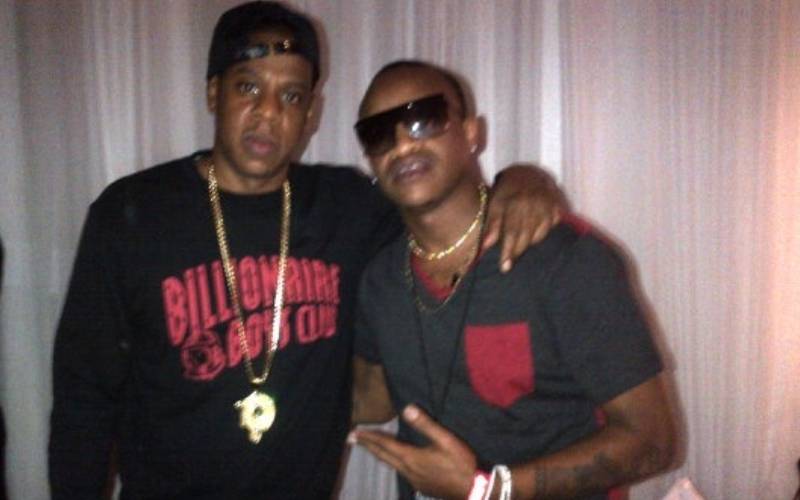 Their showbiz success has always been motivated by the desire to make their mothers proud. Self-made. Trendsetters. Quite the picture of the "fake-it-till-you-make-it" approach to showbiz hustle.
"Anybody who knows my history will tell you that I have been a Jay Z fan since I can remember. For me, he is just the guy. When I was in high school, my room was filled with nothing but Jay Z posters and that goes a long way to show how much of a big Jay Z fan I was," said the rapper whose My City My Town hit echoes the Rocawear creator's Brooklyn We Go Hard ingenuity.
When Prezzo got into TV Big Brother Africa show in 2012 (christened StarGame), little did he know it would put him before his idol.
He recalls the cold South African night that offered him a consolation award and the long-awaited breakthrough: meeting Jay Z in New York after being named One Campaign ambassador.
"I knew the One Campaign (a global movement to end extreme poverty and preventable diseases) would turn more worth than the Sh30 million (awarded to the winner). Meeting Jay Z for the second time, this time one-on-one, carried a lot of weight," he said.
The meeting took place at the largest VIP lounge in New York, Jay Z's 40/40 Club. It took about 45 minutes.
Oozing power
Since his chopper landing stunt during the Chaguo La Teeniez 2004 awards at the Carnivore grounds, a first that he terms as his first major showbiz highlight, Prezzo has always held his unique place in Kenya's showbiz. He might not have the biggest songs in the land, but the kind of aura and power that he oozes has always separated him from the rest of the players.
After scooping Chaguo La Teeniez and bringing "cool" into the Kenyan hip-hop that had been dictated by underground groups such as Kalamashaka and Ukoo Flani Mau Mau, he went on to release another club bugger, P.R.E.Z.Z.O, a track recorded by Tedd Josiah.
At some point, he joined active politics after which he went quiet, only for rumours to later emerge that he was broke and turned to substance abuse, something he brushes off as a rumour created out of misunderstanding.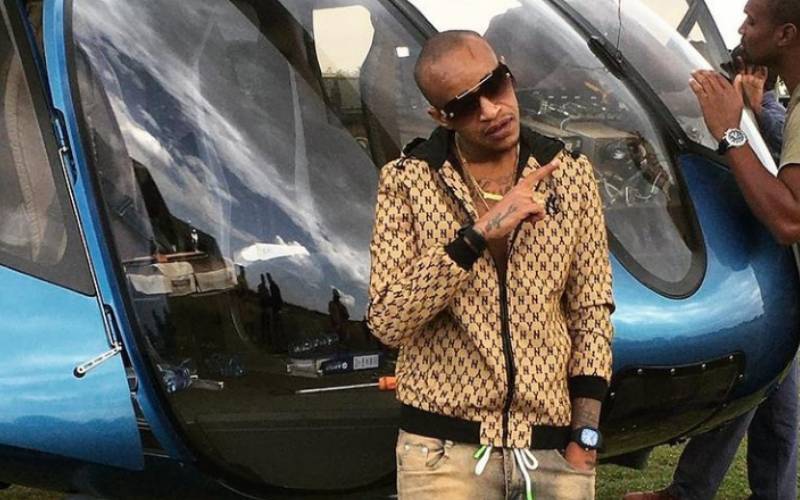 At some point, rumours had it that he had been shot in a club and was in a critical condition. Another one had it that he had moved in with a wealthy woman in Mombasa. "If people wrote books about me, they would definitely make a living," he says, laughing.
"People will always have something to say whether good or bad. For me, whatever anyone has to say about you without knowing the real you means they are simply confused. They say I am rich and then again I am poor, a junkie and then a millionaire. Freemason and loves God… You see, all confused. The thing in life is that you have to keep your focus on the prize."
"In the music industry, you have to be really focused as there are trials and tribulations. If you let the booze and the women, and the party take over, you won't go far. If a club is not paying you, don't go there. It takes a lot of discipline, focus and good management," he said.
He said that time and experience had changed the way he thinks and handles issues, adding that at this point in his life, he is and wants to remain at peace with everyone.
No regrets
"I have no regrets. Even with the mistakes I made... Every mistake I made was a lesson to me and therefore I have no regrets. People say that to make a mistake is not a mistake but to repeat a mistake is a mistake," he said.
Prezzo said he has played his part in the industry and anything he does now is because of his love for music.
"I think as an industry, we are on the right track and having come this far, I want to help create opportunities for those talented young stars who are willing to go the mile. Besides, I thank God for the talent He gave me as nobody can take it away. The bad boy thing was when I was young. We rise in life, we keep prospering and move forward, not backwards. I've found my purpose in life and it's not to be a politician, but a humanitarian," he said.
On fatherhood and past relationships, Prezzo said: "Being a dad gives you joy because that's a seed you've planted. There is a certain joy and level of growth that come with being a father. My daughter is a very good singer. A couple of my friends tell me that she's a very good singer and I always tell them an apple doesn't fall far from the tree."
He quickly added that he is now in good terms with his ex-wife Daisy with whom he is co-parenting.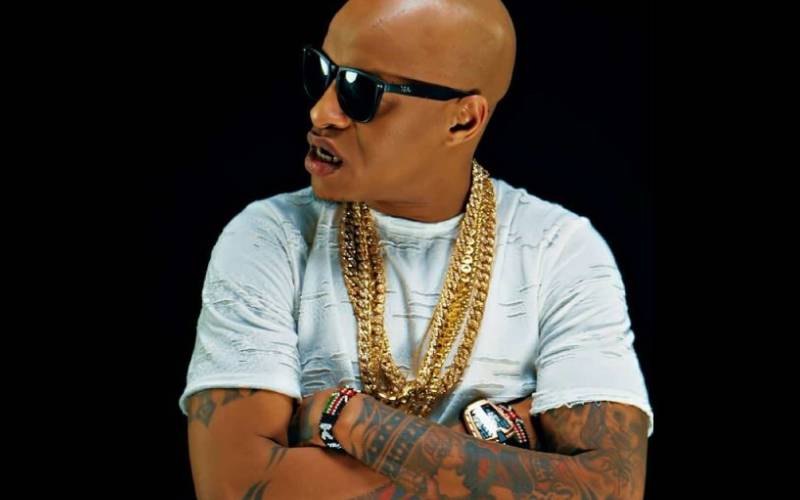 He said he has been in touch with most of his former girlfriends whom he chose to refer as his friends and not girlfriends.
Prezzo dated Sheila Mwanyigha before getting married to Daisy Jematia Kiplagat. After their breakup, he dated or has been linked to fashion model Joy Wanjohi, socialite Huddah Monroe, Big Brother Star Goldie Hawn who passed away on Valentine's Day in 2013, Diva the Baswe, Noti Flow, Chagga Barbie, Angel Eyes, Michelle Yola, Noti Flow and lately Amber Lulu.
Is he still the king of bling?
"I don't wear as many golden chains now as I used to. I keep them. Gold is as good as money. I can't keep on wearing such a big load as it would break my neck, I mean for 18 years carrying all that. I relaxed on that."
"I am not the kind of person going around saying how much they are worth... For now, besides the humanitarian activities, the Prezzo Brand has invested in real estate and poultry keeping in Kitengela," he said.