Scientists harvest more eggs to save northern white rhino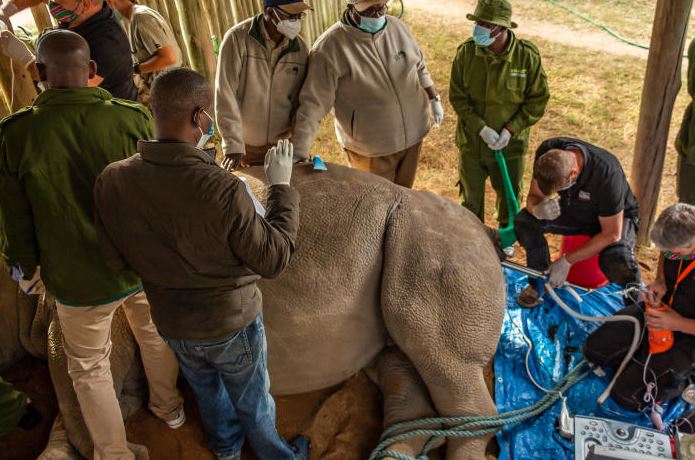 The third round to harvest eggs from the two remaining northern white rhinos was successfully conducted at Ol Pejeta Conservancy, Nanyuki.
The exercise that took more than four hours was carried out on Tuesday by a team of scientists, veterinary doctors from Ol Pejeta, Kenya Wildlife Service (KWS), Germany, Italy and Czech Republic.
Lead scientist Thomas Hildebrandt said they managed to pick 10 eggs from the two Rhinos - two from Fatu and eight from Najin.
Najin, 31, and Fatu, 20, are the only remaining white rhinos after Sudan, the last northern white male rhino died in March 2018.
"The procedure went well because the two females were in stable condition. But with the age of Fatu, we will need to pick up more eggs before we retire her," said Hildebrandt.
The eggs will be taken to Italy for fertilisation with Sudan's sperms in efforts to rescue the species, which is on the brink of extinction.
Sperms were harvested from Sudan before he died.
"It's a complex and delicate process because the eggs are supposed to get to the laboratory within 24 hours after harvesting," said the scientist.
More eggs are is expected to be harvested from the rhinos in December.
The team has so far conducted three procedures, with the last two having been done in August and December last year.
The two procedures yielded 19 eggs suitable to inject a sperm, but only three fully matured into embryos.
"The three embryos are in Cremona Laboratory in Italy and we hope they will be brought here next year and be implanted in a southern white rhino," said Samuel Mutisya, head of conservation at Ol Pejeta.
The concept of carrying out the surrogacy with a southern white rhino species was agreed on as the Kenyan rangelands where the two remaining rhinos live is not ideal for the endangered northern species.
"Before we do any transfer of embryo, the surrogate uterus needs to be in the right condition. To this effect a sterilised male rhino will be used as a natural way to tell when the female is ready for fertilisation," said David Ndeereh, head of veterinary at KWS.
The implanting stage is expected to happen next year at the conservancy.
Tourism Cabinet Secretary Najib Balala said efforts to save the species was a win for conservation. "The three harvests have been successful and the government is committed in next steps to fertilise and transfer the embryos to the surrogates as well as more pickups," said the CS.
Balala said despite the challenges posed by the pandemic, opening of the airspace was a major step to facilitate the movement of the vets and transportation of the eggs to the laboratory.
Elodie Sampere, public relations and communications officer at Ol Pejeta, noted that the bio-rescue project is funded by German Federal Ministry of Education and Research at a cost of 6 million Euros (over Sh774 million).