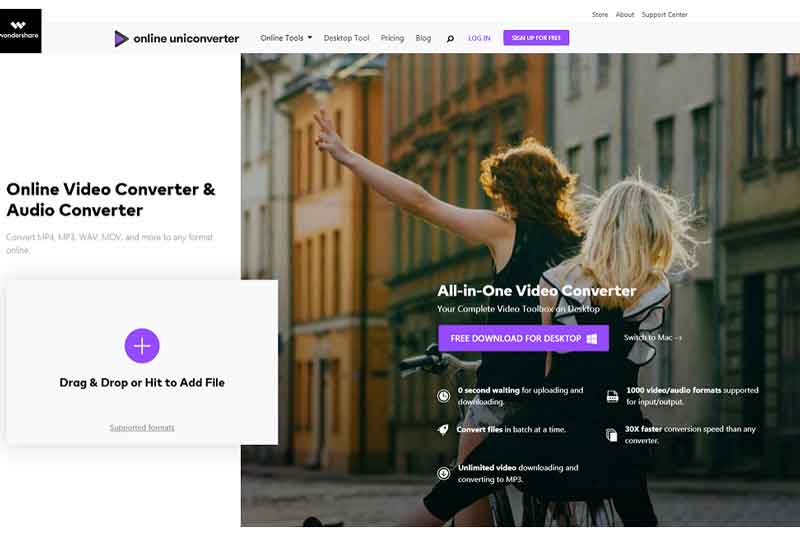 As you may be aware, audio files can come in many different formats – such as MP3, WAV, AAC, FLAC, and so on. And while you may have no trouble playing any of those formats on your computer, other devices may be more finicky. That is one of the main reasons why it helps to be able to convert the format of your audio files. But to do that, you need an audio converter. It should be noted that there are two main types of audio converters. Some are software, while others are web-based apps. Here and now we're going to look at the best free online audio converters of both types, so that you can see what they have to offer.
Online UniConverter
SEE ALSO: Wall Street's Big Tech enthusiasm getting stronger
Online UniConverter is an online audio converter that is capable of converting both video and audio files, and supports over a thousand formats of both. Compared to many other online converters it is lightning fast, and you can even queue up multiple files for conversion in batches. Overall the online app itself is designed to be simple and intuitive. It does not require any form of technical know-how, and if you want to
convert MP3
all you need to do is upload your file then choose the format. If you want a simple online audio converter that is fast, easy-to-use, and has no ads – it is hard to beat Online UniConverter.
Freemake Audio Converter
As far as software file converters go, few are as popular as Freemake Audio Converter. It is user-friendly, and supports over 50 audio formats. On top of that, it will let you add videos and extract the audio from them too.
SEE ALSO: Kuguru: What being in business for 47 years has taught me
The features in Freemake Audio Converter cover most of the basics and will let you add files in batches, upload to Google Drive or Dropbox, adjust the audio settings, and merge audio files together. However the free version does have a big limitation and can only convert audio files that are 3 minutes long at most.
Zamzar
Over the years Zamzar has made a name for itself as one of the more popular and long-standing online file converters. It can not only convert audio files, but also documents, videos, and images. In total it supports over a thousand formats too. Zamzar will let you choose to either upload files or copy videos from an online link. While there are some restrictions in terms of the maximum file size, it is nothing too heavy-handed and you may not even notice it if you just use the service casually.
MediaHuman Audio Converter
SEE ALSO: Kenya uses app in battle against desert locusts
If what you're after is a software that is simple, straightforward and easy to use – MediaHuman Audio Converter will fit the bill perfectly. It is a lean audio converter that has very few frills, and yet supports most audio formats. The one area where the MediaHuman Audio Converter does fall short is that you won't be able to adjust the audio settings that freely with this software.
VSDC Free Audio Converter
VSDC Free Audio Converter is a software with a relatively simple tabbed interface. It supports most of the common audio and video formats, and you can choose to browse for files or enter the online URL. While it does not have editing features, VSDC Free Audio Converter will give you a great degree of freedom to adjust the audio settings. The only irritation when using it may be the fact that the setup tends to install various other programs and toolbars that you probably don't want or need.
123Apps Online Audio Converter
The 123Apps Online Audio Converter is one of the more nifty tools if you just want to convert audio files. It does not support any other types of files aside from them, so you can't extract the audio from videos. However, the one thing that stands out about this online converter however is its additional options. Aside from adjusting the quality and audio settings, it will also let you edit the track info.
DVDSoft Free Audio Converter
DVDSoft Free Audio Converter a simple software with a light interface. It is easy to use, supports most audio formats, and can convert files in batches. While it does let you adjust the audio settings, it may not have the advanced options that are present in some other converters.
AConvert
AConvert is an online converter that can handle almost all types of files – audio included. It supports most of the audio formats, and can convert files in batches of 10. However there is a maximum file size limit. When you convert audio files with this app you'll be able to adjust the audio settings quite freely. Aside from uploading or downloading files, AConvert has both Google Drive and Dropbox integration.
Pazera Free Audio Extractor
As its name suggests, Pazera Free Audio Extractor is designed to not just convert audio files, but extract them from videos. It does support most of the popular audio formats, however, which makes it a good converter. Aside from converting audio files, Pazera Free Audio Extractor will let you split them and adjust their settings. Its interface can be a bit clunky, however, especially for first-time users.
FileZigZag
FileZigZag is yet another multi-purpose online file converter that supports many different types of files. In terms of audio formats it supports 29 of them – which should be enough for casual file conversions. The limitations in FileZigZag aren't that bad, and users with a free account can convert files up to 180MB. The drawback however is that the files you convert will be sent via email – which is often slow and not ideal.
Final Word
See how each of the audio converters in the top 10 brings something unique to the table? If you're finding it hard to choose between them, our recommendation is that you start by giving Online UniConverter a try – especially if you're looking for a quick and convenient way to convert audio files.