Sax and soul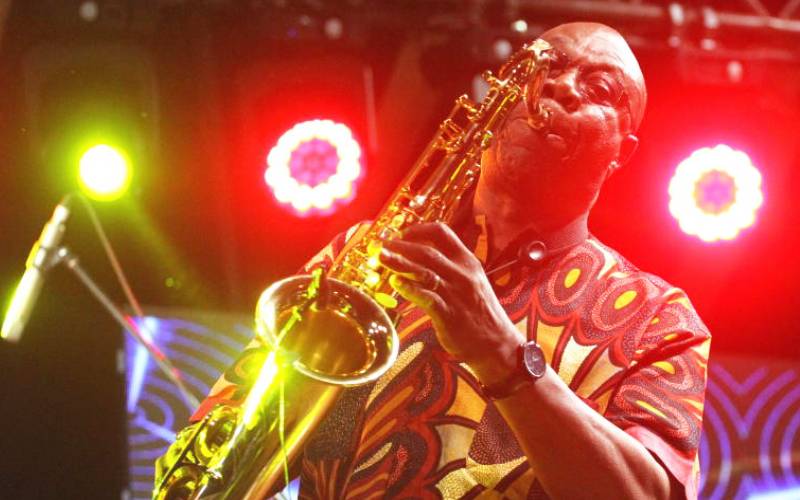 Manu Dibango (pictured), the great saxophonist, is no more.
The Cameroon jazz maestro, who was 86-years old, succumbed to the Covid-19, caused by the coronavirus pandemic that has swept the globe, on Tuesday.
A post on the artiste's Twitter and Facebook pages read, "It is with deep sadness that we announce you the loss of @Manudibango, our papy grove, who passed away on 24th of March, 2020, at 86 years old, further to covid 19. Your music will always stay with us."
Dibango became the second biggest music star from the continent to pass on, dying three days after soukous legend Aurlus Mabele passed on, in a sad twist, also in a Paris hospital. Aurlus was 66.
Kenyans, especially jazz lovers, got a chance to experience the full Dibango and the Soul Makossa Gang's magic in recent years when he visited the country for Koroga Festival in May 2016, and headlined the International Jazz Day in May 2018 at the Carnivore grounds.
"My biggest achievement is that I'm active," he said in an interview during the Koroga tour where he talked about his musical roots in Cameroon, his musical inspirations, his favourite food and waxed lyrical about other African greats.
Emmanuel N'Djoké 'Manu' Dibango was born in Douala on December 12, 1933.
Besides being a music writer, he could play multiple instruments and some of his music has featured in movie soundtracks and other production pieces.
However his biggest claim to fame was the Grammy-nominated single Soul Makossa.
The song was a product of another single he'd penned for the Cameroon soccer team, Hymne de la 8e Coupe d'Afrique des Nations.
He considered writing Soul Makossa as his major moment because he wrote the song without knowing it would be big.
"You are not the man who makes the hit. People make the hit," the man who has recorded over 40 albums told the media.
Famous saxophonist Juma Tutu met the celebrated singer in 2018 and describes him as humble.
"He allowed us to get on stage with him, because Mzee Ngala (Bango music maestro) really wanted to play alongside him. I thought that was really humble," says Tutu.
David Muriithi, veteran DJ and showbiz pioneer also recalls Dibango's brilliant memory and warm personality.
"I met him first in London in 2007 as I was just walking in the streets. I introduced myself as a friend of Hugh Masekela, a great friend of his. That immediately opened up a wonderful conversation," says Muriithi, who is the chairman of the East African chapter of Hugh Masekela Foundation, .
"I was lucky to be the event-deejay at the Safaricom International Jazz Day where I played music before he came on stage. After his show I met him backstage and he actually remembered our meeting in London 11 years earlier!"
Soul Makossa, recorded in 1972, peaked at number 35 on the Billboard chart, and is still a classic to this day.
In the 1970s, the jam inspired Kool and The Gang's Jungle Boogie, while other studios 'borrowed' the song's bassline and horn chants. In the 90s, the musical bridge and drum patters was sampled into hip-hop tracks.
Soula Makossa's famous chant, 'mama-say mama-sa ma-ma-coo-sa' got the African music icon to interact with Michael Jackson and RnB star Rihanna, albeit in the corridors of justice.
First, Dibango went for the King of Pop, who used the chant in his hit Wanna Be Startin' Somethin', from the best-selling album of all time, Thriller. The single was the first on the album and Dibango sued the artiste, who admitted to using the line. They settled out of court.
But in 2007, the chant appeared in Rihanna's Don't Stop The Music, a single with over 512 million views on YouTube, from her album Good Girl Gone Bad.
The Barbados-born singer had approached Michael Jackson, who was credited as a writer for Rihanna's hit. Dibango sued them both, and was later credited as a writer for the song, a Paris court ruling that with the agreement, he had abdicated from any further claims.
The man whose interaction with music started when he was five, was reportedly seeking €500,000 (about Sh57million) in damages.
Throughout his career, he worked with global stars and African kings and queens like Fela Kuti, Ladysmith Black Mambazo, and King Sunny Ade.
Other Kenyan and African icons showered tributes to Dibango.
"Thank you For The Music, Sir. I Shall Forever Cherish This Gift," wrote DJ Adroan on a post that had Dibango signing a vinyl record.
"You are the original giant of African music and a beautiful human being," singer-songwriter, actress, and activist Angelique Kidjo wrote.
"Thanks for all Manu Dibango, thank you for placing African music in everyone all these years, from Michael Jackson, passing by Rihanna. Rest in peace Papa Manu," Chelsea and Ivory Coast football star Didier Drogba tweeted. "My condolences to all his family, in Cameroon to Africa and to the musical world."
Others included former Arsenal midfielder and Cameroon star Alex Song, Koffi Olomide and American music maestro Quincy Jones.