Sunday Magazine
For decades, Kenya's motorsport has been male-dominated but a new dawn is beckoning. Women are increasingly making their way to the rally podium.
For decades, Kenya's motorsport has been male-dominated but a new dawn is beckoning. Women are increasingly making their way to the rally podium. Three top rally drivers share what that's like.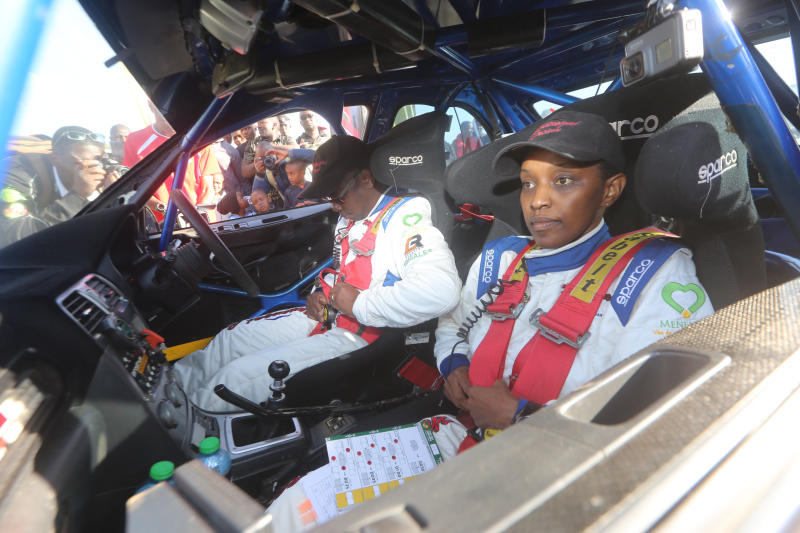 I am used to the sexist remarks
Tuta Mionki is the reigning Kenya Motor Sports Federation (KMSF) Personality of the Year. She is also the first woman rally driver to join the Kenya National Rally Championship (KNRC) Premier Class Motor Rallying - a preserve of the fastest 10 drivers in the series. The first woman to ever win the coveted personality award, Tuts, as she is mostly referred to among her peers and fans, floored motorsport greats including serial rally champion Carl 'Flash' Tundo to bag the award. To make it to the level of motorsport giants like Baldev Chager, Carl 'Flash' Tundo, Joginder Singh and Patrick Njiru - all previous holders of the title - she has had to up her determination and develop a thick skin. "Well, not all is easy. Being a male-dominated field, sexist comments are rife. I also hang out a lot with men, for instance, during rally weekends, as there are normally very few ladies in the championships. I have gotten used to it." Tuta works fulltime, juggling her career with racing. She is a human resource consultant and also the Autocross Commission chairperson at the Kenya Motorsport Federation. As the chair of Autocross Commission, Tuta sits at the motorsport council and it is from here that she works trying to make things better for women in rallying. She acknowledges that women are yet to be recognised as much as they should in rallying. This has led to many of them pulling out of the sport. Sponsorships are also few and far between meaning more and more woman have to stay out of the sport as racing is quite expensive. Like most ladies in rallying, Tuta is a woman after her passion. She appreciates rallying for making her a better person not just socially but also as a regular driver. "People expect that because you are into racing, you drive fast on the roads. What they don't know is that my need for an adrenaline rush has been abated elsewhere. Again, the road is very different from the racing track. The drivers in rallies are disciplined." Thanks to rallying, she reckons she is a much better driver. Apart from being able to see obstacles on the road from afar, she has also developed an understanding of her car and all that is entailed in maintaining it. So no, she won't be the damsel in distress parked by the roadside. Tuta, who, joined racing in 2012 began her career as a navigator for rally driver Eric Bengi in the Rally Raid (a different kind of motorsport) before making the switch to rallying
Nanny left baby alone when i was about to start a race
Helen Shiri is the first indigenous Kenyan woman to finish an international rally tournament in an all-ladies crew and first African Woman to bag the Top Secretary of Rallying, an award given by the International Automobile Federation. Shiri made her entry in rallying in 2011, taking part in the KCB Safari Rally as a navigator. Guided by her passion, Shiri has managed to build a name for herself in motorsport. Plying her trade as a rally navigator, driver and technical official, Shiri has had a taste of literally every aspect of rallying. Like every other woman in other fields, being able to build a reputation in rallying was not a mean fete. Glory did not come easy. She had to endure a fair share of challenges to come out a success in rallying. A mother, a wife and a career woman, Shiri had to find a common ground and she admits that having an understanding partner went a long way in enabling her pursue her passion- rallying. "I had a difficult start and I owe my triumphs to my understanding husband. I had to be away from home a lot. There are eight rallies a year and they all entail traveling out of town. Then there is the frequent checking of the car during preparations for rallies. Without a supportive partner, it becomes quite difficult to pull it together." Shiri says. Apart from getting the much needed support from a spouse, motherhood also brings forth its own challenges. And this sometimes comes in the form of a nanny quitting her job just as she is getting into the 'zone' for a championship race in miles away from home. "I had travelled to Nakuru for a race. I was away with my husband and we had left our baby back home with a nanny. Before the start of the rally, a neighbour called to say that the nanny had left and the baby was all alone in the house." Despite the trauma that comes with such news, she had to stay strong and give her best in the rally. In 2015, she had to retire from rallying as she had ran out of funds to continue being a participant in rallies. To foster her love for the sport though, she joined a rally organisation. Currently, she is the chairperson of the Women in Motorsport Association in Kenya which includes navigators, drivers, mechanics and media organisers. Shiri hopes to get a sponsor and get back behind the wheel again.
Taking on male drivers is a delight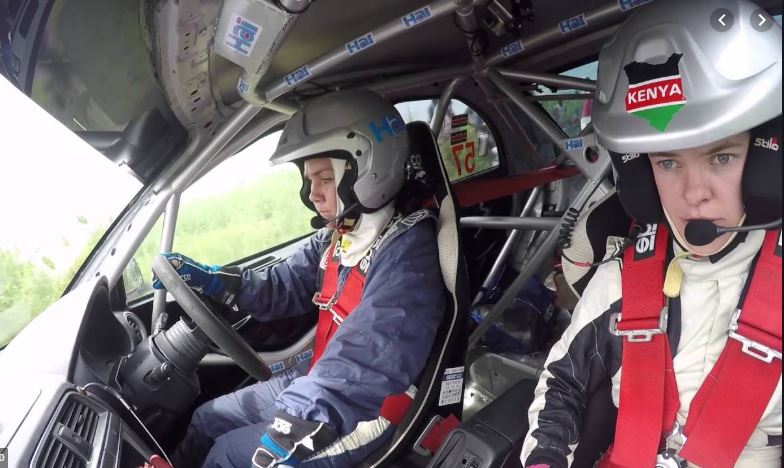 Rally Chix is one of the few all-women crews to win a championship having scooped the lead in the KNRC Division three championships in 2016 Apart from coming from a family of rally greats, Natasha 'Tash' Tundo, is commonly known for being one half of the 'Rally Chix' – Tash's tag team with her co-driver Chantal Young, the only all-ladies crew in the championship. Tash started out as a navigator for her father, Frank Tundo and big brother Carl 'Flash' Tundo before later switching seats. Owing to the reputation her family had in the rallying world, Tash had a unique challenge - curving her own path. She had to prove herself lest she got bundled in the shadows of her family's success. Through her initial sponsorship deal with Liquid Telecom, Tash managed to get into rally driving. She took part in the 2015 Kenyan Championship co-driven by Chantal Young in their Subaru Imprezza. "Luckily, I had a head start, being part of a famous rallying family. My dad and brother are legends in East African rally but I didn't want to rest on their laurels. Coming from such a strong rallying background, I needed to prove myself and also wanted to excel so that I don't let them down. Working with Chantal, we built a huge marketing penetration. We used social media heavily to build a fan base." She is a mother of two boys who would also like to follow what looks like a family trade. Tash admits that taking on male drivers is a delight and it propels her to do better each time. Finishing a course first is a major highlight. Rally Chix is one of the few all-women crews to win a championship having scooped the lead in the KNRC Division three championships in 2016 - a time when Tash was the only female rally driver in the KNRC. The thought of having defeated all her male competitors made her feel more confident, something she hopes inspires more women looking to take part in the sport. Tash reiterates that having a supportive family is key in pulling it through rallying. "Like any professional woman, it's about focus. Family time is family time and I put as much into that as I do my rallying. I'm lucky that my family loves the sport. My mum and friends babysit when I am away and my boys enjoy watching the rallies and love the trophies I bring home. Not many mums are rally drivers so they love it!"