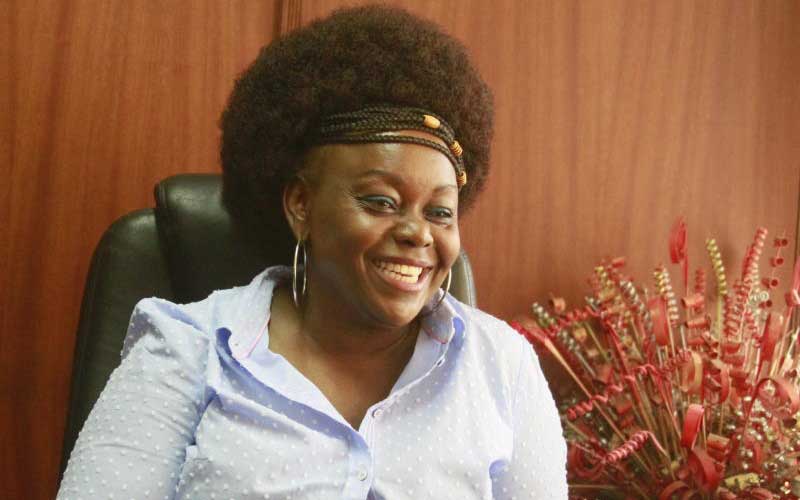 I am not an early riser. When I am in Nairobi, I wake up at 7am or 8am unless I'm travelling or having an early morning engagement. I always have breakfast with family — my favourite thing to eat for breakfast is nyoyo — before hitting the road. My days will be different depending on what's on my schedule. I could have a committee meeting, parliamentary sessions, speaking engagements and so on. If I have my own Bill, or a parliamentary Bill that I need to contribute to, I find time for that, but usually in the evening. I am a nocturnal person. My mind is sharp at that time. That explains why I am not an early riser. In the evenings, once I am done with work, I visit family. I put a lot of emphasis on family and spend a lot of time with them. I visit them almost daily — my brothers, nephews, nieces. When I get home, I pray, watch programmes I love and work more in the night. I love crime and investigative shows, but the last great thing I watched was
The Good Wife
. I loved it because it is a combination of two of my worlds. It reminded me of my younger days, going to court and practicing family law. But then also it shows the political bit as well. When I am in Suba North, my days start a little earlier and run through to midnight. My days involve moving from village to village performing different tasks. These include monitoring development programmes, attending special events, seeing individuals with their individual issues. If I am at home during the weekend, I will attend church with communities and sometimes we hold fundraisers. The best career advice I've ever received was from Martha Karua. Sometimes you tell people very powerful things without noticing. There was one time when I was dealing with a case in court. I was representing a woman whose marriage didn't go well and she had sneaked back with her child to Kenya. Her husband didn't offer any support for their child. This lack of support went on for a long time but he came back when he found out the woman was pregnant. Now he wanted custody of his child. One he had never supported and his reason was this woman was immoral. I was pacing up and down outside the court wondering how to deal with the matter because we couldn't hide the pregnancy. That's when Martha Karua found me pacing and asked me what was wrong. I explained to her and she said, "Go in there and tell them your client did not commit to be the Virgin Mary. She is a woman and she has needs." That is what I said in court and we won the case. How is that the best career advice? In so many words, she told me that in life, learn how to show people the middle finger when they joke with you — so joke with me and I will show you the middle finger.
SEE ALSO: Outfit positioning itself ahead of 2022 polls
The best career advice I'd give is you are the best person for the job; never look behind you for approval, and put your best foot forward. I am motivated to go to work every day because I love working with people. I have always been committed to public service. My Master's degree is in public service law. I also love transforming lives, helping move people from one point to another. I run a programme called I Am A Winner that blends mentorship and scholarship where we motivate students but also offer them scholarships. There is a girl we took on when she was in First Form one and now she is working at Equity Bank in Mbita as she waits to join university to study medicine. There are so many other such stories, and I love doing that. I have done so many things that I am proud of. I started a foundation 21 years ago to support women and children who are in need of legal protection or support. The CRADLE has helped thousands of children and that's something I am extremely proud of. I pushed for Article 53 of the Constitution when I was the director at the CRADLE. We went to court on an impact litigation case to get that provision to protect children born out of wedlock. Other than that, I have done a lot of legislative work that is transformative. I am also proud of my writing and the thousands of the young people I have mentored across Kenya. I go to bed at around 1am or 2am. I operate in the night; I am very active and alive and usually if I am alone, I will be writing. I write a lot, official things and also fictional and motivational material. I have about 100 pages of a fictional book I've been working on called
Things We Lost With Freedom
. I've noticed I tend to write a lot more when I am out of the country, especially in the seasons of spring or fall. They are sort of quiet seasons. I read a lot, and the last great thing I read was Americanah by
Chimamanda Ngozi Adichie
. Many things made this book great for me. Her style of writing is captivating. Even though she is younger, we have such shared experiences. When I read that book, I abandoned one I was writing called The American African, which was based on my experiences in the United States when I was at New York University. It was similar to Americanah in terms of thought and experience, except I can't write as well as Chimamanda. She captured what I wanted to say in the most eloquent and captivating way. Very recently I finished reading
Between Sisters
by Kristin Hannah. Coincidentally, I finished reading it around the same time Hon. Joyce Laboso passed away. It was about a woman going through cancer but it reminded me of the times we shared with Joyce. I also love Paulo Coelho's and Robin Sharma's books.