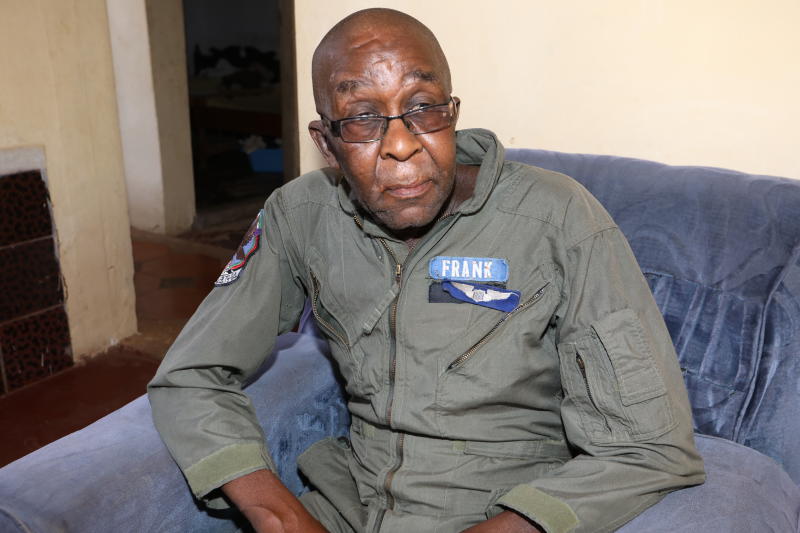 Sunday Magazine
We were starved for about 10 days, only given water in 42-degree heat.
January 7, 2018 started like any other day for Captain Frank Njoroge. He was flying a Cessna Caravan. It had been hired by a Juba-based NGO to carry its staff to Juba. He had flown planes for more than half his life, and this wasn't supposed to be any more exciting than usual. But it was. Because it was the last time he would fly a plane. "Besides my co-pilot, Captain Kennedy Shamalla, there were nine other passengers on board. The plane lost power in the South Sudan airspace and went crashing into a fence and through three mud houses. One passenger died. He was an old man," he says, sorrow etched on his weathered face. But that wasn't the worst of it. South Sudan rebels decided to capture the remaining 10 and hold them captive. A pay day for them. From the Kenyan government. They wanted Sh20 million for their hostages. And it was a very slow tortuous six weeks before they were released. "I would not wish what I experienced on my worst enemy," he says, shaking his head, eyes trained on the floor, as if re-living the incident. "The first three days were good. And when the rebels realised that the money was not coming, it became hell. We were starved for about 10 days, only given water in 42-degree heat." "Captain Shamalla and I would spend our days killing flies. They were so many we could not stand them. I think we killed 150 per day. And at night it would be the mosquitoes. So many of them," he says. He was unsure if he would ever get to see his wife Beatrice and their three children. But hope sustained him. Finally, the government paid Sh11 million, but by then, Frank was a beaten man. "I was suffering from malaria and couldn't even understand why I was being carried out of our prison. I stayed in hospital for about 10 days."
Fast forward to a few days ago…
In the sweltering heat of Mtwapa, a lone old man in a striped shirt walks with a visible limp towards the parked car on the dirt road. He had been on his way back from the shops to buy a packet of viazi karai, the popular Coastal street food. He walks past it and signals the occupants to follow him. His slow strides are punctuated by small nervous motions. He scratches himself incessantly, like his skin is on fire. He suffers from severe eczema, which is what also contributed to the limp due to tissue damage. He suddenly stops at a black gate and waves. We have arrived, he seems to say. He is the man we have come hundreds of kilometres to meet. Captain Frank Njoroge, Kenya's oldest serving pilot. He welcomes us to his home. It is an old house, covered in white paint, or what was white paint. It is now brown. It is a huge house, with a red-tiled floor. There was a water fountain at one point, but it isn't there anymore. Just as there isn't a TV anymore. "The TV blew up and I have no idea why!" he says, unbothered. The ceiling is brown now, and falling apart too. He asks Josephine, his housekeeper, to get us some drinks. He sets the viazi karai, on a table near him. "I was so hungry; I could not wait for food to be ready. I hope you don't mind," he says before digging in.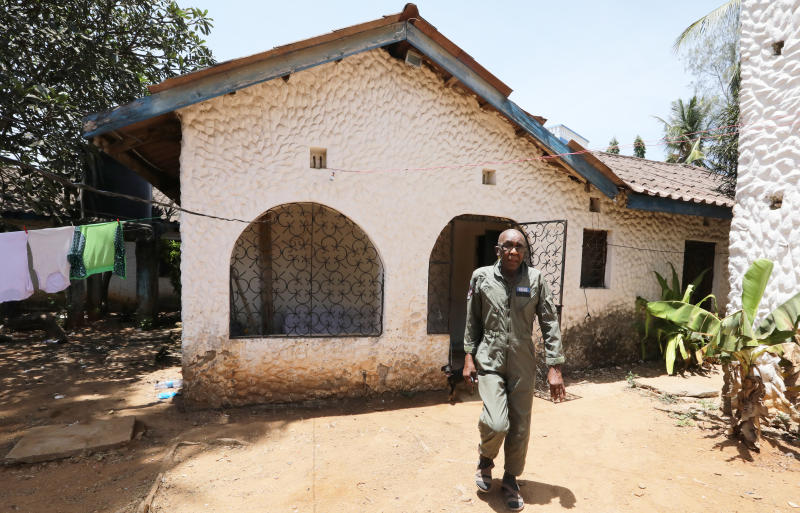 A cat with 9 lives
As he finishes telling us about the South Sudan incident, he explains that that hadn't been the first time he had survived a plane crash. It was his third. The first one was in 1997 during the El Nino rains when he had been tasked with delivering lobsters to Masai Mara. He was flying a Piper PA-34 Seneca. That day, he had picked up the lobster and was supposed to land in Mombasa but the unusually heavy downpour meant that visibility was so bad he could not see the runway. He diverted to Ukunda, and still could not see the runway there. "I could see water but not the mainland," he says. Taita Hills also turned out not to be an option. He decided to try Amboseli but by then he was running so low on fuel, he called Mayday to the ground staff. "I knew my life was over. I told them to tell my wife and children goodbye," he says. There was another passenger in the plane. And he was in panic, trying to open the door to jump out at 10,500 feet. Frank had to smack him unconscious to stop him. The plane crashed into some bushes in Tsavo at 9.26am. Luckily, they suffered no injuries. They made a fire, ate some lobster and waited to be rescued in the evening, all the while thanking God. The second one was 10 years later. In Ruai. He was co-piloting a DHC-5 Buffalo plane that crashed shortly after takeoff, due to engine failure. It belonged to the International Committee of the Red Cross and was going to Somalia on a humanitarian mission. It was carrying 24 drums of fuel and was completely incinerated, but he and his pilot made it out alive. "One of the wings hung on to somebody's outdoor toilet, while the guy was still inside. I don't think he will ever go to the toilet again!" he says, laughing heartily. Luckily, no one was hurt during that incident.
A love lost
"That was her seat. She loved it," he says, pointing at a sofa draped in white. A deep sadness masks his face as he thinks about his wife who died a few weeks earlier. The woman had been his rock until about three weeks ago, when a combination of heartbreak and disease snatched her away from him. He is, understandably, still mourning. "It has been hard. When you lose someone you loved…" he hesitates, wiping away a tear. "But it is well. She was very caring woman. A great one. During her last days I took her to Copacabana beach in Mtwapa. She had refused to go, but I persuaded her and we went with our granddaughter. That was one of our happiest memories." Her sickness began as soon as Frank came home from Sudan. "She had intestinal problems but I know what made her really sick was trauma from what had happened," he says. "She had four surgeries, spent four months in the High Dependency Unit and two months in the Intensive Care Unit." Her medical bill went up to Sh8 million. An appeal during a TV interview saw Kenyans raise about Sh2 million, and the hospital agreed to let her go home. Unfortunately, she died on the fourth of this month, leaving him with a Sh 6.4 million hospital bill to clear. The marriage bore them three children, all of whom are now adults aged 29, 30 and 32. The eldest works is a marketer, the middle one their only girl, works at Basco Paints, while the last born is a law student at Catholic University. Now that Beatrice is gone, all he can do is move on as best he can. "Life has taught me to believe in God, to be courageous, be confident and always look forward to the best," he says. He spends his days in his home because of his skin condition, avoiding the heat that exacerbates his condition. "I also go out to spend time with the wazees of the village. You know, if I had not been doing that and being there for other people, they would not have supported me as much as they did when my wife died," he says. He is still coming to terms with his wife's death, but he hopes to get into motivational speaking soon. Flying again is unlikely, though not impossible. "You know when God saves you three times, the fourth time you might not be so lucky. So I think that is in the past now, but I have not completely decided. For now, I will focus on other things."