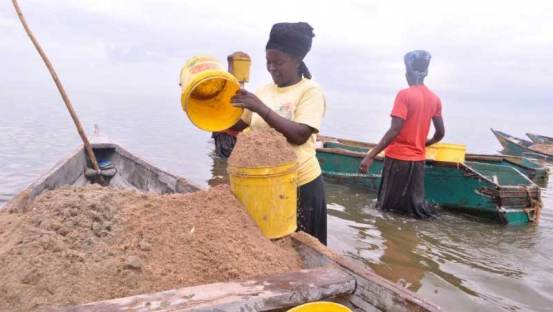 Mention Lake Victoria and what comes to mind is fish. But things are changing pretty fast at the lakeside town and after years of depleting fish stock in the lake, dozens of residents in Nyanza have resorted to sand harvesting to eke out a living. Indeed, a phenomenon only associated to Ukambani and Northern Kenyan is now taking root in the region, and sand harvesting is the new way of making that extra coin.
So deep into the activity are residents that Horace Ochola from Chuowe beach in Homa Bay County is now torn between remaining a fisherman or completely delving into sand harvesting.
Beaches along the lake's vast shoreline are now active sand harvesting zones, with experts warning that the activities would soon trigger an environmental disaster.
Water hyacinth
With evident dwindling of various fish species in Lake Victoria, Ochola has to put food on his table and has been trying his hands in sand harvesting. "Water hyacinth has been a nuisance to fishermen. Fishermen cannot go into the lake for fear of being trapped by the weed," Ochola says.
Read More
Wanting to remain optimistic, they even cast their nets into the lake in the hope of coming back and getting humongous harvests, only to find that water hyacinth being guided by the wind pulled the nets away. "People who have made losses in their pursuit for fish have turned to sand harvesting as an alternative source of livelihood," he says.
Ochola says given an option, he would choose fishing to sand harvesting, since the two activities fetch almost the same. "Fishing is better because from it I earn approximately Sh400 to Sh600 a day. But money from sand harvesting is not consistent and depends on the number of lorries that turn up for loading. You can get Sh600 to Sh700 per day from it," he says.
Lake Victoria Basin Commission Executive Secretary Ali-Said Matano says one has to spend lots of time in the water to get fish due to the dwindling fish stock.
"Fish is often found 20 kilometres into the lake, an area which is most vulnerable to pollution. This makes fishermen go for another alternative, with sand harvesting being the quick option," says Dr Matano. The demand caused by a growing construction industry in the counties has also made fishermen go for sand harvesting.
"We have seen a lot of construction within the lake region. The demand has risen because it is an easy income," says Dr Matano.
He recommends that sand harvesting be done in a controlled environment and that areas around the shores and river beds be rehabilitated by planting trees to control erosion. National Environmental Management Authority's Homa Bay County Director in charge of Environment John Maniafu, says the presence of water hyacinth in the lake reduces the standard biological oxygen demand (BOD) and chokes the lake, leading to low oxygen levels and reduced fish breeding.
"Sand harvesting and poverty go hand in hand; it is an activity inherited in the family. Nyanza region's climatic condition is good for fruit farming. But people are used to quick money - they do not want to wait for long before harvesting," Mr Maniafu says.
But it not all gloom. Besides sand harvesting, another group of former fishermen are now using their boats in transporting tourists across the lake or into cargo vessels plying between Kenya, Uganda and Tanzania. "Some tour operators hire my boat twice a week to ferry tourists across the lake. I earn some little money to keep me going. It is better than fishing," says Dan Ouma.