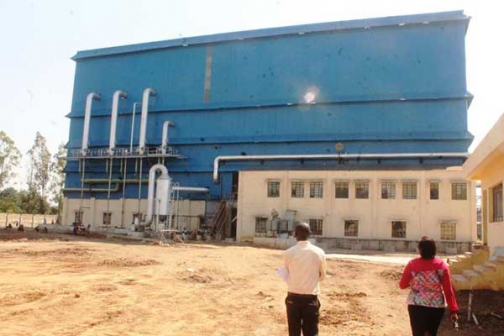 Kibos Sugar Company has been accused of polluting a river that drains into Lake Victoria.
In a notice, Kisumu East Sub-County Health Inspector Charles Opiyo directed Kibos Sugar and Allied Industries Ltd (Ksail) to stop polluting River Nyamasaria in two weeks from February 3 or face legal action.
In a notice copied to a court in Kisumu, Mr Opiyo accused the private miller, which also has a distillery and produces paper, of discharging poorly treated waste into the river.
The company was also accused of heaping bagasse – the pulpy residue of sugarcane – on the river banks.
However, Kibos Communication Manager Joyce Opondo said yesterday they had put in place measures to reverse 'accidental' pollution that occurred during routine maintenance in December.
"The people we brought in to clean the factory pushed the sludge into drainage tunnels and when it rained, some of the waste was swept into the river. But we have cleaned the mess," she said during a summit in Kisumu.
Ms Opondo said the Water Resource Management Authority (Warma) had also raised the pollution concerns with the company and that they were implementing several anti-pollution measures.
In the notice, Opiyo said he visited the company on December 30 last year and found it was flouting public health and environmental laws.
"The officer found existence of nuisance arising from heaped bagasse on the river bank, discharge of inadequately treated effluent into the river, non-existence of suitable waste treatment plant, accumulation of sludge in the river resulting from the effluent and uncovered septic tank near the river bank," read the notice.
The Ministry of Health wants the miller to scoop and wheel out the bagasse, establish a sludge treatment system, set up an effluent treatment for the distillery, de-sludge the river, relocate the septic tank and stop discharging effluent into the river.
This is not the first time the ministry or environmental agencies are complaining about pollution of rivers draining into Lake Victoria, which is now choking under water hyacinth whose spread is fuelled by nutrients from industrial waste.
But the long list of environmental lawsuits arising from pollution of the lake has done little to discourage the vice whose effects have seen fish stocks, especially tilapia, which thrives in fresh water, drop drastically.
Efforts to reverse pollution in Lake Victoria have received backing from an Israeli water recycling firm while some of those polluting water bodies have promised to adopt modern waste management technologies.
A tri-lateral agreement between Warma, Israel's Agency for International Development Co-operation (Mashav), and GIZ (a German development agency) seeks to stop the discharging of waste into River Nyando.