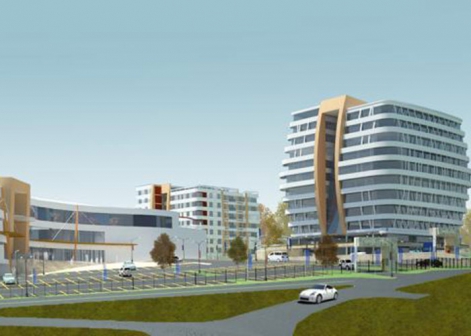 Real estate has continued attracting billion-shilling developments and as we enter the third quarter of the year, we look back at three projects that promise to stand out.
Montave, Upper Hill, Nairobi
This beautiful skyscraper by Greenfield Developers Limited promises to be a landmark in more ways than one. Expected to stand at 40 floors, it promises to be an architectural masterpiece with one million square feet of mixed-use space. The development will be set on a 3.54-acre site in Upper Hill, Nairobi, with an "intricate mix of shopping, working, visiting, living and leisure".
The project, launched in August, hopes wants to "deliver Nairobi's most prestigious address, offering the best in luxury, practicability at a convenient and central location".
Real estate firm Hass Consult will direct the design, construction and management of Montave, whose developers include an investment consortium comprising local and foreign investors. While the total cost of the project is unclear, the land on which the project will sit is valued at Sh1.83 billion, coming to slightly above half a billion shillings per acre. Construction of Montave is expected to begin in the second half of 2017 and is expected to be completed within three years.
It will house one-, two- and three-bedroom apartments, penthouses, a commercial tower, shopping mall, mini-theatre, resident lounges, business lounges, convention centre, an elevated park, a grand piazza, a 30-metre infinity pool 20 storeys and health club. It will also feature a helipad. Once completed, the building will stand at 160 metres, making it one of the tallest in Nairobi.
Greenwood Mall, Meru
The Sh3.7 billion real estate development will undoubtedly be a landmark feature in meru. The developers, Fusion Capital, will use money raised from Development Real Estate Investment Trust to put it up. The mega development will comprise a shopping mall, an office block and apartments.
"Greenwood City was conceptualised to meet this need and provide first-class shopping and executive residential accommodation for a growing and vibrant middle-class and grade an office space for firms doing business in the region," said Fusion Capital CEO Luke Kinoti. In August, retail chain Nakumatt, indicated that it would be the anchor tenant.
Situ Village, Karen
The iconic gated community development is expected to cost the developers Sh5.5 billion. The project, which broke ground in August, will offer the targeted community a modern live, work and play environment. It will sit on a 29-acre plot in Karen, Nairobi, which borders the Ololua Forest.
Situ Village will comprise four-bedroom villas that will sit on half an acre piece of land. The project will also boast a relative proximity to retail stores, shopping malls, dining options, and will offer access to outdoor entertainment centres such as the Giraffe Manor.