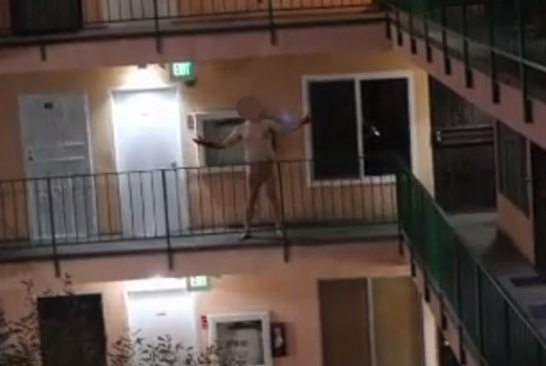 California: A naked man who 'claimed to be Jesus Christ' has been caught on camera as he stormed through an apartment block asking terrified onlookers if they 'deserved to live'.
The unidentified man, thought to be in his 30s, was spotted smashing windows with his bare hands as he shouted threats at passers-by.
His hands appeared to be bloodied as he punches three windows, causing them to completely shatter.
He then turns to onlookers shouting: "Isn't this the worst you've ever seen it. I'm going to die, you've got to help me live."
"Who deserves to live, who deserves to live? Do you believe that you deserve to live?"
He then appears to tell the people watching that he is about to 'bleed to death' before the camera cuts off.
The video was captured at the Cedar Towers apartment block in Long Beach, California.
One resident, Gabriela Di Sarli, told the Long Beach Post that she heard the man yelling that he was Jesus Christ and can read minds.
Marlene Arrona, a Long Beach Police Department spokeswoman said officers had responded to a call at 3am on August 26 after reports of a screaming man breaking glass in the courtyard of an apartment building.
Officers arrived to find several broken windows and restrained the man. He was then transported to a hospital by paramedics.
Investigations are ongoing and no arrests have been made.