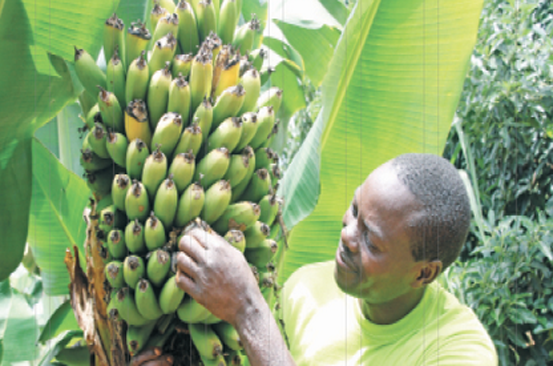 Francis Njagi and Moses Njeru point proudly at a huge banana plant whose fruit is nearly toppling over. Some of the bananas are yellowing in readiness for consumption.
"You can pick and eat," says Njagi, "these bananas are as sweet as glucose."
We are reluctant to taste. The banana plant is gigantic because it has lapped up human waste fertiliser known as peepoo.
"Are you seeing the difference between this banana and that one?" Njagi asks as though he is a teacher in a classroom and we are students too slow to grasp the concept.
Perhaps our skepticism about visiting a farm in Kirinyaga County whose crops are fed on poo fertiliser motivates him to 'convert' us in the best way he knows how.
He digs out bags holding the fertiliser, peepoo bags, from around the banana tree to make his point clear; the banana plant is healthy because it has 'eaten' this particular fertiliser. The others, which look wobbly, have either been fed cow dung or artificial fertiliser.
The story of using poo as fertiliser begins in Kibera, Nairobi County. A Swede researcher, Anders Williamson, developed a biodegradable bag for slum residents, that holds human waste in airtight conditions. Now his project has gone beyond sanitation and is now on course to become a popular fertiliser among farmers.
Njagi, who is a foreman at Haroun Muchiri's farm, says, being pioneer users of peepoo, they have seen the immediate and positive impact that human fertiliser has on crops.
"Before we started using the fertiliser on our coffee, we would pick between 75kg and 80kg per sack just like other farmers here. Then our yields suddenly shot up after peepoo. Now a sack weighs 96kg."
His coffee's extraordinary weight attracted attention at the factory. Other farmers wanted to know what Njagi had done to increase the weight.
"I simply told them I had used peepoo."
Human waste? The people were incredulous.
The manager at Nyanja factory, where they deliver coffee, also wanted to know Njagi's secret.
"After I explained, he said, 'You are ahead of us'. Indeed everyone who uses peepoo is ahead of the pack," says Njagi.
After seeing such a dramatic increase in yields, many coffee farmers from far and wide expressed interest in the new fertiliser; they too want to reap more.
The good yields changed people's attitude because the first time the fertiliser was introduced to the area in 2012, neighbours protested and headed to court to stop the 'insult to [our] dignity'.
Muchiri, the first farmer to take up the new fertiliser stood his ground. He knew the fertiliser was what his neighbours needed to boost their economic well-being. So they headed to court.
The day of the hearing in late 2012, university researchers backed up the research and explained how the fertiliser is harmless to people and yet the best for high produce. Any bacteria in the poo is smothered by the treated biodegradable bag the fertiliser is distributed in. Further evidence of the use of the fertiliser elsewhere in the world was presented before the court.
The case was thrown out. Muchiri's farm was overflowing with healthier, greener crops.
Then one by one, people started trooping to the farm in early 2014; they wanted the fertiliser.
Now the demand for peepoo has skyrocketed. Currently, 67 farmers are on the waiting list for the next delivery. They will snap up the product, which is provided and delivered free of charge by Pee Poople.
Pee Poople, the company that develops, produces and distributes Peepoo ventured into Kirinyaga County, through Muchiri, to recruit farmers to use the nutrient-rich fertiliser developed from the 'flying toilets' of Kibera.
In Nairobi's Kibera slums, 82 schools and several households had started using the peepoo bags which had replaced the flying toilets and brought dignity to their sanitation.
Back on the farm, Njagi and Njeru enthusiastically take visitors around to demonstrate the success of peepoo. They do not apply the fertiliser on every crop; they leave out a few for visitors to see the difference. In research, this is called the control group.
While we were still at Muchiri's farm, the area Assistant Chief, Cyrus Kinyua, visited. He said he had tilled his land, dug around existing crops and was only waiting for peepoo to plant as well as boost the productivity of his farm.
Says Kinyua: "I am a witness. I know what this fertiliser is capable of. I am convinced if we all use it, we will kick poverty out of this village and the whole country."
He tells his people during his regular barazas that the one thing that will get them out of want is peepoo.
Others who have used the fertiliser are happy with the end results. John Njeru and his wife Caroline Ruguru applied it on their coffee bushes. Within no time, they saw a transformation; the 900 coffee trees turned dark green.
"We are sure our harvest this year will be bountiful. We are also confident in a year or two, these coffee bushes will buy us our first car," says Njiru as Ruguru nods in agreement.
Two kilometres from their home, we meet 'Beckham', or Ethan Joel Nyagah, 41.
Beckham, named by his peers after famous English football captain David Beckham, has farmed for six years. He says the new fertiliser has offered him better yields and he is optimistic about buying a truck soon.
"I won't drive it myself; but I will hire someone to deliver my fresh produce to the market." Once upon a time, Beckham was a matatu driver in Nairobi and he does not want anything to remind him of the stressful life he led at the wheel.
"Farming has money. You can go to bed broke but at dawn you are loaded. People come knocking at your gate as you wake up and by the time they leave with mangoes, potatoes and whatever crops are ready, you have enough money to sort out your life as they pay in cash!"
In March, he sold watermelons and made a tidy sum of money, he says. He did not need to transport the fruit; people came to the farm to pick it up, saving him the transport expense.
And the watermelons were huge, thanks to peepoo, thus fetching him more money.
"At the rate now my crops are moving, I am sure if you come visiting next year, you will find the situation different.Everything is looking up," he says.