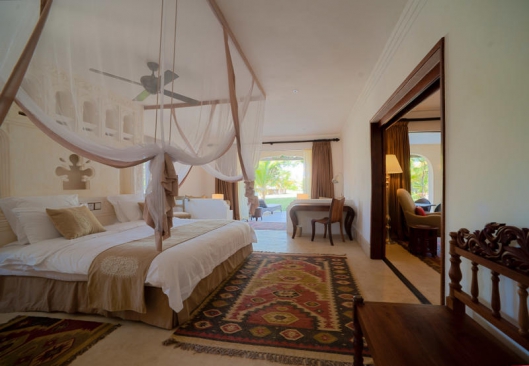 Ukiona vyaelea jua vimeundwa—if you see great work know there has been great craftsmanship.
You all should meet my special one. The one who discombobulated me with her beauty at the first glance yet comfortably set me at ease on the first chat. She whose every mistake drew intense distress yet pardon ultimately reigned because her flaws appeared perfect. I met and savoured her around this time in the year gone. Yes, it has taken me a whole year to finally confess my admiration.
This 'Thunderbolt' hit when I was on the run. Fleeing from our subtle version of winter. I had heard of her praises and had even seen her feature as a video vixen in a top rated music video (Avril's Kitu Kimoja) before she was handed to me on a silver platter thanks to a role I was playing in a television reality show. Without exaggeration, this is the cleanest fun I had experienced giving in to wanderlust. I lie not. I have, after all, had my fair share of flings each with a unique story to tell.
I am a sucker for class, clean, and order and she scored highly. She lived like a sultana proudly on an award winning beach that boasts 25 to 31 degrees centigrade all year round. She donned hand crafted furniture, feather and down cushions, heavy royal curtains, colour changing LED shower heads...the entire works of opulent sophistication. I am a sucker for big things too and my, oh, my, wasn't she ample. Ample enough to sit pretty on a whole 20 hectares. She bled a blend of exotic influence from her veins, exoticism that still haunts.
Hard to rid off that hint of East Africa, Arabia, India, and Zanzibar all rolled like a fine cigar over millennia into original Swahili splendour. Still vivid those Islamic rounded domes, pointed arches and mashrabiyas employed in the interior and exterior of her 140 room complex finished in stucco and plaster in a restrained palette.
Laid out around a central eight-level, three million litres of water a day churning water feature cascading to the beach, a main structure sat on top of a hill while two storey units with balconies and patios, giving onto the water, were arranged on each side. Roof top terraces for some of the penthouse suites where full views across her breadth and onto the expanse that is the Indian Ocean were made possible and best of all, in total privacy.
Looking for faultless images, try the walkway leading up to the signature Islamic dome with eight pointed arches flanked by long, shallow, stone water-pools. Fancy this; moonlight bouncing back from the rippling water and neat grass cut, string lighting wrapping precision spaced palms and giant flower pots.
Touch this up magically with strategically placed Moroccan styled lanterns on the walkway and dot innumerable candles on the furrows lining the water-pools filled with white decorative polished pebbles furrows. Signing off perfection was lush tropical greenery vegetation extensively planted to offset the carbon footprint. She cares. It was not a shock when I learnt then that her beauty drew from the passionate heart of her owner and designers, the renowned coastal architects Tibor Gaal and Associates, who have for decades developed resorts and hotels along Kenya's beaches.
She fed and kept me watered well too. Really well. Afternoon sessions at Kahawa Coffee Bar sampling a rich selection of worldly aromatic coffees and late nights Livin' La Vida Loca at the Baraza Bar and its more gentlemanly equivalent, the air-conditioned Palm whisky and cigar bar. While the Spice Route Restaurant tantalised with Indo-Swahili fusion taste, her main dining restaurant, Majilis that loosely translates to meeting place lived up to its name. From Swahili to Italian and everything in between, this buffet restaurant with a live pasta station was my first stop on my culinary travels.
A true coastal experience, however, wouldn't be the same without a fresh seafood restaurant and her Zanzibar Seafood Bar, as the youth in me would say, killed it! Wafts of ginger, lime and coriander permeating the air, welcoming me on each arrival. Here an interactive gastronomical journey where east meets west awaited.
Delightful decadent dishes from around the globe by enjoyed on Teppanyaki tables. Dim Sum, Noodles and Tempura — all prepared from locally-sourced ingredients. Was told boda boda riders supply nothing, but the freshest every morning from the dhows heavy-eyed from night-long vigils.
To burn all that off, her gymnasium impressed with its cardiovascular machines, isotonic equipment, and free weights that I did not touch. Forgive my idea of vacationing.
Her spa of six luxurious treatment rooms with individual showers, of which two offer a jacuzzi tub employed only the best products by Anne Semonin is more my style. Don't get me started on her touch.
All I can say is that it is an uphill task detesting the immediate and long lasting moisturising and soothing properties of Jojoba, Calendula and sweet almond botanical oils. Oh; what won me over; the gym, salon, and spa overlooking the beautiful Indian waters with access to a private cove and indoor pool.
All said, it's the simple things that matter. As I lay on a low sofa converted from a canoe sipping on a Mohican cocktail watching her shores wash up sea-weed, I could tell why I had fallen for her. It was her unpretentiousness warm nature. Her home welcomed, without prejudice, visitors from without and within.
I should know because her peers that I hit on really struggle with this aspect. It helped that she was not jealous allowing me to reach out for supplies in the stone's throw away Ukunda shopping centre.
Now you know why all of you should meet my special one. Heck, you can even take her out. She's not a floozy, but if you are honest enough, you can afford her.