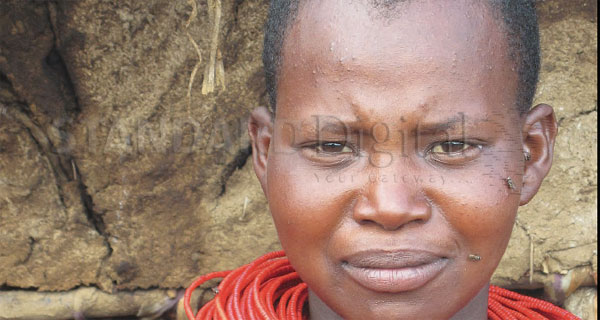 A beaded Samburu girl. [PHOTOS: KIUNDU WAWERU/STANDARD]
By KIUNDU WAWERU
The Morans appear like glorious rainbows as shoulder to shoulder; they straighten to their full lengths and in choreographed slow movements chant circumcision songs.
The air is electric, the mood infectious, but one Moran especially is ecstatic. As soon as the ceremony is over, Mr Lolonju Kashuk gathers his Nanka (shuka) around his shoulders and one hand holding a long, thin stick, the other a rungu, he sets out for the shopping centre in Kisima several kilometres away from his Sura Andoru Village, Maralal.
Lolonju is a man on a mission. He is going to buy his girlfriend gifts; some beads and clothes, probably blue, which represents replenishment (water for the herds) or white, the colour of milk representing purity or health. "I want to marry this girl," says the 20-year-old Lolonju in faltering Kiswahili.
"But you are not allowed to marry a girl that you have beaded," replies our translator. To this, Lolonju shakes his head vigorously, his colourful beaded headgear with copper pieces attached at the edges clinking. He automatically code switches to Samburu, gesturing wildly as he speaks.
Immoral culture
Lolonju says that he has decided to bead a girl he can marry, as he thinks the culture of beading for casual sex is immoral." Which is shocking. To a Samburu Moran, beading a girl brings honour to himself. And to a girl, she appreciates that the esteemed warrior recognises her beauty as to bead her.
But the girls, sometimes as young as eight years, are naïve and ignorant of the culture that steals their innocence. In Kashuk's Lorola, a temporary Manyatta erected to celebrate Muget, a feast in which Morans graduate to become men, is Koinanto Lerukati.
The 12-year-old Koinanto carries acres of red beads around her neck. Shy, she cannot even acknowledge salaams from a fellow woman without 'drawing a map' with her bare toe. Her mother, Resian Lerukati joins her, and Koinanto opens up. She has gone through Nkishoorot ee sayen, or beading and she points shyly to her mother's hut, where 'her Moran' occasionally sleeps with her. Resian only smiles, and goes about her work untying a bundle of firewood she is from fetching. To her and fellow 'Samburians', Nkishoorot ee sayen is a traditional practice diligently followed by everyone.
In beading culture, a Moran buys a girl he fancies from his clan, basically a family member, and beads and places them on her neck. This acts as a sign of 'engagement'. He is allowed to have sex with her. However, he cannot marry her, and they must not have a child.
"Huyo mtoto atakuwa haramu (the child will be an outcast) says Mr Mundi Olengusuranga, a Samburu elder. He adds, "This is an age old tradition, where a Moran gives a friend, a girl from his clan the beads. As friends they can sleep together." Another elder, Lekaritiwa Leiyaris insists that the culture is dying off.
After beading, the girl is built a Singira, hut, by her mother where the Moran will have unrestricted access for sex. Resian has not yet built her daughter the Singira, but the youngsters are free to use the family's hut. She tells us.
When the girl gets pregnant, her mother and fellow clan women conduct crude abortions. According to Mr John Letiwa, Maralal District Hospital Deputy Nursing Officer, who has worked with the community, an uncircumcised girl is not allowed to give birth. If she does, the child is an outcast. "A few weeks ago, I attended to a sick girl, who gave me false health history. In my examination, I discovered remains of a placenta inside of her."
Crude abortion
On closer scrutiny, Letiwa realised the girl had been taken through the crude abortion, where the women press the girls abdomen with their elbows until the foetus dies. "The young mothers to be almost always die, or they get life threatening complications like excessive bleeding, sepsis, and fistula. Others never conceive again. When they carry the pregnancy to term and give birth, the child is killed using a concoction of tobacco." Ms Josephine Kulea, who escaped this tradition by a whisker to be trained as a nurse started the Samburu Girls Foundation (SGF) that rescues the minors. Sadly, the only rescue centre in the district was run down, and the 41 rescued girls scattered, some with well-wishers, others went back to the manyattas. Josephine says they had also rescued 19 babies, some who live with foster parents or in children's homes.
The Samburu County Governor Moses Kasaine tells us that he is working with SGF, to see that the County gets a well-equipped rescue centre. "I acknowledge the existence of the beading culture, and we need safe houses in Samburu County to house the girls."
In Maralal Town the same day, doctors and health workers from Samburu County are having a conference. They say that the practice exists only in the "peripheries of the remotest areas." One senior county health officer, a Samburu by birth defends the practice, saying it curtails promiscuity.
Well, the elders say that this was one of the reasons their ancestors had in the 18th century when the practice began. Kulea, and other progressive people from Samburu say that the culture might be dying off, but the Samburu is now aware it's against human rights law, and they have adopted a culture of silence. In this manyatta, apart from Koinanto, we identify another beaded girl. 'Her Moran' sends an emissary, warning us against interviewing her. And two days to our visit, says Lolonju, her eight-year-old cousin was about to be beaded by a Moran friend. But Lolonju asked her to resist, and hide, "I want her to go to school, because without education, she is as good as dead," says Lolonju.
He went to school upto class six and knows education can save them from harmful practices. His cousin, an orphan is particularly at risk, as her mother committed suicide.
"The children of a parent that committed suicide cannot marry or be married. Ironically, the girls, like Lolonju's cousin are sexually exploited but when it comes to marrying her, it's a curse" explains Kulea.
Beads expensive
For Lolonju, he is one of the several Morans who have gone against this culture. Unfortunately, we could not get them, as they were involved in the Muget ceremony, a big event that happens once in two decades. Lolonju beaded a girl outside of his clan, and after Muget, he plans to marry her. "Most Morans are not beading girls because the beads are very expensive. I decided to invest in someone I can live with forever."
"This is what we are encouraging," says Kulea, "if they have to bead, then it should be someone you will eventually marry." Other Morans, according to Letiwa have moved to big towns and cities for jobs, mostly as beach boys and security guards.
Indeed, Koinanto says 'her Moran' works in Nairobi and only comes occasionally. This worries medics including Letiwa and Bosco Lemarkat, the Samburu District Aids and STI Co-ordinator. "When they come back from Nairobi, they have sex with the young girls," says Lemarkat adding that also, the Morans coming back with money also appear attractive to the young married women. "The girls are married off to old men, and most cheat with the Morans."This puts the population at risk of HIV transmission, with Lemarkat saying the prevalence in Samburu is very high.
The unforgiving terrain exacerbates this, where there is not an inch of tarmac, the pastoralism nature that makes it difficult to give health services. Health workers lack exact figures on HIV and other diseases like TB that is also high. "Those who are on ARV treatment are highly stigmatised and the uptake is low," adds, Lemarkat.
The Governor says the only answer is compulsory education for the girls where then beading will "die a natural death". In our visit to the manyatta to experience a male circumcision two days later, after the early morning ritual Koinanto follows Morans in leading the cattle to graze at 6am. Other girls also join the procession.